THE FINDING OF A FAMILY FAVOURITE.
This was introduced to me by my dad, who is without doubt the reason I am as adoring of food and cooking as I am.
My mum and dad have lived in France for the last decade after deciding that it's never too late to start again. Leaving England and the home they'd lived in for 25 years was a big gamble, to take my youngest brother (10 years old at the time) and to move to a country where they didn't speak the language was a scary, upsetting and exhilarating time.
It's this kind of bravery that is at the heart of a philosophy very personal to me and my life; that if you aren't happy with something in your life that you have the power to try to make things different, to make things better.
They bought Les Rochers, a small hotel in south west France, in a conservation village with incredible views into the valleys and of the mountains that they're perched on the side of. It's a special place not only because their balls and hard work have created a hotel and home that is beautiful, artistic and welcoming, or because the surrounding landscapes are breathtaking, but because it's full of so many great memories and whenever we visit they come flooding back.
Les Rochers has been privvy to a few parties over the years (including my wedding), lots of drinking and even more great eating (an essential in our family) and over the years I've been inspired by my dads fantastic cooking to recreate and adapt many dishes served in the restaurant.
Poulet Basque (as you'll find it named on the menu) always delights customers and without fail leaves me wanting seconds. The flavours are as vibrant as the colours of the dish, and in this version I like to use chicken legs for extra flavour, and to cook it all in one pot, leaving me time to do something else (like playing Scrabble, which is seen as a competitive sport at the hotel and undertaken at least twice a day when I visit).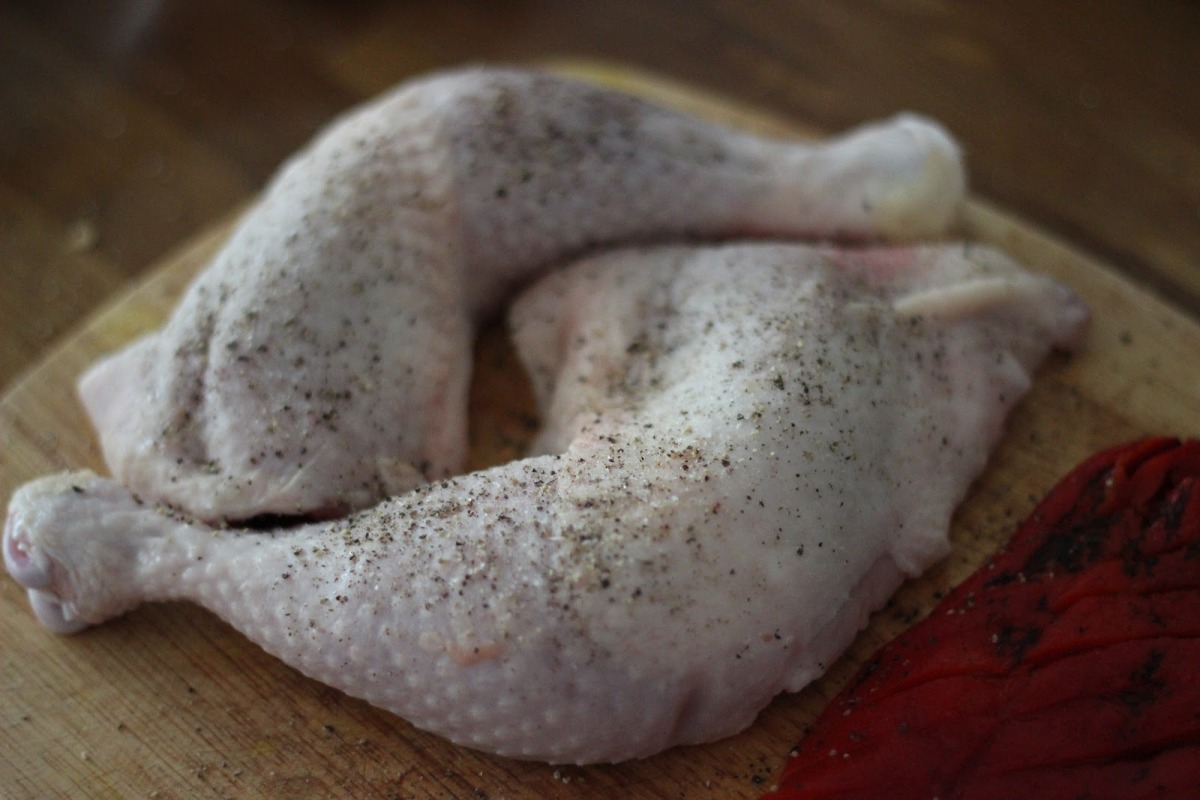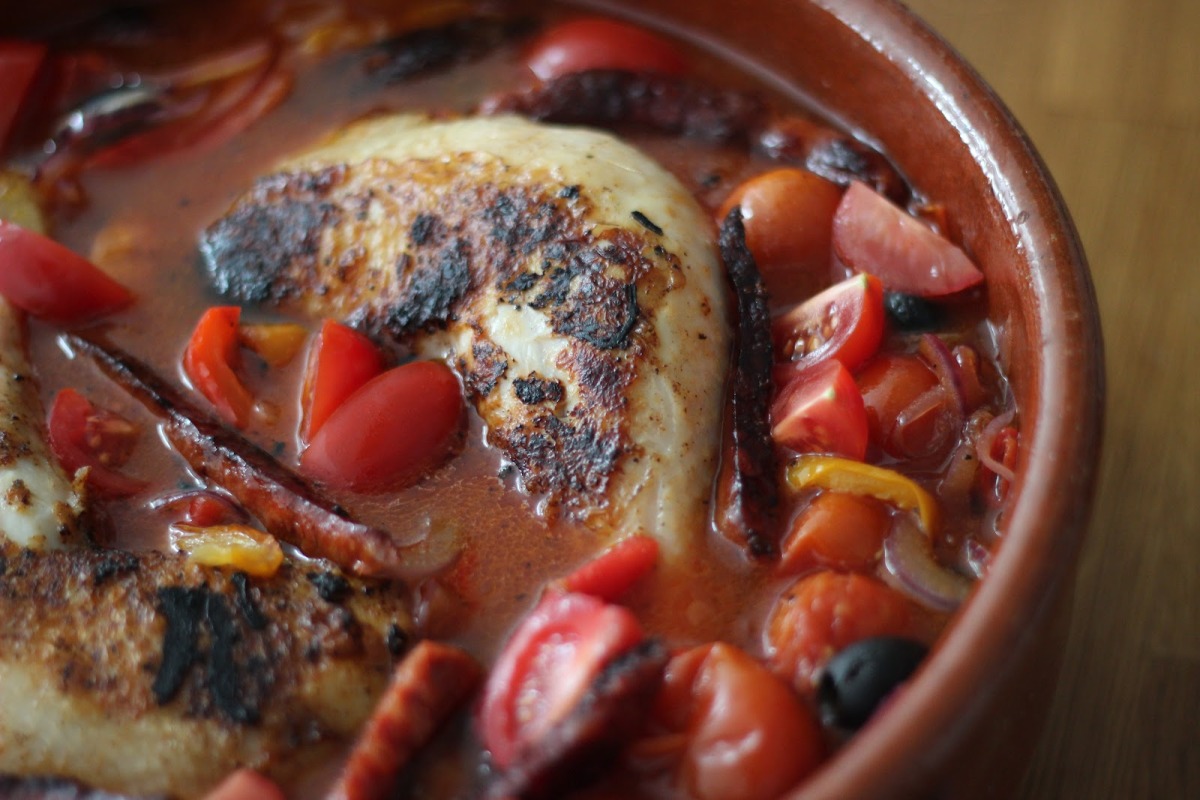 For four
4 chicken legs, skin on and seasoned with salt and pepper on both sides
2 red onions, finely sliced
3 picante chorizo cooking sausages, peeled and cut into batons lengthways
1 each of red, orange and yellow pepper, cut into strips
1 red pepper from a jar, sliced in the same way
Around 30 cherry / small tomatoes (sorry, I didn't weigh them, just counted them) – leave 10 raw
1 lemon, quartered
A couple of handfuls pitted black olives
600mls dry white wine
200mls water
100mls pasatta
2 cloves garlic, sliced
3 handfuls raw basmatti rice (probably inauthentic but means you don't need to cook it or another accompaniment separately later)
Olive oil for cooking
2 tsp of my Spanish Blend, or:
2 tsp smoked paprika


Sea salt
Black pepper
Method
Preheat your oven to 180°C.
Lightly coat your peppers in olive oil and the tomatoes, pop them in separate containers into the oven for 1 hour.
Shake occasionally, you're looking for them to soften and lightly char around the edges.
When they're done, remove them from the oven and set aside.
Heat a dry frying pan on a high heat and after a minute or two add the chorizo (and either turn your extractor fan on full blast or open a door, as it creates some smoke). Turn the batons to get them darkening on all sides, then remove and set aside.
Into the hot chorizo fat place the chicken legs, skin side down. Cook on both sides until you've got them a light golden colour, then remove and set aside and add the sliced onions to the fat. Cook on a slightly lower heat for around 5 minutes, then add the garlic and paprika and cook for a further minute before adding the wine, water and pasatta. Bring all this to a simmer and then remove from the heat.
Into a large oven proof dish add the tomatoes, fresh tomatoes, roasted peppers and pepper from a jar, black olives, onions and garlic in the wine mixture, then the basmatti rice and stir it all together to combine, then lay the chorizo batons over the top and finally push the chicken legs into the mix (skin side up).
Cover (lid or foil tightly wrapped) and cook at 180°C for 1 hour, the dish should be bubbling and the chicken juices running clear, pop it back in briefly if you need a bit longer.
Serve, giving a squeeze of lemon before eating.