Meet the cooler cousin of the baked potato.
Now, I've got nowt bad to say about the jacket spud... Crispy outer? Fluffy insides? Smothered in lashings of salty butter? Ooh go on then. But as tasty as they may be, for me they just feel more at home as a casual week night dinner rather than as part of a special meal.
That's where this Swedish bad boy comes in — the hasselback. It's a baking potato that with a nifty trick turns in to an impressive little side dish worthy of accompanying altogether fancier dinners.
Try it topped with crumbled feta and spring onion to eat with a leg of lamb as I did for Aldi, or with applewood smoked cheese at a BBQ for friends, you could even make mini ones with baby potatoes to have with baked fish and salads, there are lots of options. But if they don't float your boat, you could just smother it in baked beans. Everyone loves beans.
Now then, on to that trick that I mentioned... without it, cutting the potato without cutting right the way through it (or doing yourself a mischief) is pretty difficult.
To cut the potato perfectly, simply take two wooden spoons with the same width handle and as in my pics place them either side of the potato, before cutting down through in to the potato time after time to create slices. The wooden spoons stop you going right the way through, so the potato fans out nicely and stays all together during baking. Easy.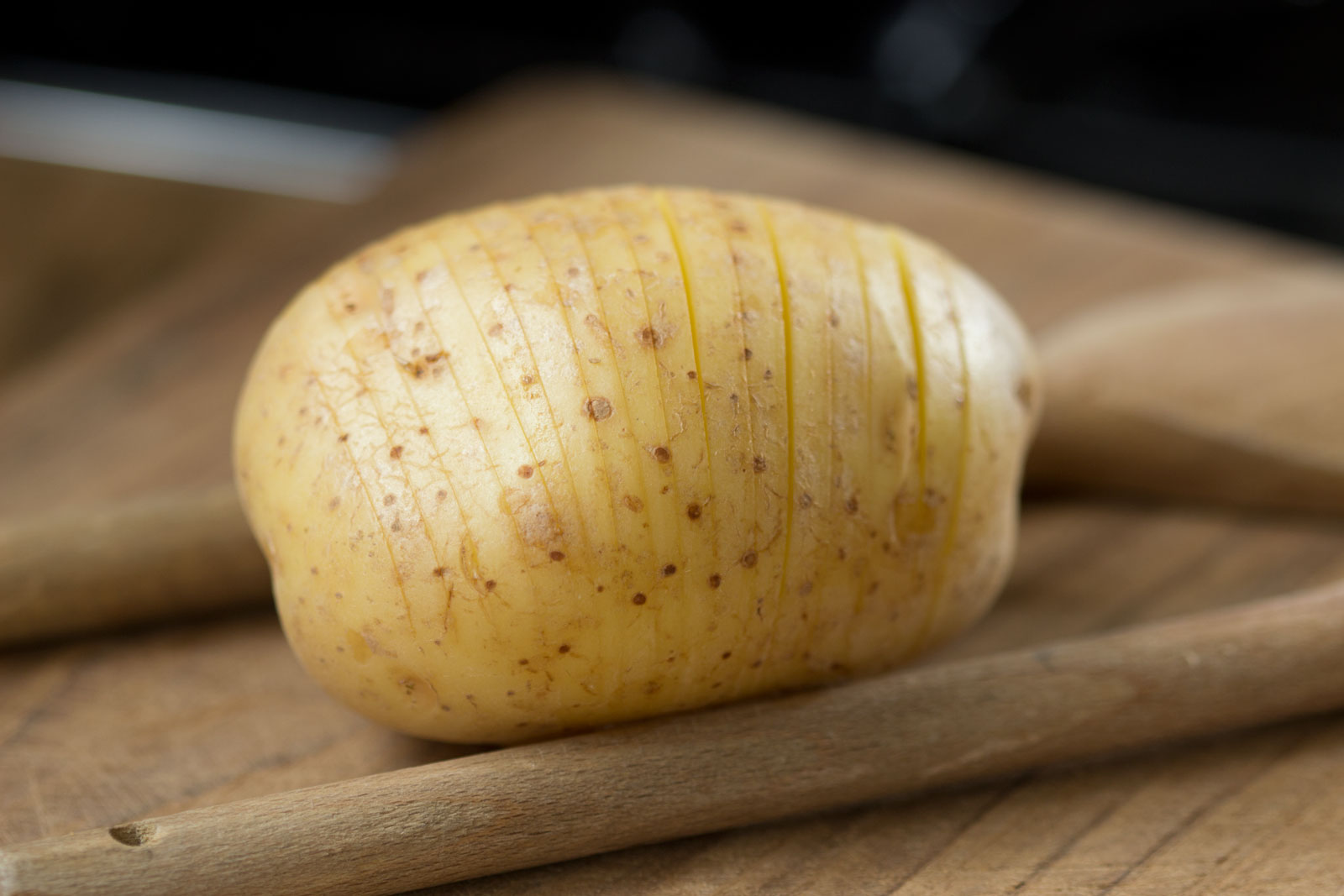 Ingredients
1 baking potato per person
Olive oil for cooking
Sea salt and black pepper
Crumbled feta
Finely sliced spring onion
Method
Preheat the oven to 190°C.
Take the potato and as described above, place two wooden spoons with the same width handles either side of it, then using a sharp knife, cut through from one end to the other in several slices — so the potato can fan out in the oven but stay in one piece.
Drizzle a little olive oil over the potatoes and season with sea salt and black pepper, then place into the oven for 1 hour 15 minutes.
Remove and serve as you like, or as I have here with crumbled feta cheese and finely sliced spring onions.