CAN'T BE ARSED? THEN THIS IS THE DISH FOR YOU.
Little time and effort and good quality ingredients make this a real winner. Make sure you use good quality stock and high meat content sausages – and if you don't like Toulouse then swap them for a more simple herbed sausage.
For four
1 or 2 sausages per person (number depends on levels of hunger + / greed)
500g puy lentils – boiled in unsalted water from cold until tender, should be around 20 minutes, then drained
300mls medium / dry white wine
500mls chicken, duck or pork stock
300g fresh spinach, drained
3 medium red onions, peeled, top and tailed and quartered
A handful of fresh parsley (flat or curly) chopped just before using
A clove of garlic, crushed
6 rashers smoked streaky, finely diced
Juice of half a juicy lemon
1 carrot, peeled and sliced into rounds
1 golden onion, finely diced
Unsalted butter
Olive oil for cooking
Extra virgin olive oil for finishing
Groundnut or vegetable oil
Sea salt
Black pepper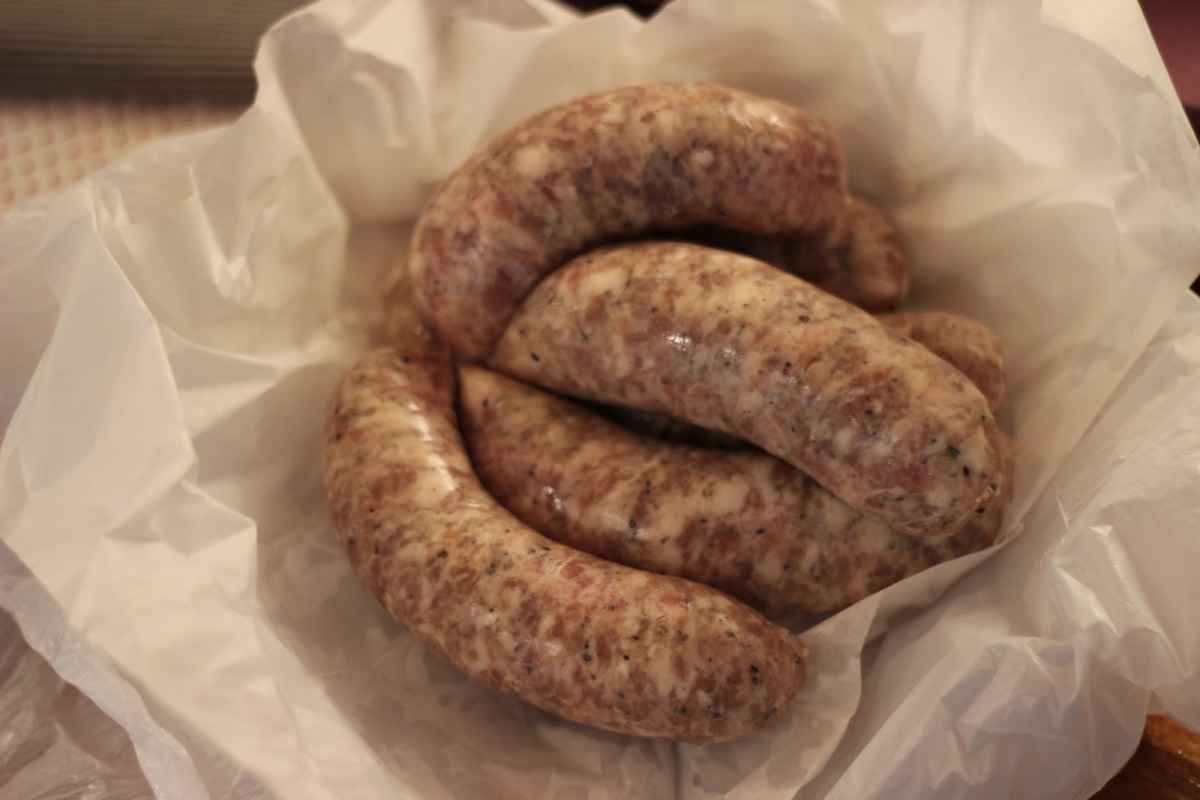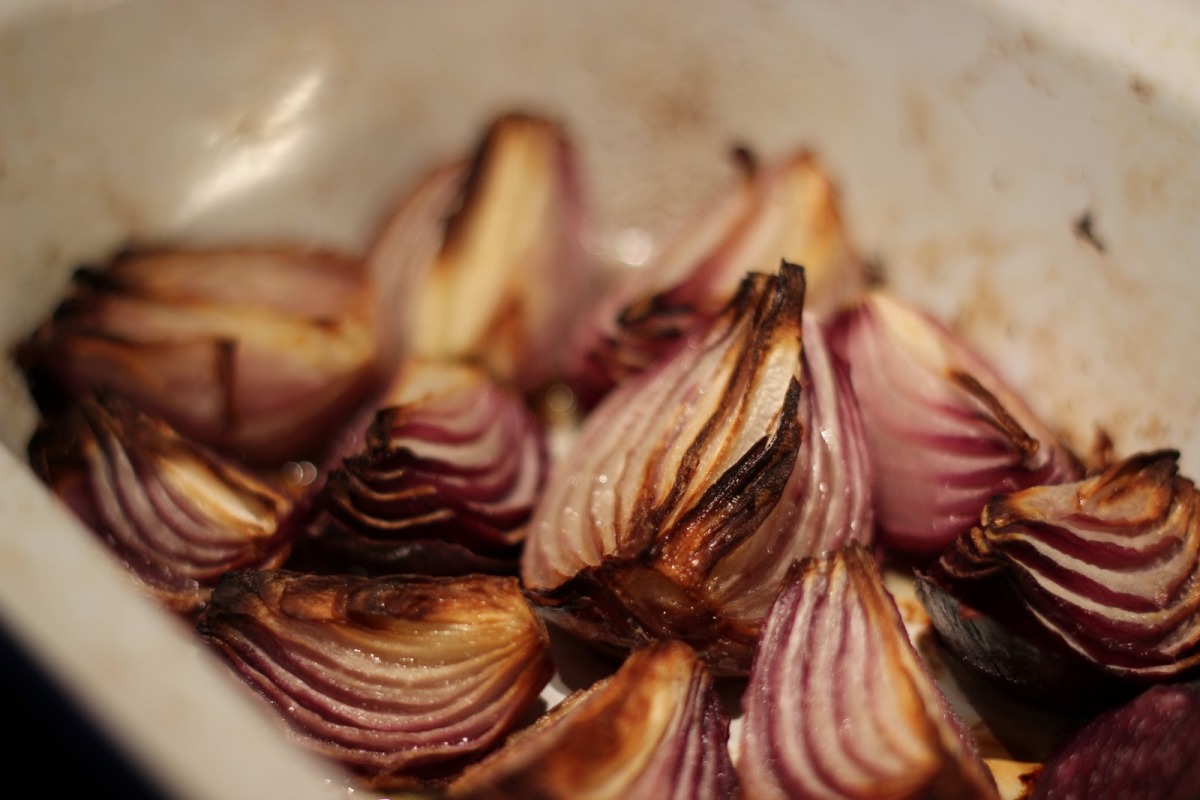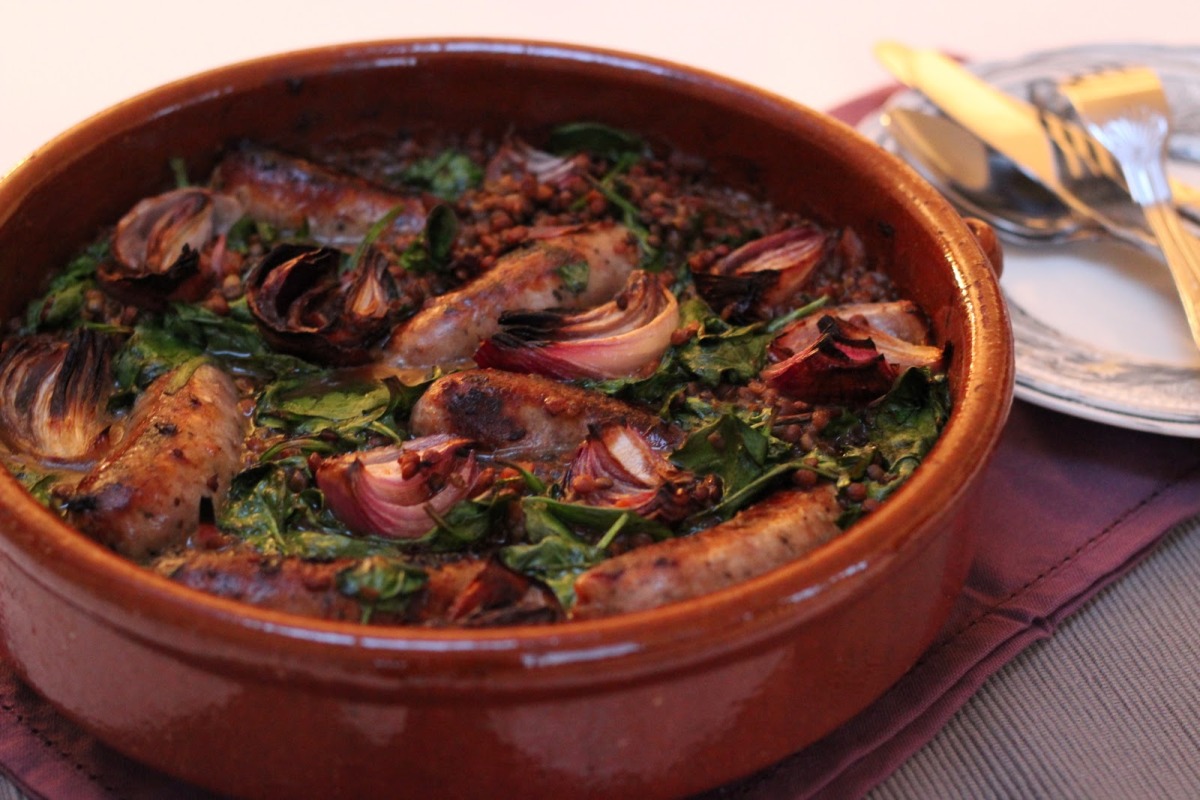 Method
Preheat your oven to 160°C, place the quartered onions into a roasting tin, drizzle with olive oil and place into the oven for 1 hour. You're looking for them to get golden and soft, don't let them get too dark.
Half and hour before the onions are ready to come out, heat a knob of butter and glug of olive oil in a saucepan on a medium heat, when the butter has melted and is beginning to foam add the diced onion, carrot and smoked bacon. Cook for around 15 minutes to colour and soften the onion and colour the bacon.
Add the lentils and garlic and combine with the onions and bacon, then add the wine, stock and lemon juice, combine and cover, simmer on a low-ish heat for around 20 minutes.
Turn the oven up to 200°C.
Take the lentils off the hob, taste and season with salt and pepper, then decant into an oven proof dish.
Poke (couldn't think of a better verb) the sausages into the lentils, then place into the oven for 15 minutes for the sausages to cook right the way through.
Remove from the oven, take out the sausages and stir the spinach and parsley through as much as you can. Put back in the oven for 5 until they wilt, then remove and mix through properly, poke the sausages in again, then the onions and put back into the oven for 10 to 15 minutes.
Remove from the oven, serve and give a drizzle of extra virgin before eating.