WHAT MAKES A GOOD PIE?
In my world a good pie has few aires and graces. It should be robust, bold, bubbly – a bit overflowy in fact. Is there anyone that doesn't love the scorched, chewy filling from the edge of the dish? Surely not.
Pies with too much finesse I find a little suspect, not that I'm not up for interesting flavour combinations or premium ingredients, it's just that if it aint all puffed up and homemade looking then it's just not a proper pie in my book.
This cottage pie is a real crowd pleaser, but if you're not feeding a group, why not make the same amount anyway and portion it as I did, it's easily frozen or you could eat it during the week and save yourself an evenings cooking.
I made this using beef mince slowly cooked on the hob with onion, carrot and celery in a dark German beer and some beef consommé (a cheat, I don't make my own) – this gives it a very intense flavour, full of body and richness.
The mash top aint for those on a diet. As well as a load of butter and double cream I like to use vintage cheddar. A lot of it. Vintage is perfect because of that strong tang it has (my dad would say 'it makes your tabs laugh', and he'd be right) well, here it's delightful when mixed through the fluffy mash, the perfect topping for the bubbling underbelly. I piped mine on but that's not essential of course, you could use a fork, just make sure you have some rough bits on the surface that can catch deliciously in the oven.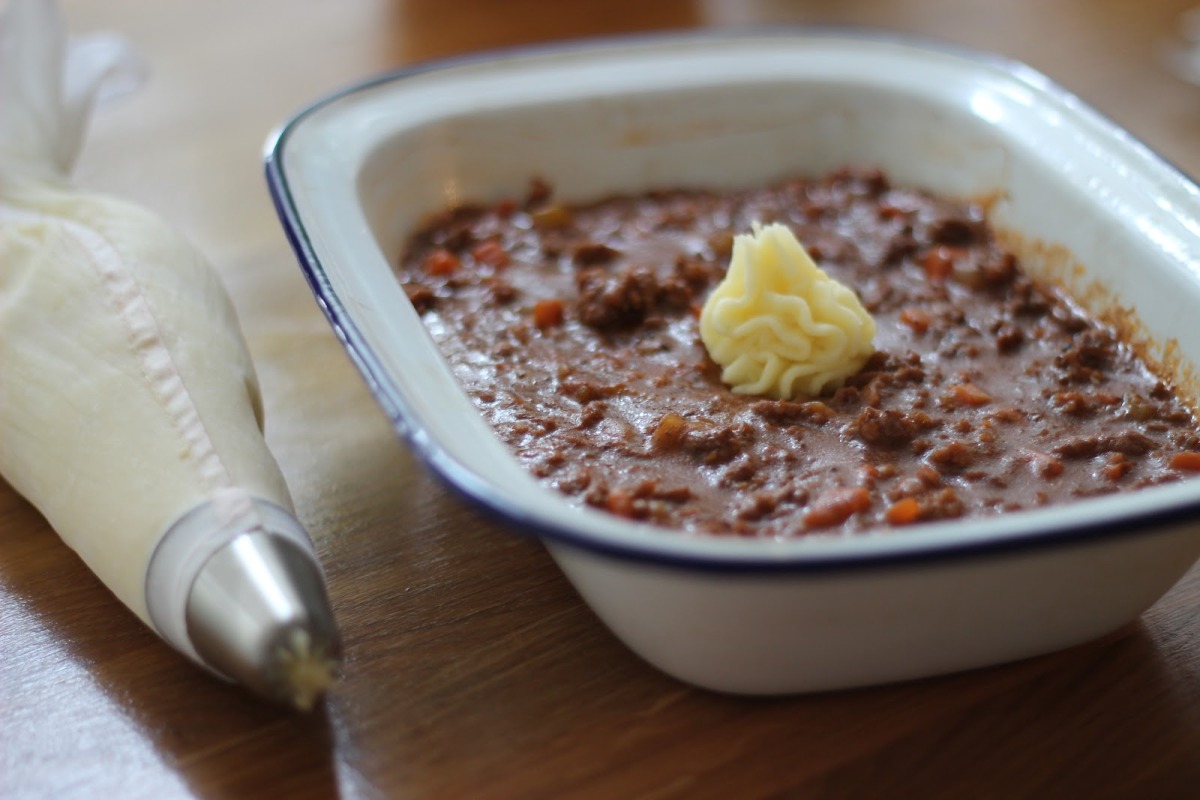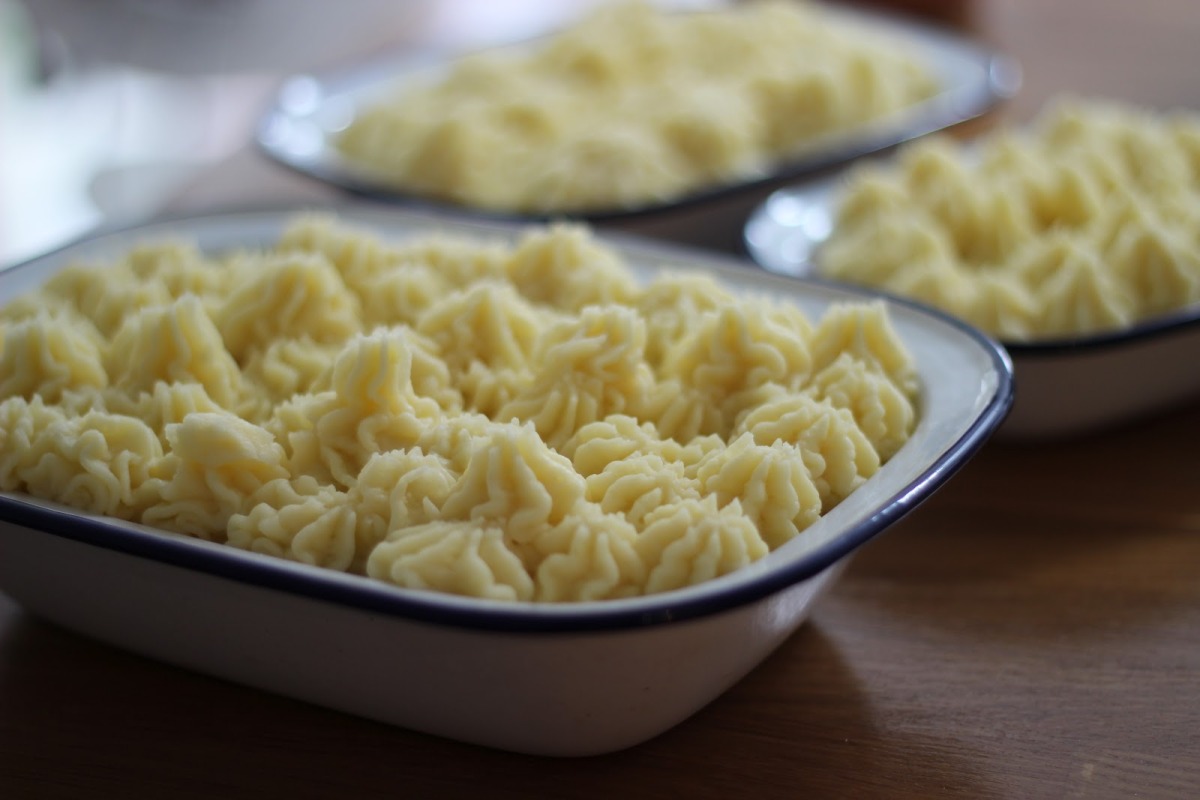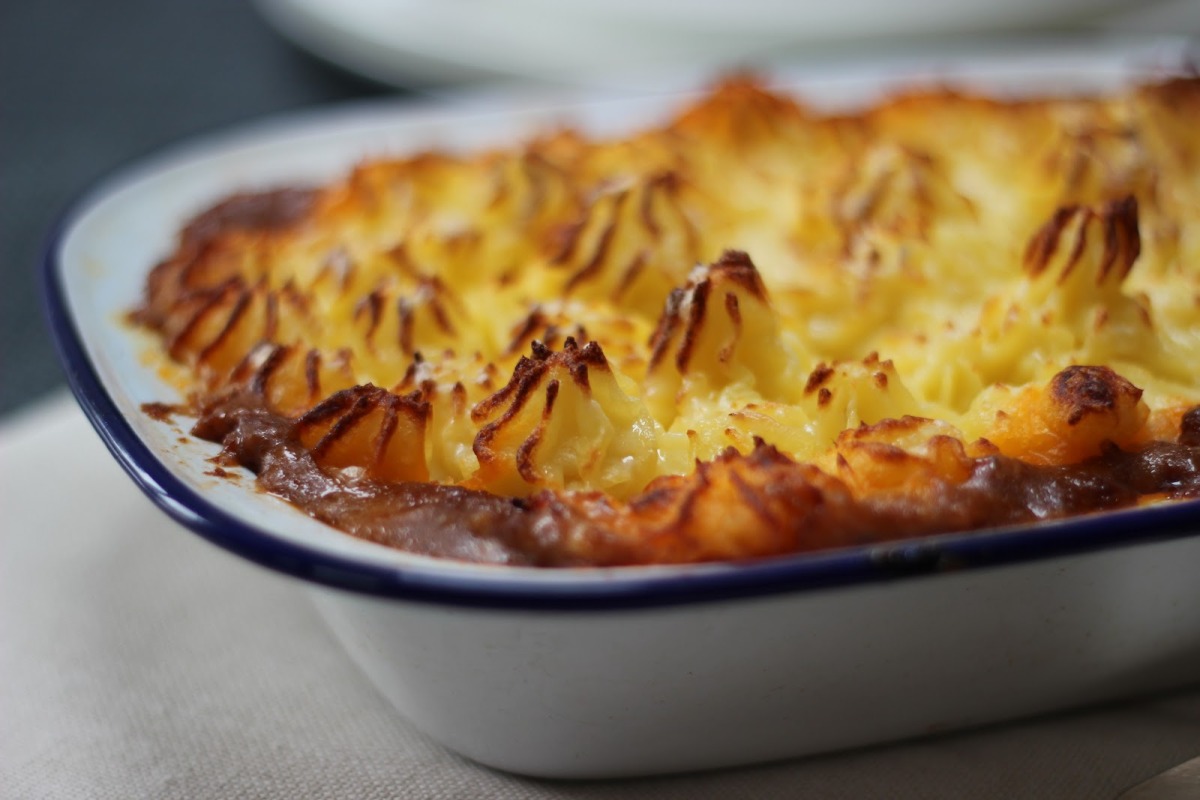 For eight to ten servings. Or six, if you're rreeaalllyyy greedy, four.
1kg lean beef mince
1L dark ale – I used Faust, a German one I picked up at our local off license
1 can Baxters beef consommé – you'll find it with the soups in your local supermarket
1 large carrot, diced
2 celery stalks, diced
1 large golden onion, diced
2 tbsp Worcestershire sauce
200mls tomato pasatta
A few sprigs of fresh thyme
A little unsalted butter
Olive oil
3 tablespoons cornflour mixed with enough water to form a paste
300g vintage cheddar, grated
200g unsalted butter
200mls double cream
7 very large fluffy potatoes, peeled, quartered and rinsed, sat in a pan of cold water, just enough to cover the potatoes
Sea salt
Black pepper
Green peas to serve
Method
On a low to medium heat gently fry the onion, carrot and celery in a knob of butter and glug of olive oil. Cook for around 15 minutes until the onion and celery are turning translucent.
Add the beef mince and turn the heat up to a high medium, breaking it up with your wooden spoon and cooking it on all sides until it begins to brown a little, then sprinkle over the flour and mix through again.
Add the thyme sprigs, Worcestersauce, ale, pasatta and consommé and a scrunch of salt and generous grind of pepper, stir to combine then turn the heat to low, put the lid on and leave for 45 minutes.
Preheat your oven to 190°C.
After 15 minutes bring the potatoes to the boil, boil until cooked – depends on the variety you're using but mine took around 20 minutes from boiling to be soft right the way through.
Once done, drain them in a colander and let them sit and the steam come off them for a few minutes, whilst this is happening place the cream, butter and a couple of pinches of salt (not too much, the cheddar is salty enough) in a pan and gently heat through, then take it off the heat.
Now either mash the potatoes with a masher, or for better mash use a ricer on the fine setting (an invaluable piece of kitchen kit, you'll find them online for £10 to £15), once the potatoes are mashed, add the cream and butter mix and 3/4 of the grated cheese. Stir thoroughly to combine together, set aside.
Once the 45 minutes is up for the filling, add the cornflour mix tablespoon by tablespoon, stirring it in thoroughly before adding any more – you don't want to overdo it, you're after a sauce that's as thick as a custard I'd say, but if you prefer it thinner or thicker then go for that.
Take it off the heat and put it into your pie dish / dishes (make sure you use a dish thats deep so you can get a good amount of filling and topping).
I went for just under 2 inches of the filling.
Now for the mash
If you're piping it on I tend to start at the centre as it makes it a bit more even, but if you're doing it old school, use a tablespoon and spoon on a table spoon at a time from the centre outwards, covering the whole of the dish (don't try to put all the mash on one bit then spread it out, it will sink in the centre and you wont get it to move). Once the whole of the top is broadly covered you then use a fork to connect the potato, not forgetting to rough it up so you get lovely scorched bits from it baking.
Place into your preheated oven now for 20 minutes, it should be bubbling round the edges and browning on top by the time this is up – if not, put it back in until it is. Once its got a good colour all over it, remove it from the oven and add the last of the grated cheese to the top, place it back in the oven for 5 to 10 minutes, keeping an eye on it so it doesn't burn.
Remove and serve at the table alongside some green peas.