ME LOOOOVE NOODLES.
And I need very little in the way of an excuse to whip up a dish using them. So when the carrot of disco-by-post was dropped in front of me by Wrighty in exchange for a summery Japanese dish, I had no choice but to deliver.
It probably makes me a hostage to disco and soulful house, but you know what, I'm very happy with that. It's music that's good for the soul and it acts as the soundtrack to much of my life, so having some mixed especially for me feels fab.
And lets face it, when the weather is as glorious as it is today, a zingy, fresh and filling noodle salad is the perfect supper – along with a chilled bottle of Asahi. Bliss.
The flavours in this are really fresh, fragrant and bold, but the textures are great too. The soft slinky noodles are especially good when you get one of the crispy pickled cucumber noodles mixed through them, and the chicken is juicy and tender, a lovely contrast to the al dente broccoli and firm broad beans.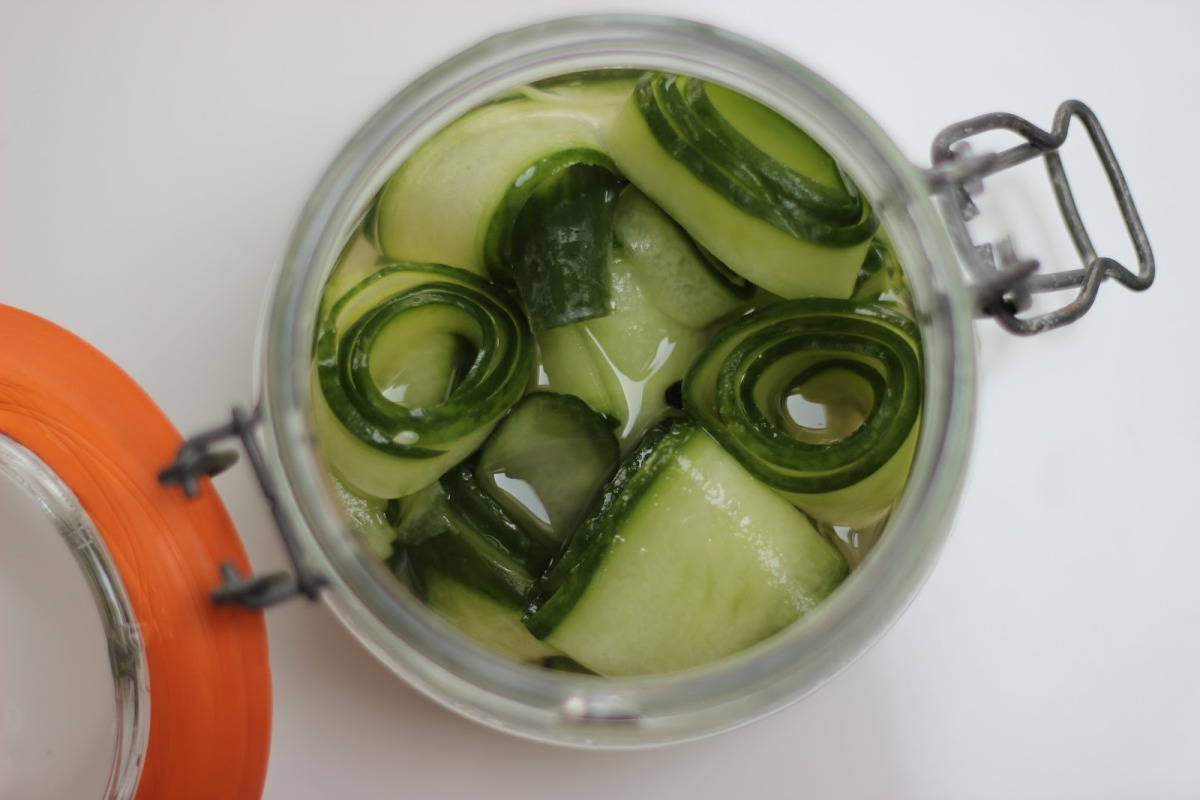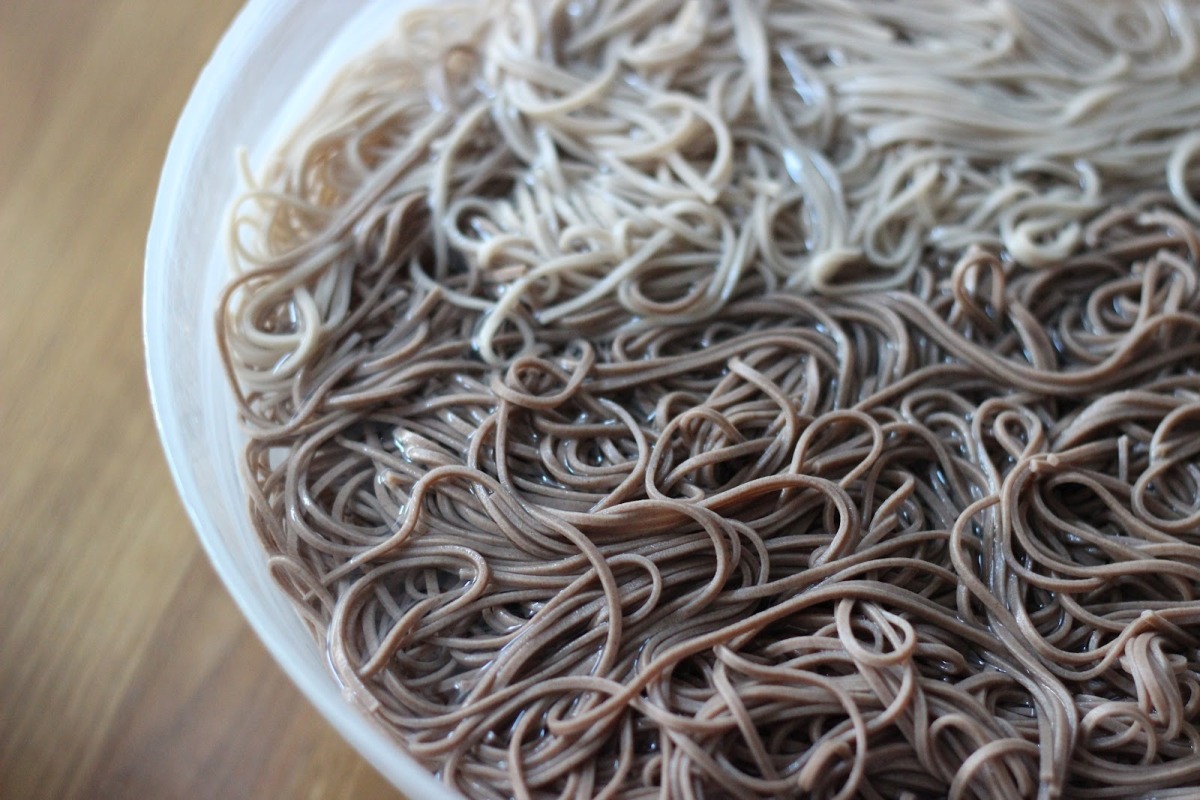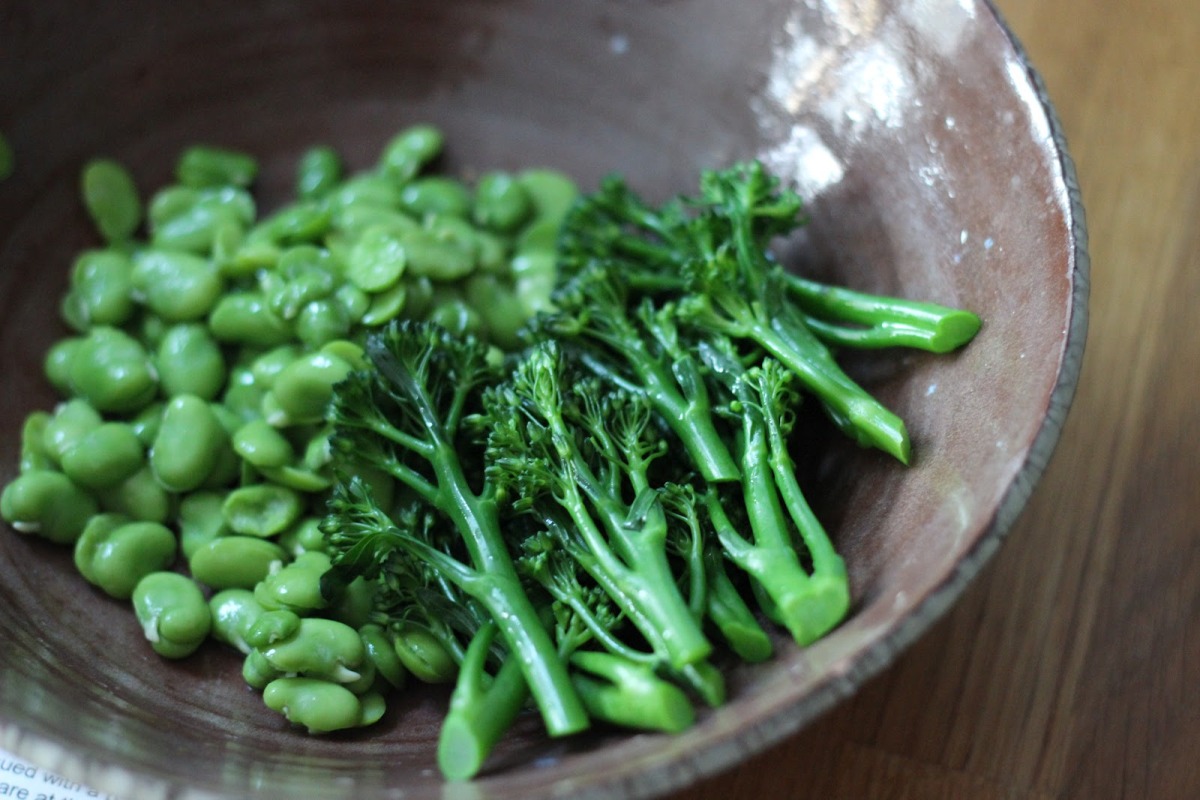 On to the dish…
Ginger marinated chicken breasts poached gently in white miso, with buckwheat soba noodles, tenderstem broccoli, broad beans and pickled cucumber noodles, all wrapped in a Japansese dressing.
For two
Two skinless chicken breasts
Buckwheat soba noodles, I use 3 bundles between 2 of us but use however many you like. Cook as per the pack instructions, rinse under cold water until cooled and then set aside in a bowl of cold water until needed
3 heaped tablespoons white miso paste
1 pint water
1 very large piece of ginger, peeled and grated – we want juice and pulp
A couple of handfuls shelled broadbeans (take frozen ones and boil for 1 minute, drain, rinse and cool and then shell them – easiest way)
2 strips pickled cucumber ribbons, cut into fine noodle-like strands (pickled cucumber recipe below – it'll take you about 15 minutes to do)
6 tenderstem broccoli florets, blanched for 1 minute in boiling water before being rinsed under cool water and drained
A large handful fresh mint leaves
A small handful fresh coriander leaves
For the dressing
2 shots mirin
1 shot light soy sauce – Japanese preferably but don't worry if you can't get any
2 shots rice vinegar
1 tsp black sesame seeds and 1tsp white sesame seeds, lightly toasted for a few minutes in a dry frying pan
1 large thumb of ginger sliced finely into matchsticks
3 tablespoons of the poaching liquor from the chicken, once the chicken is done
2 spring onions finely sliced
For the pickled cucumber : This tasty and simple recipe is taken from Food.com
1 cucumber
8 tbsp rice vinegar
4 tsp salt to sprinkle
4 tbsp white sugar
1/2 tsp salt
A few black peppercorns
You'll want two strands of the pickled cucumber cut finely into noodle like ribbons as in the picture
Method
On a mandolin, finely slice the cucumber into ribbons, discard the ones that have the central core in.
Place them into a bowl and scatter with the salt, leave for 15 minutes.
Whilst that's happening combine all the other ingredients into a jug, stir thoroughly and for a little while as the sugar takes a while to totally dissolve.
After 15 minutes rinse the cucumbers, roll each around your finger so like a tube, and pack them into a jar or tupperware box, once all in there pour the liquor over them, cover and put in the fridge. You can eat them straight away but they're better after a day, and they'll keep for up to about 5 days.
For the salad
Take the chicken breasts and slice into slender strips, then take the ginger juice and pulp and cover the chicken with it. Cover and refrigerate, 24 hours is best but you could use it sooner – it just won't be tasting that much of ginger.
Put the miso and water into a pan and bring to the simmer, add the chicken and poach gently until it's just done – this will take around 7 minutes. Remove from the pan, reserve the liquid you need for the dressing and then strain the chicken, sitting it to one side to cool.
Into a jug or container combine all the dressing ingredients and give a good stir.
Drain the noodles and place into a large bowl with the chicken, broad beans, broccoli, cucumber noodles and herbs, then pour the dressing over the lot and mix together with your hands.
Place it into a serving bowl or individual dishes and serve.