A BIG DISH FOR A BIG WEEKEND.
Moving house is a royal ball ache, and to reward the scraped arms and legs, rough hands, fatigue, splinters (and to mark our arrival at our new abode) I wanted to cook something special. Well, that and we no longer have a freezer and I simply couldn't let the cross cut veal shanks go to waste.
Osso bucco is a classic Italian dish that's traditionally eaten just like this with Milanese risotto (a risotto made with saffron and Parmesan) and gremolata (a sauce with a pesto like consistency made from garlic, parsley, lemon rind and olive oil).
I fell in love with it in a restaurant and searched out a recipe online so I could get some of this classic Italian comfort food at home. After looking through a few sites including BBC Good Food and UKTV food to get an idea of the basics, I then tweaked them to create what I'd be more than happy to serve to guests as a posh Sunday lunch.
I cook my version of osso bucco down very gently for a couple of hours in a mixture of white wine, pasatta and porcini liqour until the meat is soft, tender and tasty, and the marrow from the centre of the bone has created a shiny gloss to the overall dish ('the stars' my old butcher used to say). It's perfect along side the fragrant and simple saffron risotto (love that distinctive, honey-like taste it brings to the fat grains) and to cut through all that fragrant richness finally comes the gremolata, herby and bright and clean.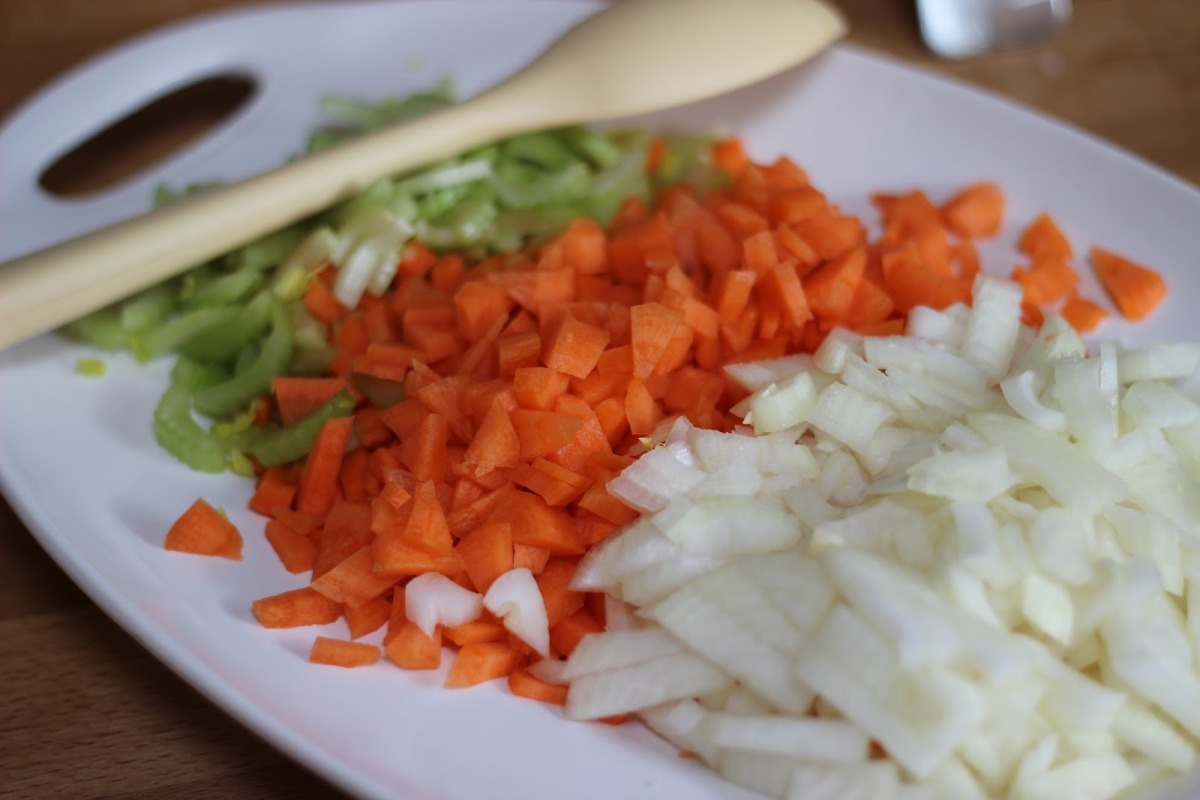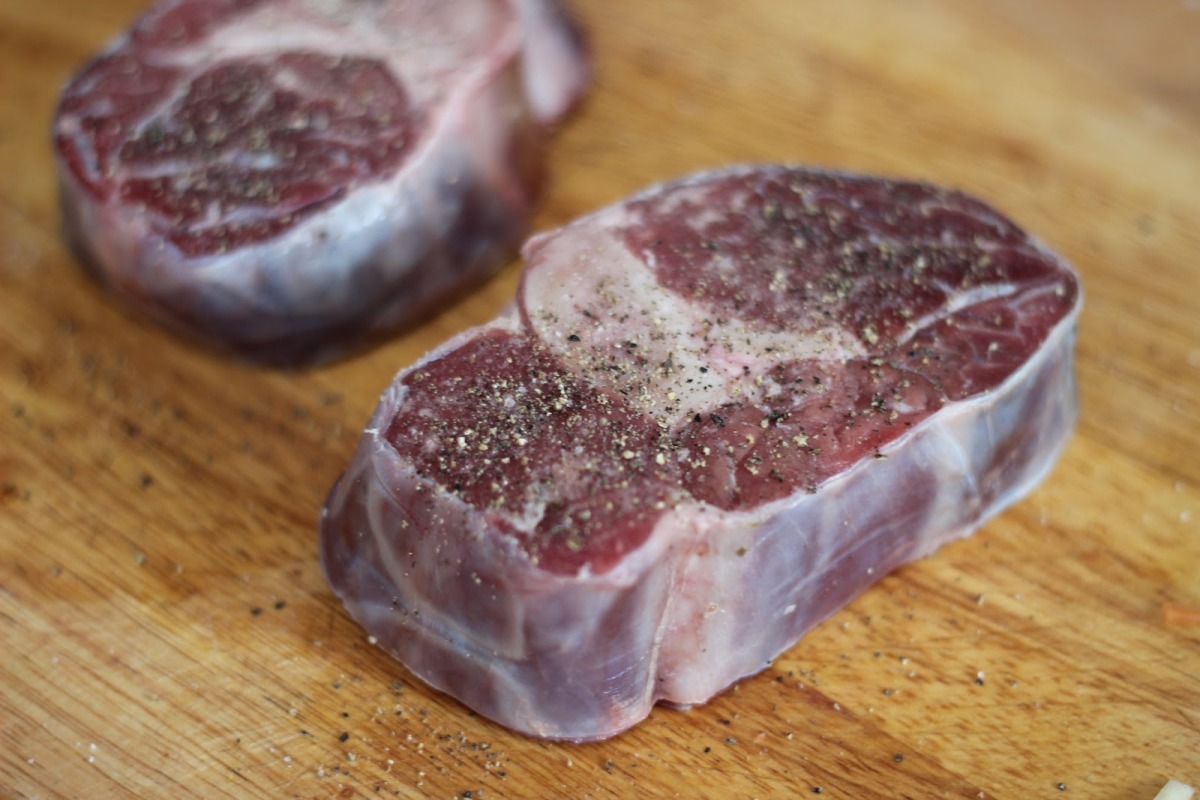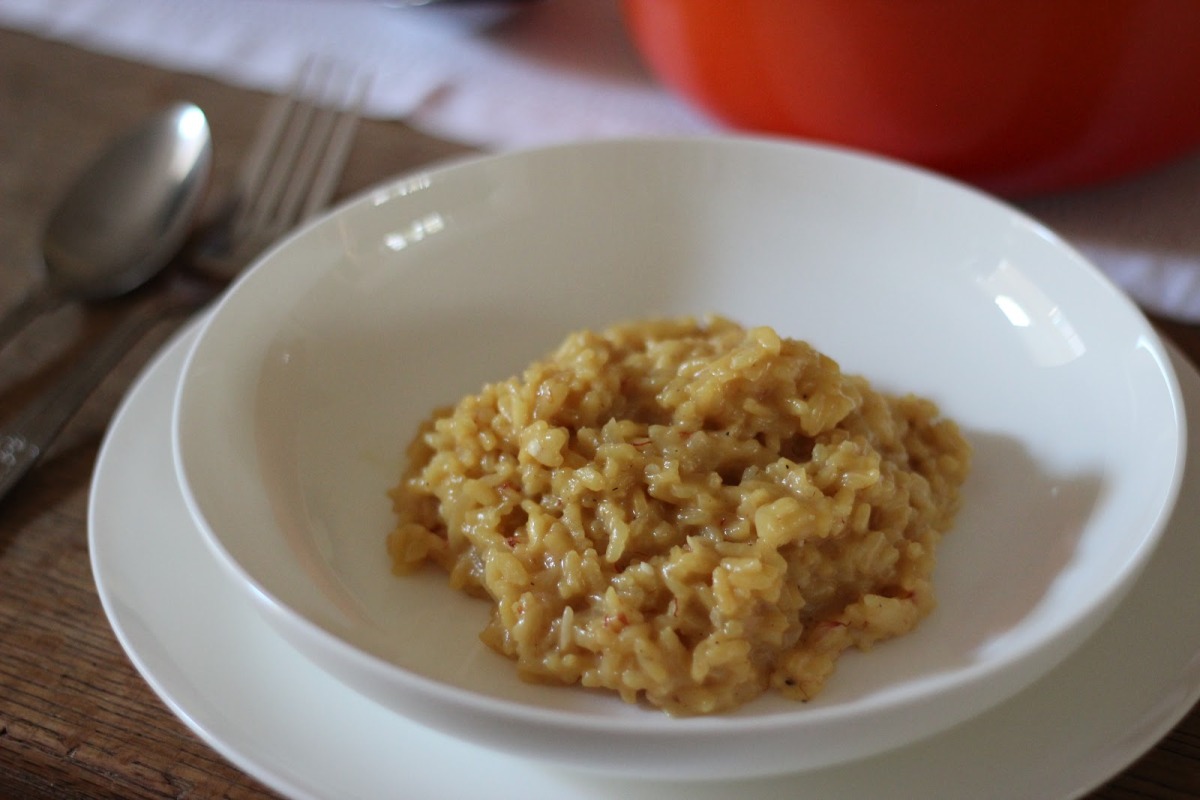 For four
The veal stew
4 quarter cut rosé veal shanks – ours are from the mighty Heaves Farm Veal and you can buy them online
250mls dry white wine
250mls pasatta
250mls warm water with 10g dried porcini soaked in them for 15 minutes. Porcini needs removing after 15 minutes and finely chopping up 20g sun-dried tomatoes, finely chopped
4 large ripe tomatoes, cored and diced
2 golden onions, finely diced
2 carrots, peeled, quartered and finely diced
2 celery stalks, finely sliced
Unsalted butter
Olive oil
Sea salt
Black pepper
Plain flour
The risotto
1800mls light chicken/pork stock, hot (you may want more or less depending on how much your rice needs)
300g risotto rice
250mls dry white wine
3 big pinches saffron
70g butter
1 golden onion finely diced
80g grated Parmesan
A glug of olive oil
Black pepper
The gremolata
A large handful fresh parsley
The grated rind of one unwaxed lemon
1 fat clove of garlic, peeled
100mls extra virgin olive oil
A scrunch of sea salt
A grind of black pepper
Method
In a large saucepan or casserole dish with a lid, heat a large glug of olive oil and knob of unsalted butter, and on a lowish heat cook the celery, onion and carrot until they've really reduced and the onions and celery have become translucent, this will take around 15 minutes.
Whilst this is happening, season the shanks and dust lightly with flour, then fry in a separate frying pan that you have on a high heat, foaming with unsalted butter. Cook them for a few minutes each side until they're nice and brown, and remove from the pan and set aside.
To the casserole pot add the diced tomatoes, porcini mushrooms, sun-dried tomatoes, porcini stock, pasatta, wine and veal shanks and turn the heat up, once it's bubbling turn the pan onto a really low heat, put the lid on and cook for 1 hour 15 minutes.
After this time turn the shanks over in the pot and cook for another 1 hour 15 minutes with the lid off so that the liqor can reduce a little.
Whilst this is cooking down place the gremolata ingredients into a food processor and blitz until you have a pesto like consistency, decant into a small bowl and set aside in the fridge.
25 minutes before the shanks are done begin the risotto. Sauté in a large pan the onion in the butter and a glug of olive oil until it's turned translucent on a medium heat, then add the rice and toast on this medium heat for a couple of minutes, now add the wine and continually stir the rice until the wine has cooked in, then ladle by ladle add the hot chicken stock and stir continually until the liquid has cooked in. Do this until the grains are plump and al dente. Then finish with the grated Parmesan.
Spoon the risotto into bowls and top with the veal shanks and their sauce, finish with a generous dollop of gremolata, and scoff with a big glass of your favourite vino.