THE TASTES OF AUTUMN.
Smoked meats and fish, jewel like roots, woody mushrooms, sticky and dark red wines, flaky pastry, game meats and poultry. I'm looking forward to getting my teeth stuck into all of them, and on this grizzly bank holiday Monday with a big chill in the air and leaves falling from the trees outside our house (yes already, can you believe it), I knew it was time to put on a cardi and get hearty in the kitchen.
It was a tweet a couple of weeks ago from a friend that inspired this recipe. Newly married Claire had been cooking sausages in tomato sauce with lentils, and yesterday as the rain came down that dish popped into my head.
I usually have a lot of fresh tomatoes in the kitchen (eating seasonably doesnt work for me where toms are concerned I'm afraid) and I also had a slab of excellent smoked streaky bacon from the butcher that I was hunting for a use for, together they'd work perfectly in the form of a rustic and autumnal soup.
If you're after an express soup then please look away now. The nature of the ingredients and the slow roasting takes some time (over four hours, eek) – but it's eminently worth it. It's also incredibly simple as the oven does most of the work, ideal therefore if you're in the house all day. Though I warn you, the scent of smoked bacon and tomatoes is one that makes patient waiting rather hard.
Roasting half the tomatoes and using the other half fresh creates a rich and bright flavour, the perfect base for the super smokey diced bacon and a dash of cayenne, with the red lentils then bringing in extra texture and rusticity. I finished each bowl with a dollop of ricotta, a little globe basil and my favourite extra virgin, which felt like a light and fragrant way to top off this chunky little supper.
I recommend eating it with warm crusty bread and a big glass of red wine, and sitting under a blanket on your sofa as you do so.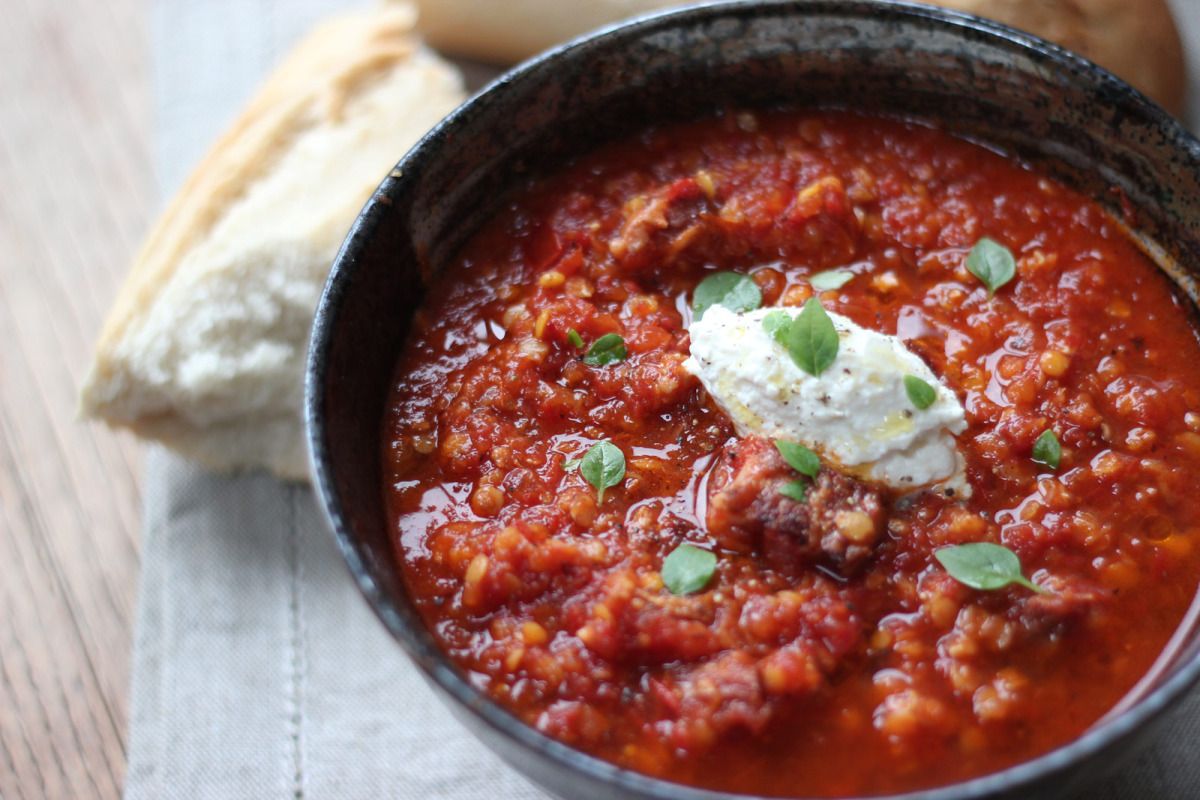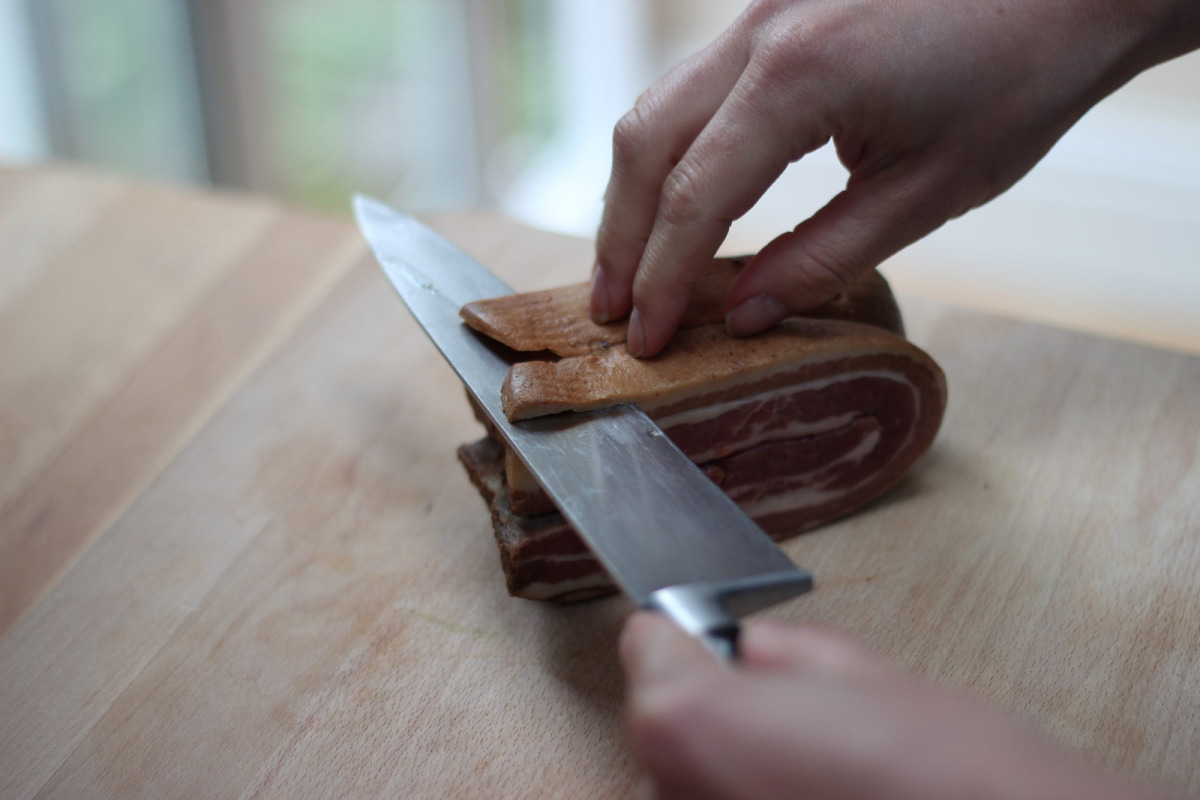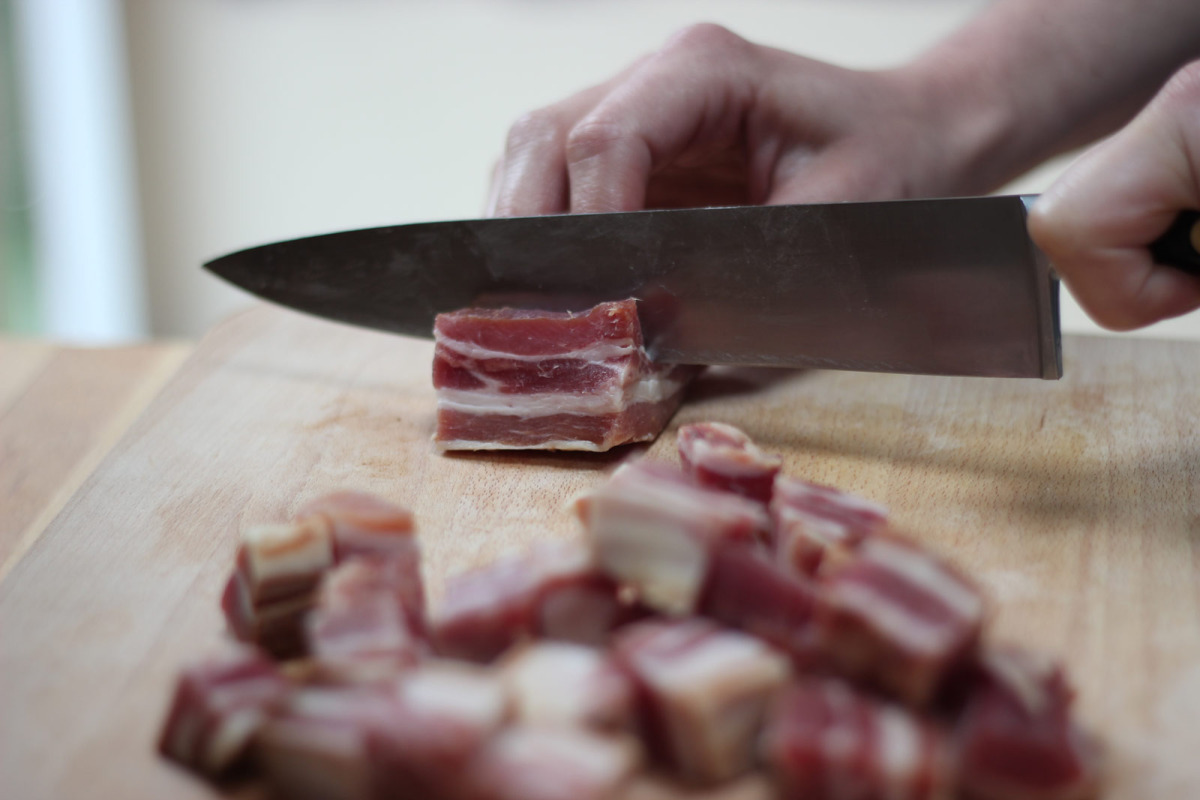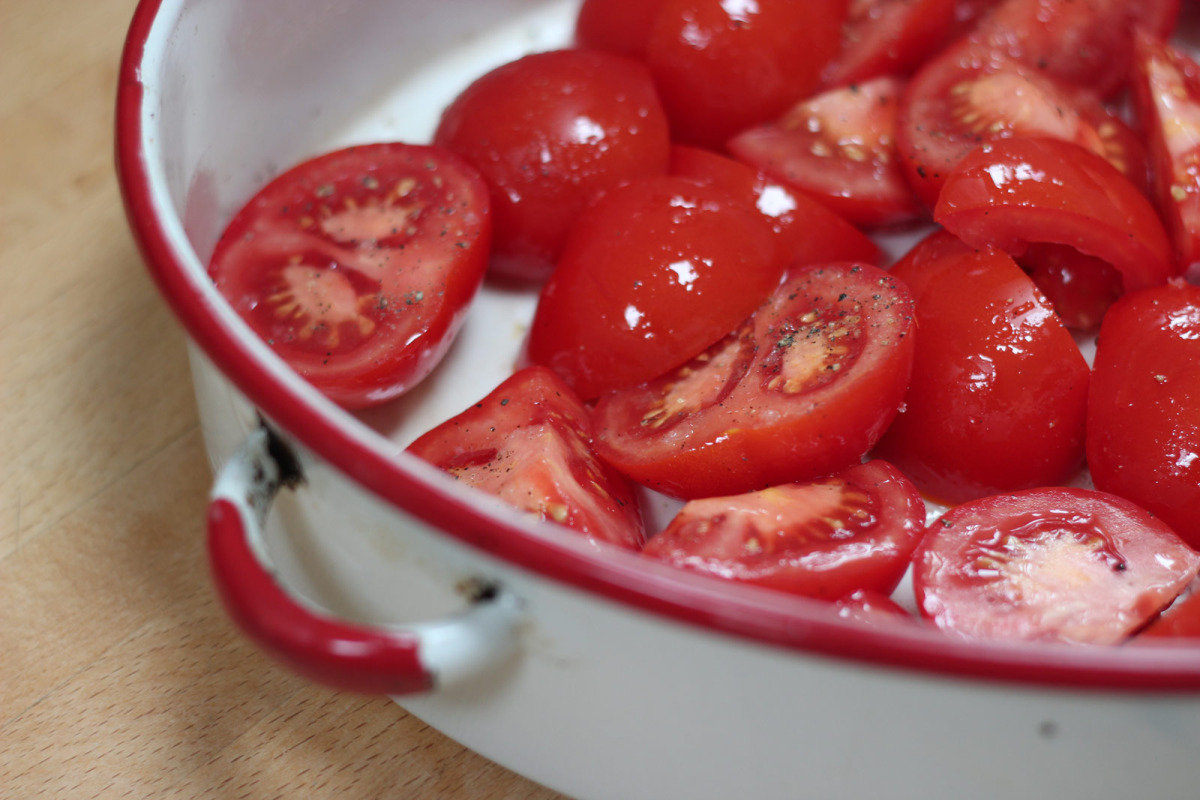 Soup for two greedies, or two and some leftover for the next day
2kg fresh tomatoes, quartered and the white and green removed
A slab of uncut smoked streaky bacon about 1.5" wide, rind cut off and then diced into large cubes
400mls white wine
1tsp cayenne pepper
4 handfuls split red lentils, cooked as per pack instructions and drained
500mls water
Extra virgin olive oil
Olive oil for cooking
Black pepper
Ricotta to serve
Globe basil to serve
Method
Preheat the oven to 160°C.
Take half the tomatoes and pop into a roasting pot (one that has a lid), give a glug of cooking olive oil and pop into the oven for 2 hours (lid off), giving them a shake a couple of times as they cook, you're looking for them to reduce and get a little sticky, with the edges charring slightly but not burning.
Whilst they're roasting, blitz the other tomatoes in a food processor until pretty smooth.
In a hot dry frying pan brown the cubed bacon on all sides until they have a good colour. Remove the roasted tomatoes from the oven and put the temperature up to 180°C, then blitz the roasted tomatoes in a food processor and place back in the roasting pot. Add the fresh blitzed tomatoes to the same pot along with the wine, water, cayenne, a generous grind of black pepper and the bacon. Put the lid on it and put it back into the oven for 2 hours.
You'll need to check it every 40 minutes or so to give it a stir. After the 2 hours remove it from the oven and using a fork press the bacon so its breaks up a little, then add the cooked lentils and stir in and put it back in the oven for 20 minutes to heat through.
Serve with a dollop of ricotta, the basil and olive oil.