Too much of a good thing.
It can be all too easy to get stuck in a dinnertime rut. The same old favourite dishes cropping up time and again – if you're not careful you can love them to the point of extinction. No popular meal should have to suffer this fate.
The main perpetrators (in our house at least) include risottos, stir frys and pasta. And being versatile, fresh tasting and easy, it's no wonder they're served up with alarming regularity.
Now, there's nothing wrong with having some go-to dishes for when time is tight, but the trick to enjoying them is variety. Making sure you have enough of them to rotate without getting bored. And to pass muster the food in question needs to be tasty, easy to make, quick and adaptable.
So, on that that thought I present to you, romesco sauce. It's a Catalan sauce made from red peppers, smoked paprika, hazelnuts, red wine vinegar, tomatoes and bread. Blended until as smooth as can be, the sauce is thick, vibrant and fresh tasting, with sweetness coming from the nuts and peppers, warmth and smoke from the paprika and the cut through coming from the vinegar.
It lends itself to all kinds of meals, Spanish or otherwise. I like it spooned over chicken and fish tray bakes, used as a chilled dip for warm pitta, served on top of crispy lamb chops, as a sauce for meatballs, or as I have made here, for eating over baked portabella mushrooms. And with as many uses as this you need never get bored.
When baked, portabella mushrooms shrink a bit but they do retain their moisture and are deliciously meaty and full of flavour as a result. They're the perfect partner to the fresh romesco sauce, the rich fresh pesto, crumbled fluffy goat's cheese and firm, nutty pine nuts. It's a filling and robust dish that you'll have on the table in less than 30 minutes, making it an easy and healthy go-to dinner.
Cooks tip
Mushrooms make a great meal, to get the best out of them:
When you buy them, pierce an opening in the top of the cling wrap of their container so they can breathe, this stops them from getting 'clammy' in the fridge.
Don't wash mushrooms before using them, if they're a bit soily simply brush it off with your hands or a soft cloth.
If pan frying, cook mushrooms on a high heat, this browns the outsides and leaves the insides juicy and succulent.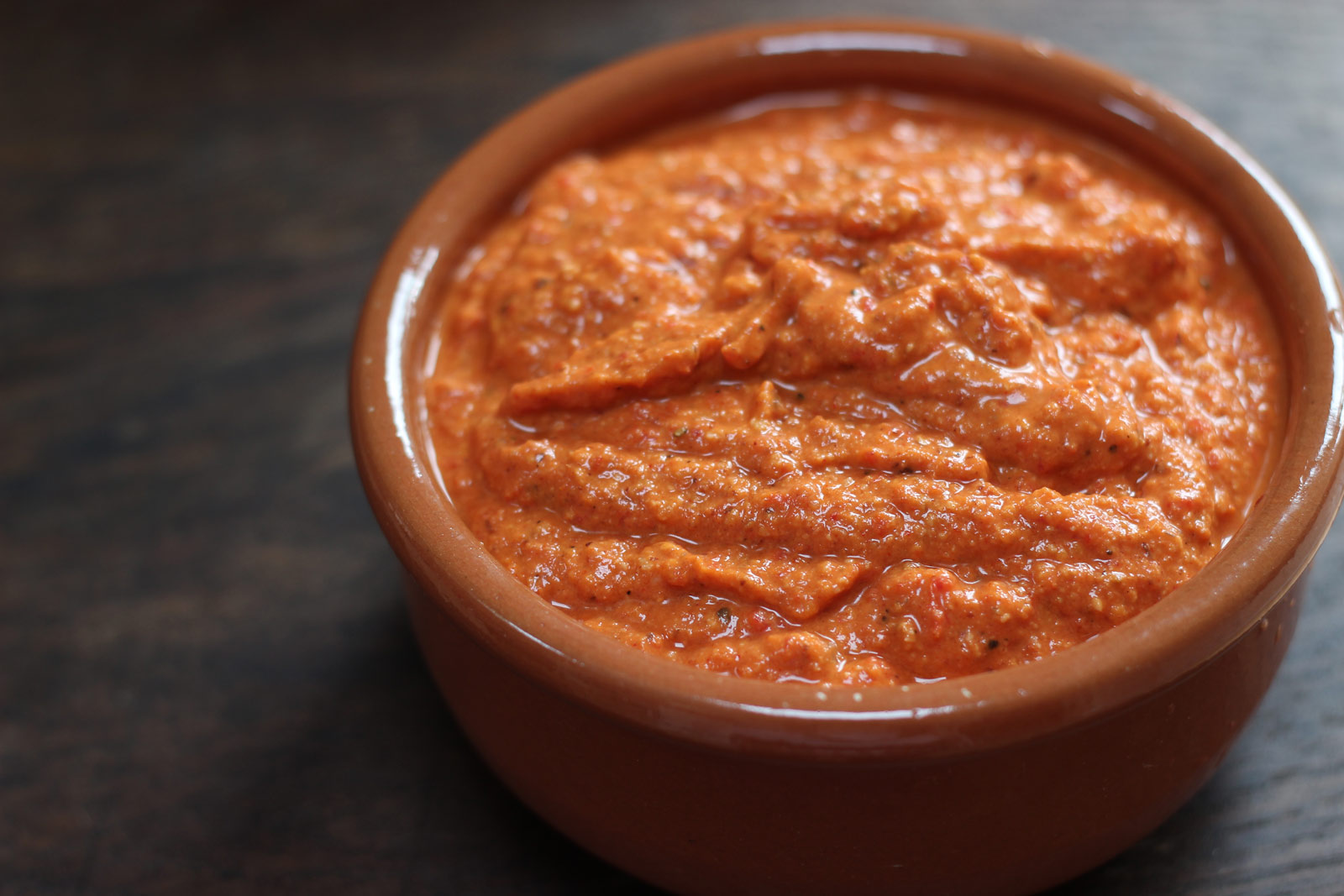 For one large pot of romesco sauce and dinner for two
The romesco
2 slices stale white or brown bread
2 roasted red peppers from a jar
1 red pepper roasted in the oven until soft
100g hazelnuts
1 heaped tsp smoked paprika
1 clove garlic, peeled
10 ish medium tomatoes
1 tbsp red wine vinegar
200mls extra virgin olive oil
Sea salt
Black pepper
The pesto
160g fresh basil leaves – this took three full supermarket bought plants to reach this weight
90g grated pecorino cheese
75g pine nuts dry toasted in a frying pan until lightly golden (keep your eye on them as they burn really quickly)
1 clove of garlic
125mls extra virgin olive oil
The rest of the dish
8 portabella mushrooms
A little crumbled goat's cheese
Pine nuts
Olive oil and extra virgin olive oil
Bread for serving – we had thick slices of a French bouille but just use your favourite
Method
Preheat your oven to 200°C.
Place all the romesco ingredients in a food processor and blitz until smooth, decant into a bowl and set aside.
Place all the pesto ingredients into a food processor and blitz until smooth, decant into a bowl and set aside.
Brush the mushrooms with a little olive oil and place onto a baking sheet.
Bake for 10 minutes then remove, spoon over the pesto and romesco sauce and put back into the oven for 10 minutes.
Towards the end of baking, toast the bread the mushrooms are to be served on, and drizzle with a little extra virgin once done.
Remove the mushrooms from the oven and place onto the toasted bread, crumble over a little goat's cheese and finish with pine nuts. Eat.