Flavour transportation.
Last year I visited Greece for the first time, and down by Fiscardo harbour in Kefalonia, night after night I managed to scoff many delicious local ingredients. It's there I discovered my addiction for proper homemade tzatziki, how amazingly grassy Greek extra virgin olive oil can be, and the joy that is real, locally made feta cheese. Between that, the weather and the landscape it's a wonder I made it home.
A number of dishes got under my skin that holiday, but none more than the juicy BBQ'd chicken gyros and rich baked aubergines with local cheese. They gave me a real taste for the bright, herbal flavours of traditional Greek cuisine, and on returning I set about creating my own seasoning blend, one that would help me get back to the beautiful Kefalonian skies, clear seas and vivid flavours easier than booking a flight.
The Greek blend has in it a heady and fresh mix of herbs and spices, including oregano, marjoram, parsley, cinnamon, nutmeg and lemon (among other things) and it really comes into its own when used in sauces and wet marinades. It's the perfect blend for slow cooked lamb casseroles, giant butter beans in tomato sauce, mixing into minced lamb for kebabs, or used to flavour a yogurt marinade for the BBQ.
Armed with natural yogurt and some of the Greek blend you can make chicken or lamb kebabs that are deliciously fresh flavoured and herby, all you have to do is mix them together, add the meat and leave to sit for 2 to 24 hours (the rule being of course the longer you leave it the better the taste and more tender the texture). Minimum effort + a little bit of time = maximum flavour, the perfect combination in my book, and that's before the holiday memories kick in.
Cooks tip
A top tip for making BBQ kebabs like this is to place a wedge of citrus on the end of the kebab. As it cooks the sugars start to caramelise, and when the kebabs are served you simply squidge the lemon/lime and the juice runs down the kebab giving it a little extra kick.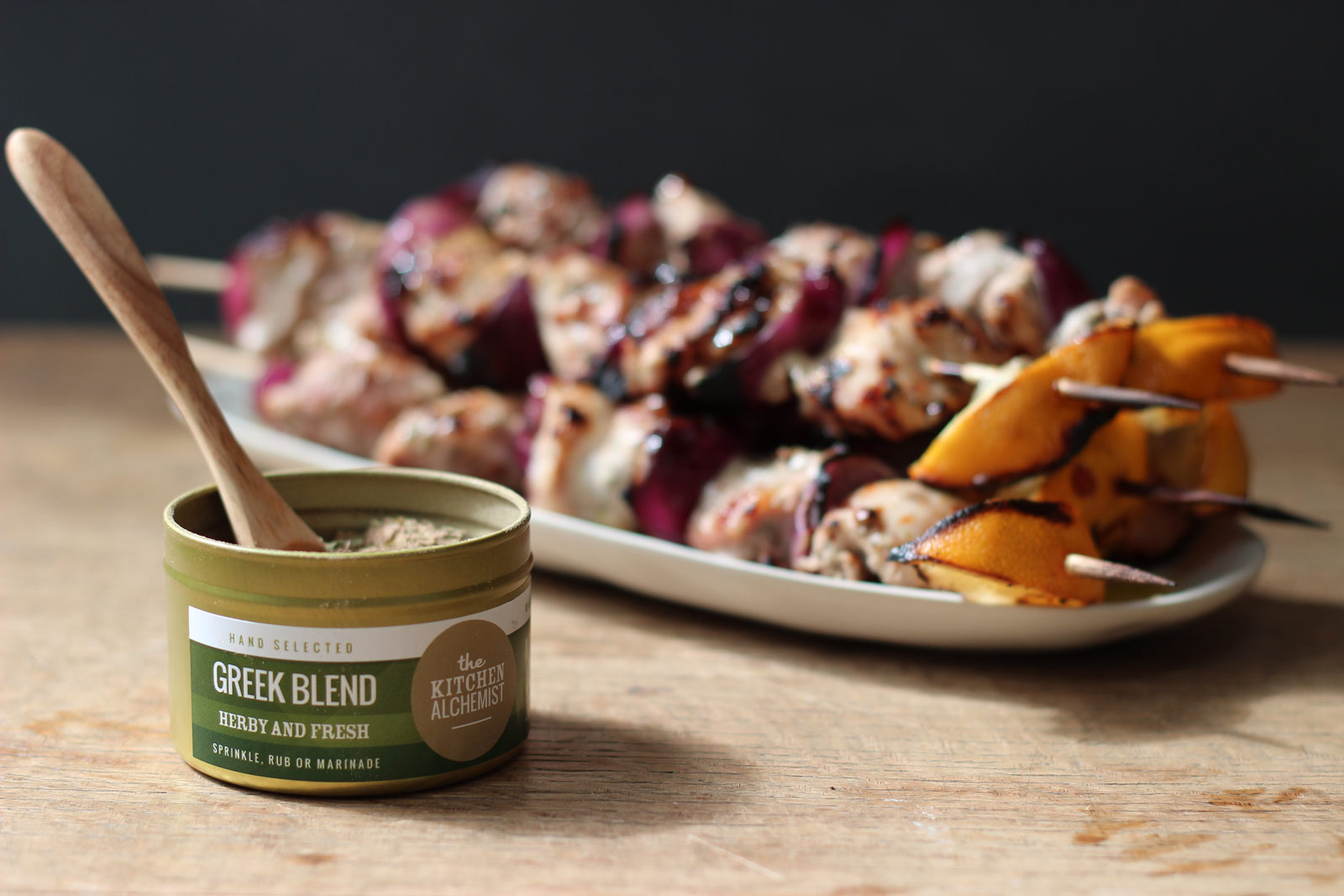 For four (makes 8/9 kebabs)
1kg boneless and skinless chicken thighs, cut into largeish chunks (you could use breast, but thigh is tastier, juicer and cheaper
500mls natural yogurt
30g my Greek Blend
2 small red onions, peeled and quartered and the layers separated
2 lemons, halved then each half cut into 3 segments. Visible pips removed
Extra virgin olive oil
BBQ skewers
To serve
Tortilla wraps
Round lettuce, shredded
Cucumber salsa of diced peeled cucumber, quartered cherry tomato, lemon juice, extra virgin and sea salt and black pepper
More natural yogurt
Method
In a large bowl mix the Greek blend into the yogurt until combined, then add in the chicken and leave for up to 24 hours (I leave mine the full 24 hours).
When you're ready to eat, soak the wooden/bamboo skewers in water for 30 minutes (prevents them catching fire on the BBQ) then thread with leaves of red onion alternated between chunks of chicken, finishing with the lemon (cut side facing the meat) on one end.
Heat your BBQ and oil the bars well, when the coals are around 160 to 170°C place the kebabs on the bars for around 7 to 8 minutes each side (depends on the size of the chicken) — and don't forget to cook them with the lid on the BBQ — makes a huge difference.
When done remove them from the bars and drizzle with extra virgin olive oil and squeeze the lemon wedges down over the kebab.
Eat alone, or in tortilla wraps loaded with lettuce, cucumber salsa and a couple of spoonfuls of natural yogurt.