Fast, delicious, adventurous.
It doesn't have to take long to make tasty dishes full of world flavours. Rich and fatty fish fillets like trout or salmon are ideal for cooking quickly and briefly in a very hot oven, sprinkled with herbs and spices. Just 8 minutes at 200°C has the flesh perfectly cooked and full of flavour, and the spices in that time form a delicious crust which season every bite.
Other reasons to like salmon and trout is that they're really versatile, lending themselves to all kinds of flavours and seasoning blends – Thai, Chinese and Spanish to name a few. Today I'd been making up a big batch of my Cajun blend, getting it ready to sell in my online shop (which, fingers crossed should be open very soon) so I decided to use a little of it for todays lunch (call it a perk of the job).
Eating the fish hot straight from the oven would be delicious, but it's just as nice left to cool and eaten with a summery salad, which is exactly what I decided to do with it here – mixing black and aduki beans (cheats from a tin) with ripe avocado, red pepper and a simple dressing of fresh tomato, lime, garlic, red onion and lashings of extra virgin. The whole lot making it to the table within 30 minutes.
The Cajun blend is a smoky and mildly hot mix, made with classic Cajun ingredients including smoked paprika, cayenne, cumin, oregano and ginger, mixed to my own recipe. It gives a delicious smoky, sweet and spicy Cajun kick to all it touches, and is especially good sprinkled over fish or meat before baking, or mixed into oil before rubbing over meat destined for the BBQ. But beware, it is highly moreish and you may find yourself pimping all kinds of things with it from margherita pizzas to baked beans. Nom.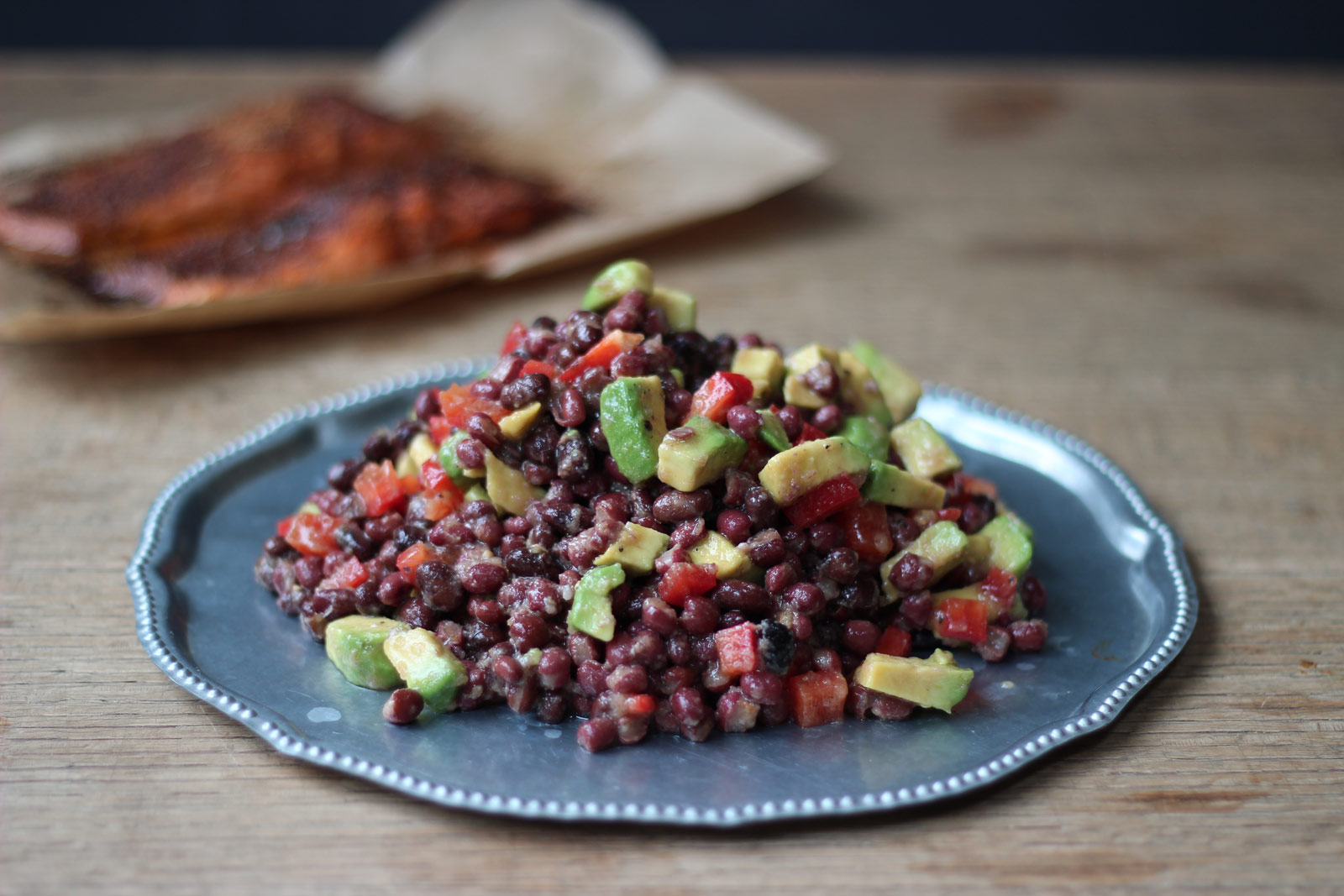 Lunch for two
2 large skinned salmon or trout fillets
2 tins of beans, I chose aduki and black beans, drained and rinsed
Half a red pepper, finely chopped
1 large avocado, finely diced
Half a red onion
3/4 juicy tomatoes
1 clove of garlic
Juice of 1 juicy lime
c50mls extra virgin olive oil
Fresh coriander to serve
2 heaped tsps my Cajun blend
1 tsp cooking olive oil
Method
Preheat the oven to 200°C.
In a bowl combine the the drained beans, avocado and red pepper. Using a fine grater grate over the contents of the bowl the garlic clove, the onion and tomatoes.
Season the contents of the bowl with salt and pepper, then add the lime juice and extra virgin olive oil. Stir carefully to combine (you don't want the avocado to break up) and set aside.
When the oven is at temperature, brush the bottom of a baking sheet with the cooking olive oil and lay the fish fillets on top. Sprinkle the fillets with the Cajun blend and put into the oven, bake for just 8 minutes.
Remove from the oven and leave to cool a little. Serve on top of the bean salad and finish with fresh coriander. Eat.