Hangover management.
Despite my strict no drinking on a school night rule, sometimes getting squiffy is unavoidable. And fairly recently following a boozy one in London with colleagues and clients, I found myself feeling a little peaky at Euston the next day.
After a hard days graft, our project of the last 6 months had come to fruition and we were in the mood to celebrate our job well done. I didn't drink that much in all honesty (2 glasses of wine, and not the 'bottle in a glass' variety either) but it's a sad fact that I get terrible hangovers, hence the rule.
On my way back to MCR the next morning at the station, salvation came in pastry form. Like a homing pigeon (though in reality perhaps more like a zombie) within 60 seconds I came across a huge selection of sweet and savoury pastry offerings. I like to think it was cosmic intervention — karma offering me a helping hand, but alas, it was probably the scent of those covered with bacon that drew me there.
Sat on the train I inhaled the blessed béchamel and ham creation I'd chosen in no time at all, and soon began to feel more human. What is it about naughty foods that does that? And while I can't say this is the hangover cure the world has been waiting for (maybe I should have ordered two...), it is seriously delicious and worth every calorific bite.
This version is very easy to make — especially on account of using ready rolled puff pastry (life's too short to make your own, I feel). I made a very simple béchamel using butter, milk and cornflour, mixed with a little peppery English mustard and a handful of strong vintage cheddar cheese, spooned it over puff pastry squares and topped it with a couple of slices of pancetta (though smoked streaky bacon would work perfectly too) before baking until puffed up and golden.
Now, lets get down to the clever stuff. While assembling these pastries is easy, they may still prove too traumatic to contemplate making while suffering after a good night out. Instead, make a batch ahead, once cooled they'll keep in an airtight tin for a few days (or indeed the freezer) and will be the perfect go-to when you're feeling delicate. Simply pop them into the oven for 10 minutes to reheat. Which if your hangovers are anything like mine, may be about the limit of your capabilities.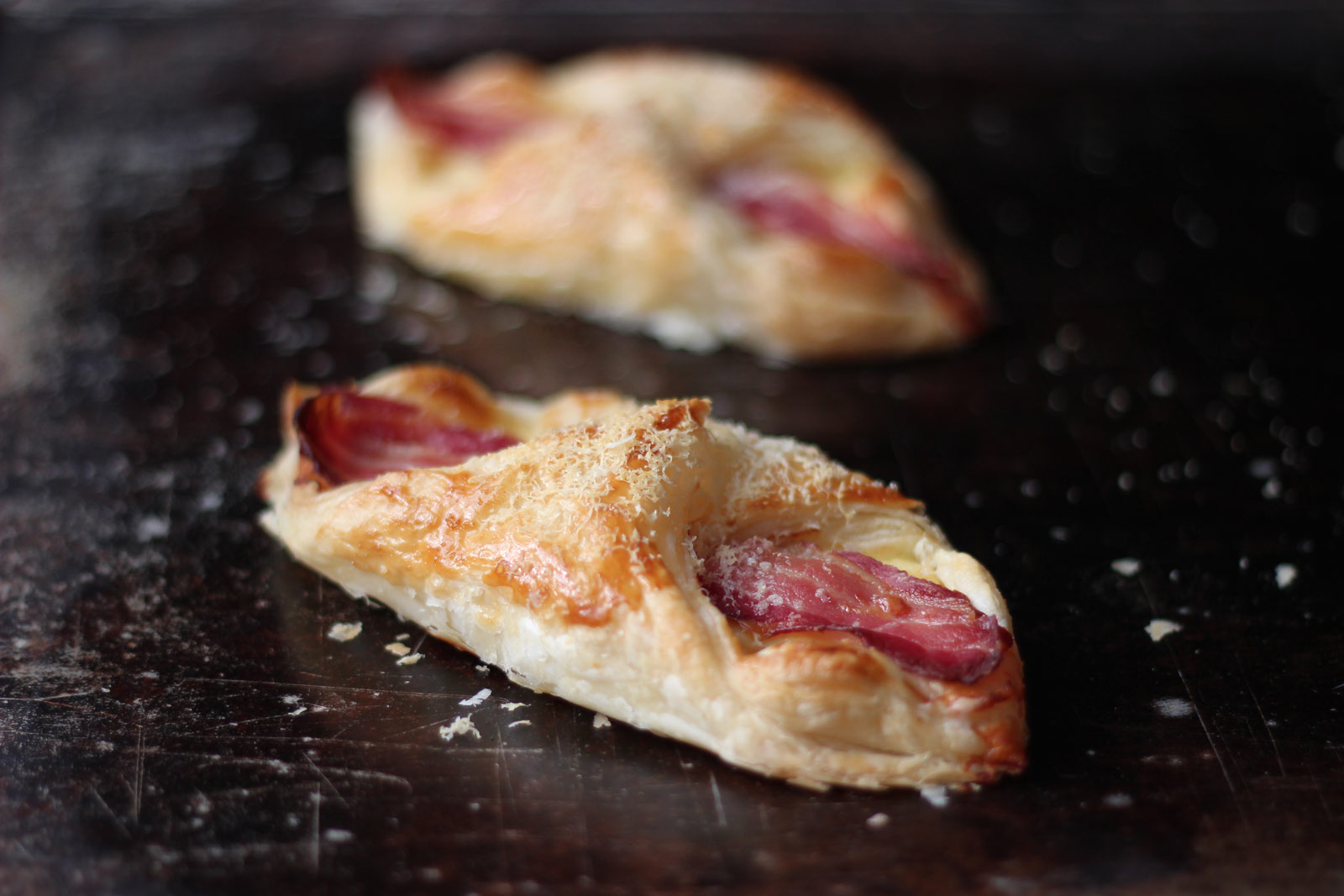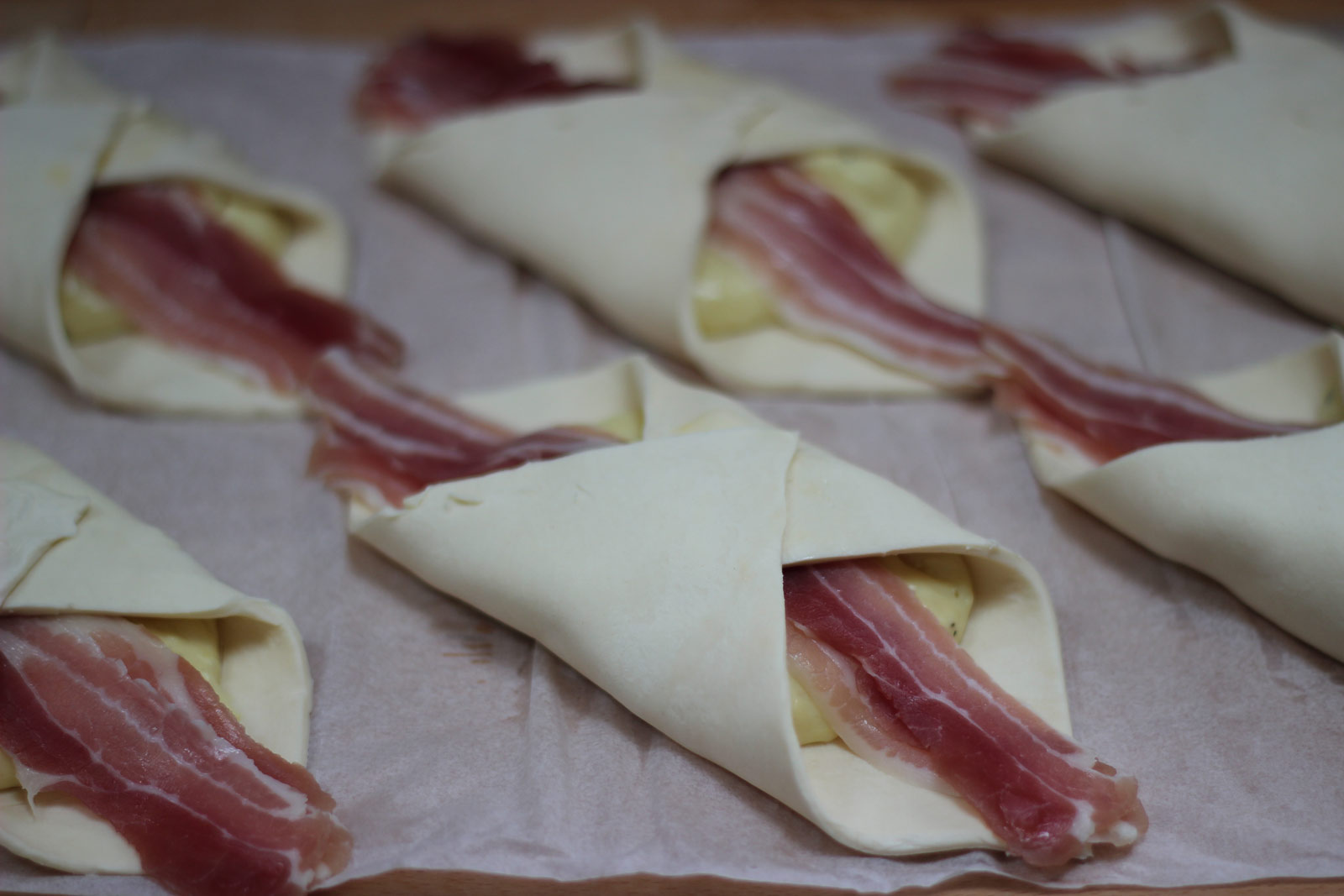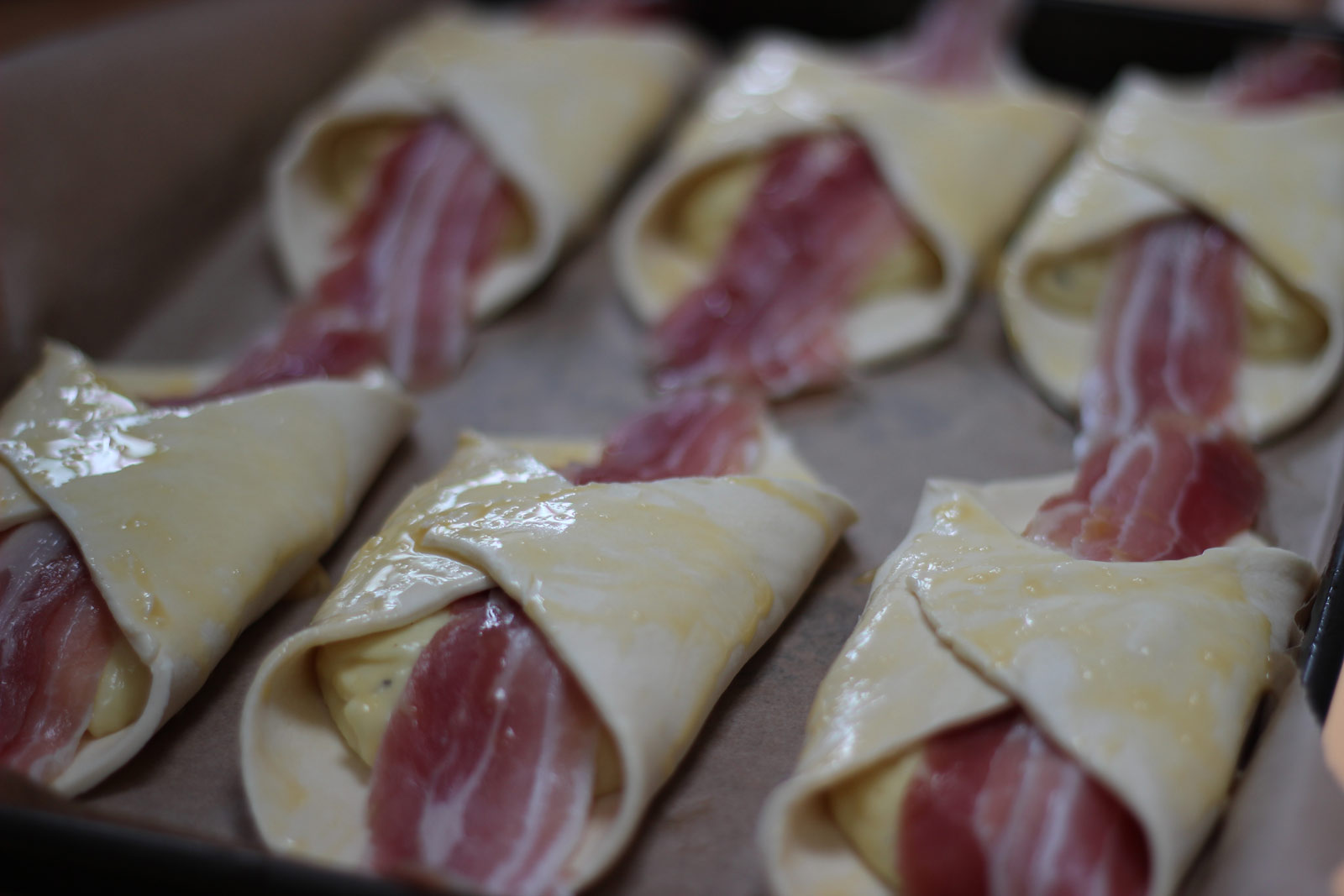 For six pastries
1 roll ready rolled puff pastry (I use Aldi's, which is excellent)
1pt whole milk
120g vintage cheddar, grated
1 heaped tbsp unsalted butter
5 or 6 tbsp cornflour
1 tsp English mustard
Sea salt and black pepper
12 rashers pancetta / thin cut smoked streaky bacon
1 egg whisked
A grating of Parmesan
Method
Remove the pastry in its packet from the fridge 1hr before you need it, it needs to come to room temperature.
Preheat your oven to 190°C.
Put the milk into a saucepan and bring to a simmer, then turn the heat off.
In another (large) saucepan place the butter and melt on a high heat, then add the cornflour — enough until you have a firmish ball a little like the consistency of mashed potato — then turn the heat down to low.
A ladle at a time add the milk to the roux you've made and whisk in, continuing to whisk for a couple of minutes after all the milk is in, to make sure the mix is smooth.
Add a generous scrunch of sea salt and black pepper, mustard and the cheese and stir until melted, then turn the heat off.
Cut the pastry sheet (the Aldi one makes 6 squares exactly) into large squares.
Spoon the béchamel out onto the centre of the pastries until you've used it all up, then lay 2 slices of pancetta over each diagonally.
Bring the opposite corners up and brush a little of the beaten egg over one corner, folding the other corner over the top attaching it to it. Repeat with all of the pastries and then brush all the exposed pastry with the beaten egg.
Place into the oven for 20 minutes, and 10 minutes in remove from the oven and grate a little Parmesan over the fold of each pastry.
Get a big cup of earl grey or your fave coffee, and devour.