Ramen. A noodle dish of epic proportions.
If you're a noodle addict (like me) you'll hopefully agree, this is one of the best noodle dishes you can get. It contains delicious umami flavour, slurpy broth and long and slinky, wiggly noodles spiked with prawns and crab sticks, a bit of Japanese seven spice pepper and some greens. For me, food doesn't get much more fulfilling.
This time I've used giant prawns and crab sticks. Yep, the 'crab' sticks are pretty low rent, but there isn't a Japanese restaurant (authentic or otherwise) that I've been to which does this dish without them, and who am I to say what goes.
This dish is only complex in getting hold of some of its ingredients, it's not remotely difficult to put together once you have them. If you don't live near/frequent an oriental supermarket very often then make life easy by ordering them online and have them sent to you. You won't regret it.
What is ramen?
'Ramen' isn't actually a type of noodle (as I originally thought), it's the name for a dish of broth containing noodles. You can use all kinds of noodles to create ramen apparently, and soba are quite common – these are what I've used here.
What about dashi?
It's a liquor used as a stock base and base for dipping sauces and you can make it from several things. For ramen soup I create it using katsuobushi and kombu or wakame, the lattter two are dried seaweeds and you can use either. The former is known as the flavour of Japan, it's dried, boiled and repeatedly smoked skipjack tuna, which is then shaved so thin that it's almost transparent, carrying the most intense and fragrant smoked fish aroma. Also known as bonito flakes, and you buy them ready shaved.
The flavour these two ingredients create can't be substituted for anything else, and without it this dish won't taste authentic, but apparently dashi granules are readily available if you don't fancy making the real thing (though I promise it's easy once you have the two component parts).
Is the liquor dashi alone?
Once the dashi is ready I strain it into a deep bottomed saucepan over both white and red miso paste to complete the soup base.
White miso is reasonably sweet (and savoury at the same time) and brown miso is very savoury indeed, and together they make a great mix. I know for certain that brown miso is available in Sainsburys, but you may need that oriental supermarket for the white variety.
And finally, those carrot noodles…
Making the carrot noodles is done using a strange piece of kitchen equipment that looks like it belongs to the 1970's. Mine is from Amazon, it's called a 'vegetable spiralizer' if you fancy having a look and perhaps getting one. If you don't but you still want carrot for this dish then simply use a fine grater, it doesn't give the same look but the taste is still there and thats what really counts.
And there's only one final thing to say about this noodle dish now… Amie…this is for you x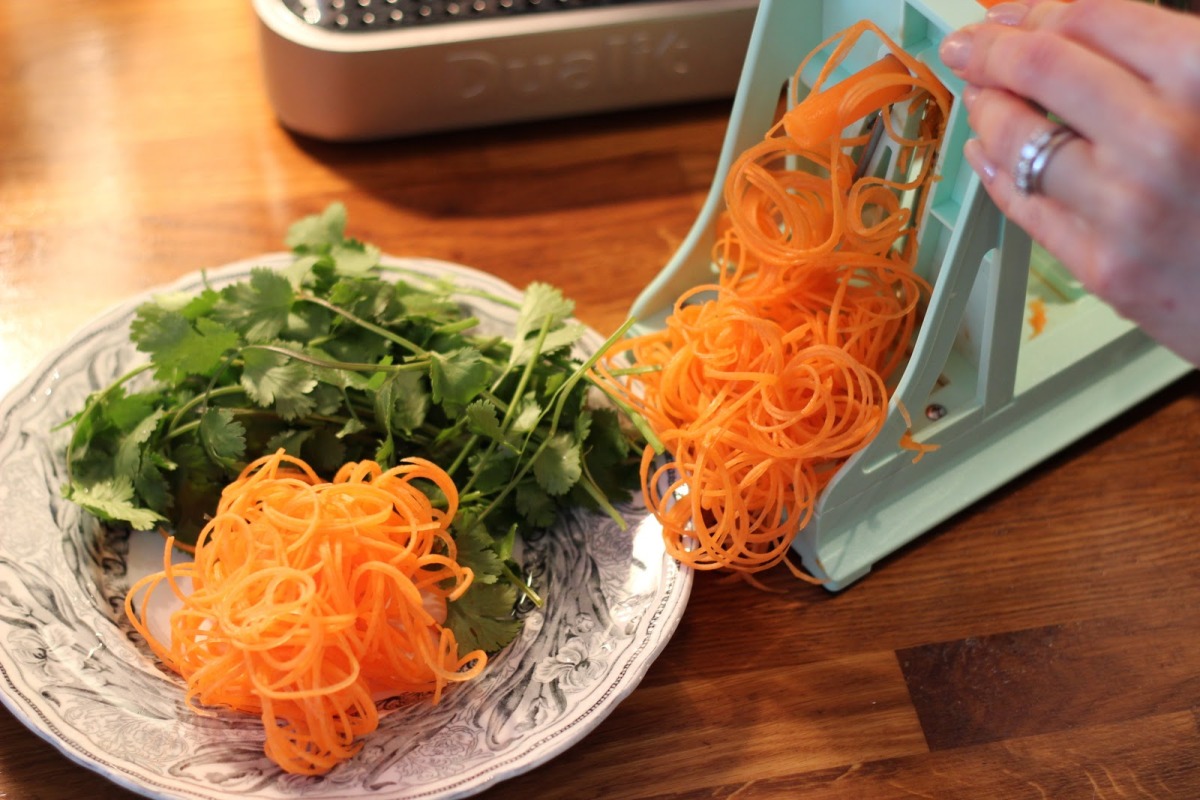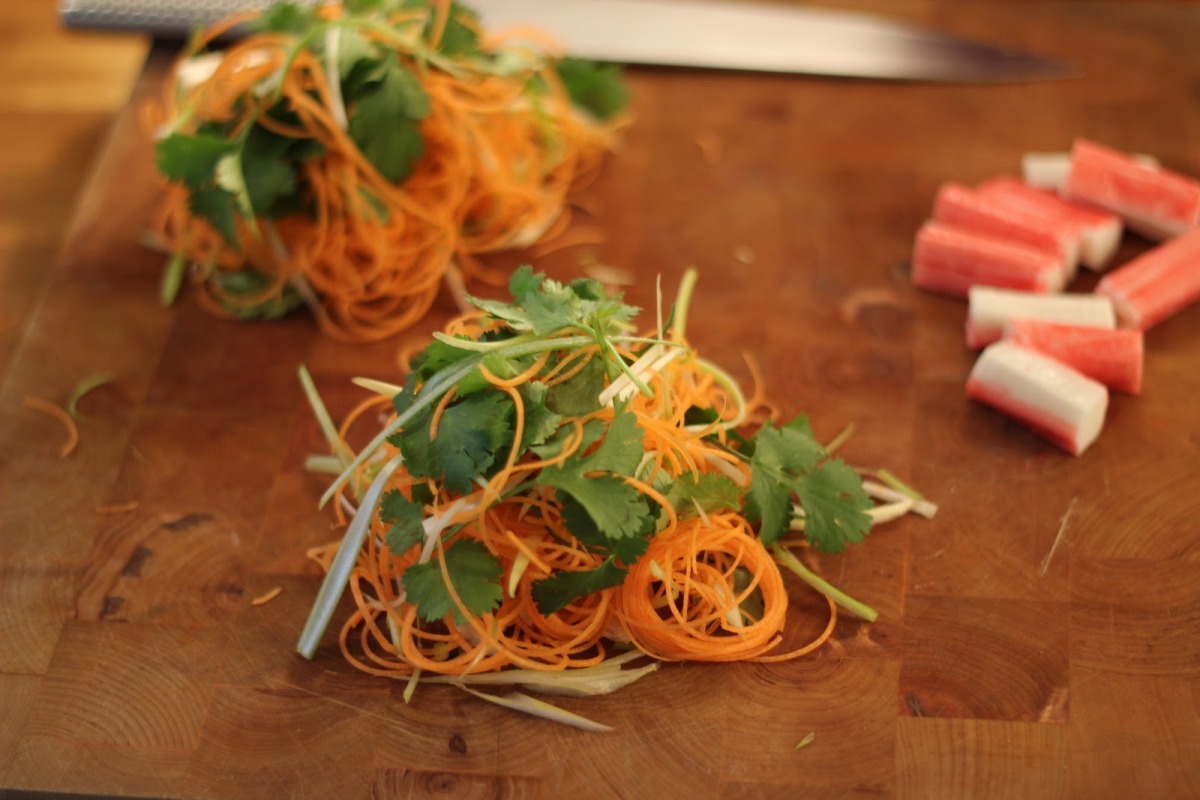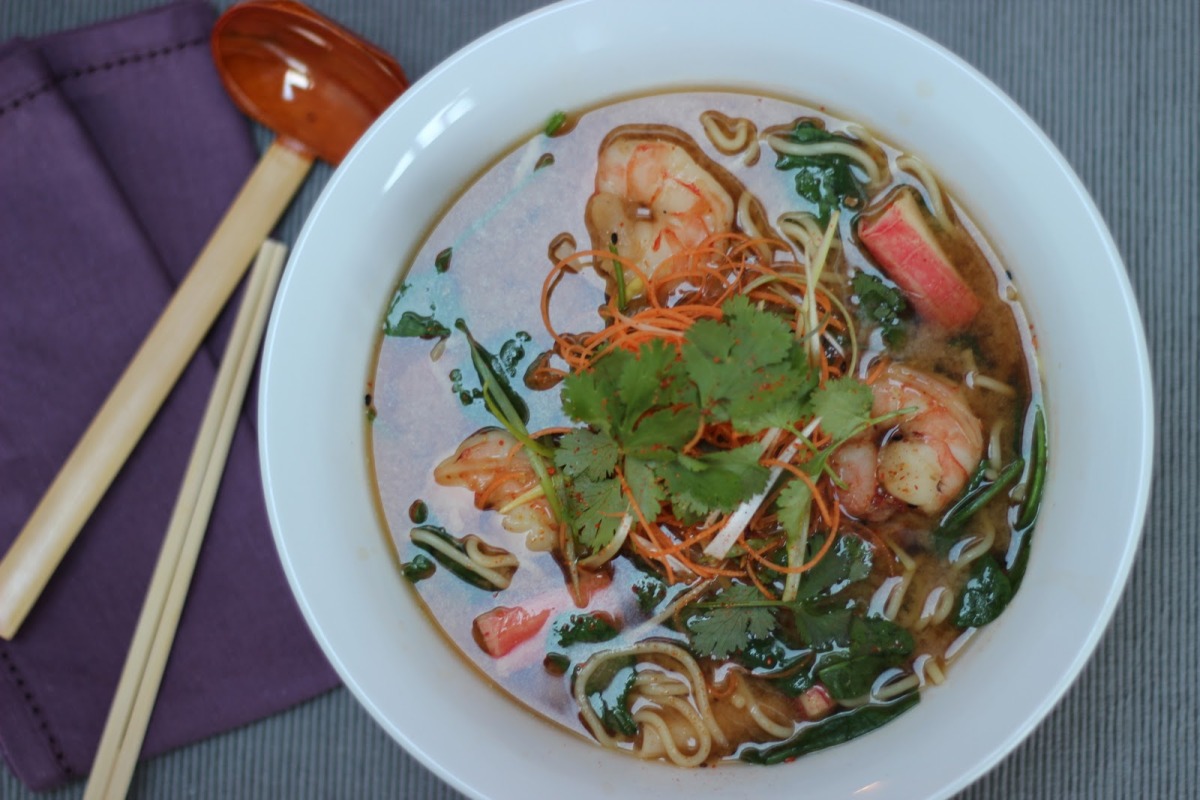 For two : And miso dashi stock leftover for another day.
2 large handfuls dried bonito flakes
1 large handful dried wakame
2.5L cold water
2 tbsp white miso paste
2 tbsp red miso paste
A handful fresh coriander leaves
2 spring onions, cut lengthways
1 carrot, peeled and grated or spiralized
6 giant raw tiger prawns
6 crab sticks, cut in half
2 handfuls fresh, washed spinach leaves
Japanese seven spice pepper – known as 'shichimi'
3 packets fresh ramen noodles
Method
Place the bonito flakes and wakame into a deep bottomed saucepan and top with 2L cold water, bring to the boil and once rolling, reduce so it doesn't boil over and keep it going for 30 minutes.
While this is happening take another deep bottomed saucepan and put the miso pastes into it, set aside.
Grate/spiralise your carrot now, then by hand mix it all up with the coriander and spring onion, creating two 'balls' of carrot dressing.
Put a pan of boiling water on the hob to boil ready to do your noodles in.
When the dashi is ready strain it through a sieve directly over the miso pastes in the other saucepan, discard the contents of the sieve and stir the soup base to make sure all the miso pastes dissolve, leave on a medium heat to come to a simmer.
While this is happening, the pan of water should now be boiling, place the noodles in there at the same time as dropping the raw prawns and crab sticks into the soup liquor. Bring both the soup and noodle pan back to boiling and use some cooking chopsticks or a fork to gently break up the noodles. After a few minutes the noodles should be done so strain and set aside, once the prawns have turned pink in a simmering pan you can turn the pan off.
Get your ramen bowls, or just big bloody soup bowls – hell, use a serving dish if you're a greedy guts like me – and place your fresh spinach into the bottom.
Now top the greens with the strained noodles, followed by ladles of the soup broth and seafood, finished with the carrot bundles and a sprinkle of Japanese seven spice seasoning.