POOR OLD TURKEY LURKEY.
Only eaten at Christmas and forgotten throughout the rest of the year. But as a lean and economical meat I'm keen to get more of it into our eatings.
This Thai inspired turkey burger recipe is super easy to put together and a great mid week dinner dish. We ate it with homemade wedges, which quite frankly removed all the healthy eating points. Buy my they are delicious, especially when dipped into the accompanying Thai spiced mayo.
Burgers and wedges for two
1.5 heaped tsp of my Thai Blend, or:
1 heaped tsp Thai seven spice seasoning (you can use the Schwartz one which you'll find with all the other herbs and spices in your local supermarket, but if you can't find it you could go Chinese 5 spice instead)
300g turkey breasts

A handful fresh mint and coriander

3 spring onions

A knob of ginger

Oil for frying

A knob of unsalted butter

C300g par boiled potatoes – or as many as you think you'll eat

100g unsalted butter

Sea salt

Black pepper

Fresh spinach leaves and buns to serve
For the mayonnaise dip
4 tablspoons light mayo
4 tablespoons low fat natural yogurt
1 tsp Thai seven spice seasoning (I used the Schwartz one which you'll find with all the other herbs and spices in your local supermarket, but if you can't find it you could go Chinese Five Spice instead)
1 teaspoon sriracha chilli sauce, if you don't have it use Tabasco
For the salsa
4 plump tomatoes, diced
Half a small tin of sweetcorn, rinsed
Half a red onion, finely diced
A shot each of rice vinegar and extra virgin olive oil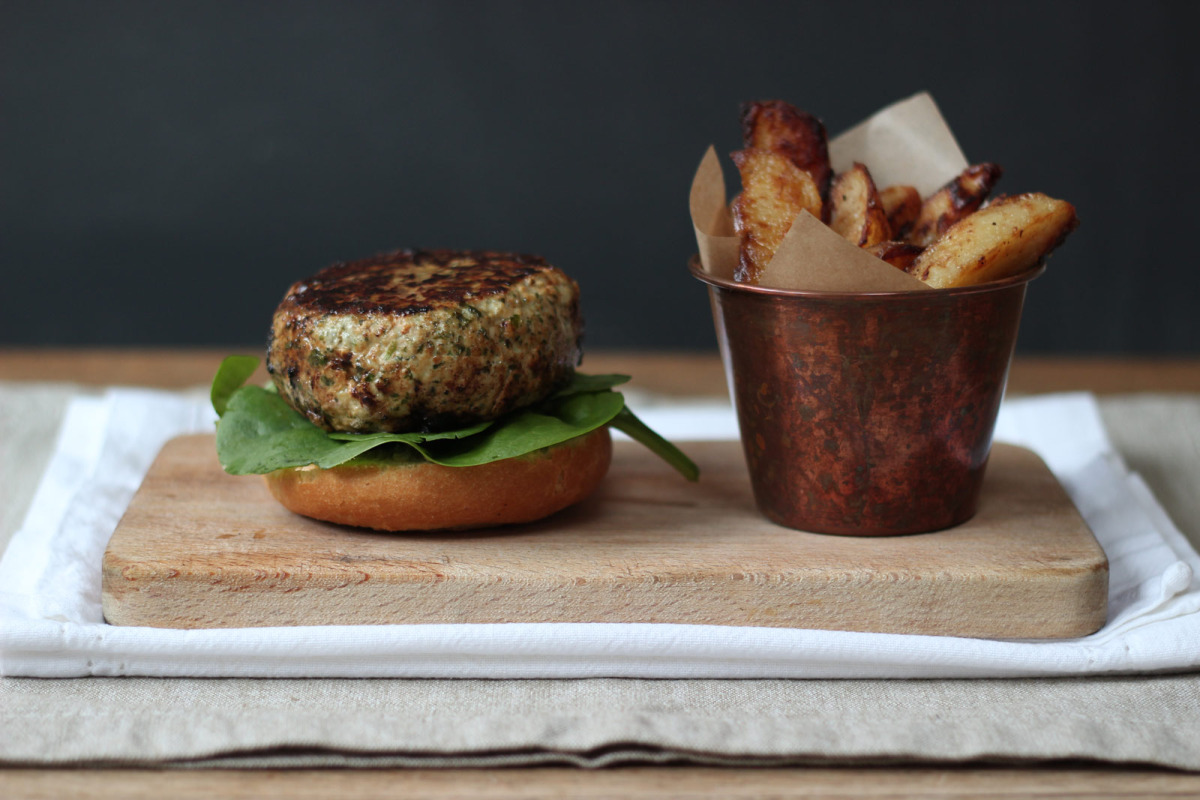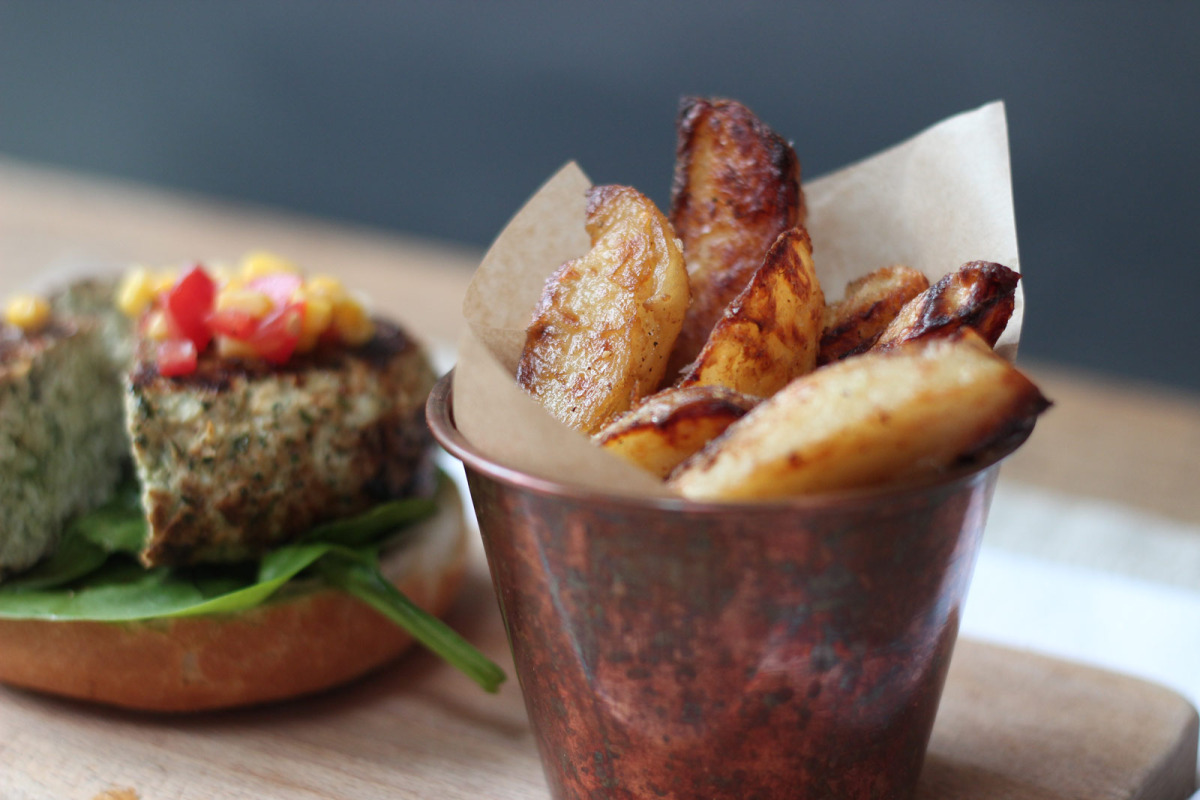 Method
Preheat your oven to 200°C.
Take your parboiled potatoes when cool enough to handle, and cut them into wedges.
Place the butter and a glug of frying oil into a roasting tin and pop it into the oven for 5 minutes.
Take it out after the butter is melted and the fat is very hot, then carefully add the wedges to it, turning them over in the fat so they get covered, sprinkle with a scrunch of salt and bake for 40 minutes. You'll need to keep turning them in the fat during this time to make sure they get brown on all sides.
Whilst they're roasting, get the dip ingredients and simply combine in a bowl and then pop into the fridge, and do the same with the salsa ingredients into a separate bowl.
Now place into a food processor the ginger, spring onions, mint, coriander, Thai seven spice and the turkey breasts and blitz until minced (you don't need to add salt to the mix as the seven spice seasoning is salty).
Form the mix by hand into two large burgers and sit on a plate waiting.
When the wedges have just 10 to 15 minutes left to go, heat a frying pan on a low medium heat, and add a couple of glugs of frying oil and a knob of butter and once melted add the burgers – you want them to cook reasonably gently as they're pretty thick.
Cook each side for around 7 minutes, and also put them onto their ends to brown the edges for just a minute too.
Serve on top of fresh spinach leaves in your buns topped with the salsa and eat with the naughty wedges and dip.