IT WAS AN OFFER I COULDN'T REFUSE.
Create a cucina povera dish in exchange for more disco-by-post. Wrighty (the disco spinning DJ in question) said this creation didn't need to be Italian of origin, just something rooted in history as a tasty and economical dish.
Research commenced and quickly the irony of such meals was laid bare. To recreate something with peasant provenance in your own home isn't all that cheap. Fancy making up an authentic cassoulet or osso bucco and the price soon racks up.
From oxtail to feather steak and morcilla to veal shanks, lots of traditionally thrifty ingredients are no longer inexpensive. A result of good old supply and demand, some becoming fashionable and therefore leading to, shall we say 'opportunistic' pricing, and others having to be imported to our little island.
Trying to stick to the affordable-yet-delicious theme as much as possible I considered the Brazilian feijoada, French pot-au-feu and Italian panzanella, but none were giving me the oooosh factor, that guttural reaction I was after.
I sidestepped from the France and Italy into Spain, looking for something with a bit more poke, and came across the fabada. A bold meat and bean stew originating in the Asturias mountains in the north.
Looking through several recipes online, including BBC Good Food and Delicious I found a few variants, mainly around the number of meats involved. In addition to chorizo and morcilla (mainstays) some also contained lamb shoulder, ham hock, pork loin and bacon.
The meats are cooked slowly with the white beans that have been soaked overnight, the meal taking a good 2 to 3 hours to cook overall. Long cooking time is fine of course (you'll see many of my posts are the slow cook variety) but tonight I needed to make it far faster without sacrificing any flavour.
I decided to keep it simple, Strip out the other meats and stick with the heart of the dish – the chorizo, morcilla, some jamon Serrano and paprika, and I'd use good quality tinned large butter beans. Then to help create body and richness I chose to cook my fabada with a mixture of light pork stock (a cube shaped cheat) and red wine.
It might not be a fancy meal, but my, it is incredibly tasty. Together these ingredients create something with real richness and delicious complexity, and after around 30 minutes cooking time they felt like they'd been mingling for much longer. Not bad for a meal that cost just £14 to feed four.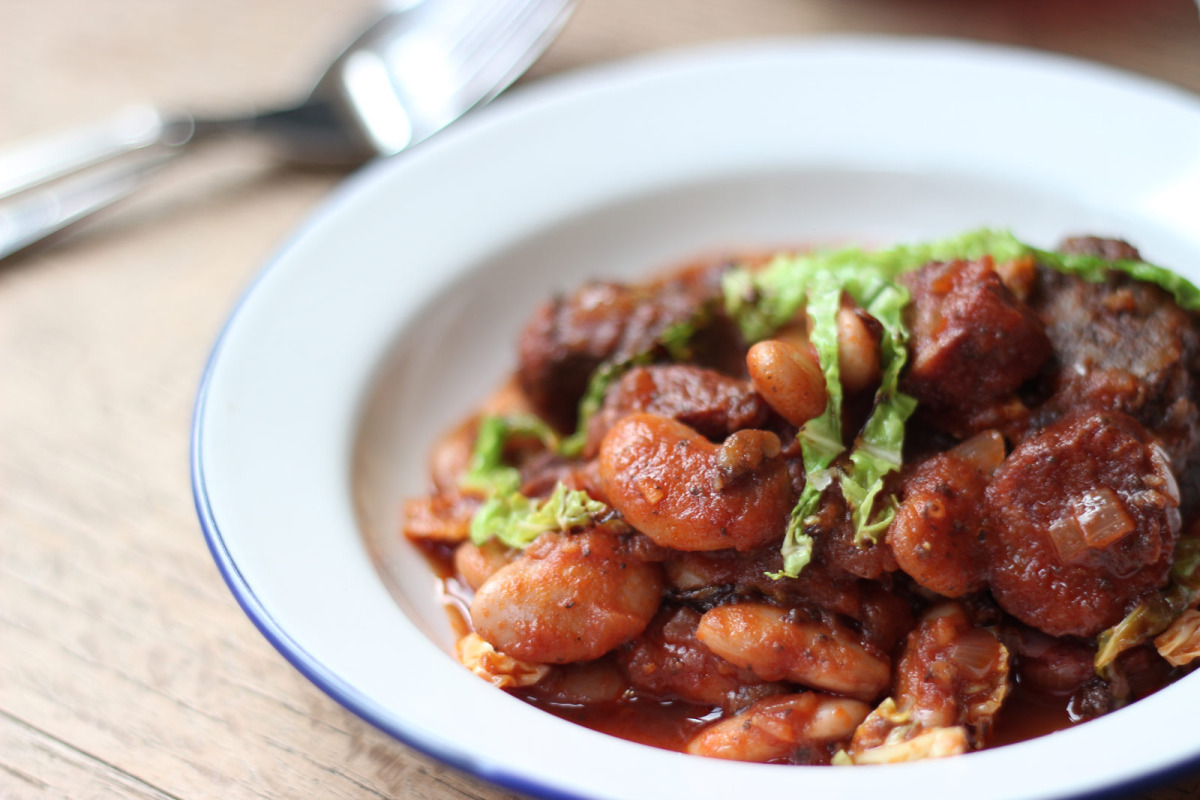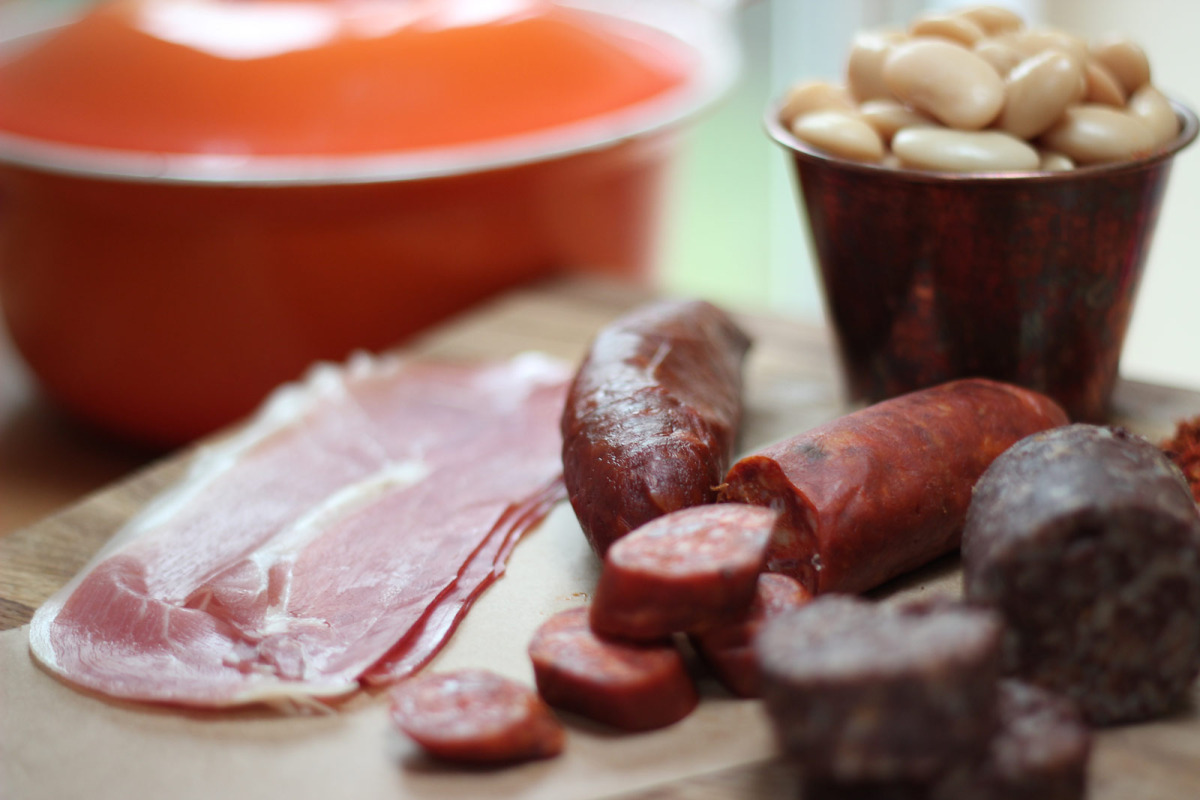 For four
450g picante cooking chorizo, peeled and cut into rings
600g morcilla, peeled and cut into large rings – I used the Spanish morcilla made with rice but if you can't find it, use a good quality black pud
100g Serrano ham
3 tins cooked butter beans, the larger the better (I also found recipes using the cannellini bean so use that instead if you prefer)
Half a bottle of Spanish red wine, I used a rioja
2 level tsp of my Spanish Blend, or Paprika
100mls pasatta
300mls light pork stock (a Knor cube cheat and the stock I defer to for most recipes when I don't have any of my own)
1 clove of garlic, finely sliced
1 red onion, finely chopped
1 small savoy cabbage, cut finely just before needed
Fresh bread to serve for mopping up the juices
Unsalted butter
A slug of olive oil for frying
Method
Remove the fat from the side of the Serrano ham and place it into the bottom of a saucepan, turn the heat on to medium and fry it to render it down, add in a bit of olive oil and the onion and reduce the heat, frying until the onion is translucent in the oil and fat – about 7 minutes.
Pull the Serrano ham into big-ish pieces and add them to the pan with the paprika, wine, stock and pasatta, bring to the simmer on a medium-high heat.
When it starts gently simmering add the chorizo to the pan and the butter beans, put the lid on and reduce the heat, simmer for about 10 minutes.
Take the lid off the pan and add the morcilla, lid back on and let it cook for another 10 minutes.
While the morcilla is cooking through add a knob of butter and olive oil to a frying pan and get the butter foaming hot on a high heat. Add all the savoy cabbage evenly over the base of the pan and give it a grind of black pepper. Let the cabbage sit there without shaking it or moving it for about 4 minutes, then throw the garlic into the pan and toss it – the cabbage should be nice and dark on some of its edges and will only need a couple minutes more cooking before its al dente and slightly charred at the edges and nutty.
Serve the fabada topped with some of the cabbage, a side order of crusty bread and a glass of the red you used to cook the liquor.