I've talked about steakgasms before.
Those super special steak experiences that come around once in a while and stick in your mind happily ever after. Well, without wishing to show off, last night I had multiple steakgasms. I am a very lucky lady.
For all my love of good food, it's a bit of a poor show that last night was my first supper club experience. But it's not been for the want of trying. Because of their limited seat capacity supper club nights tend sell out faster than I can check my diary, but on this particular occasion the stars aligned and the gods of good nosh were looking down on me, because Tania from DineInOut sent me an invite.
DineInOut are a different kind of dining experience company. They work with chefs and cooks to host bespoke dinner parties in peoples homes, and they also work with the same chefs and cooks to host supper clubs in their own homes, and the Drunken Butcher (named in tribute to the poem by William Bennett) is one of the very talented cooks on their books.
There have been all kinds of Drunken Butcher and DineInOut supper club events so far, recently including Flock and Roll and The Joy of Pork, but last nights event was an homage to the king of meats – steak. I booked without hesitation, and here's why.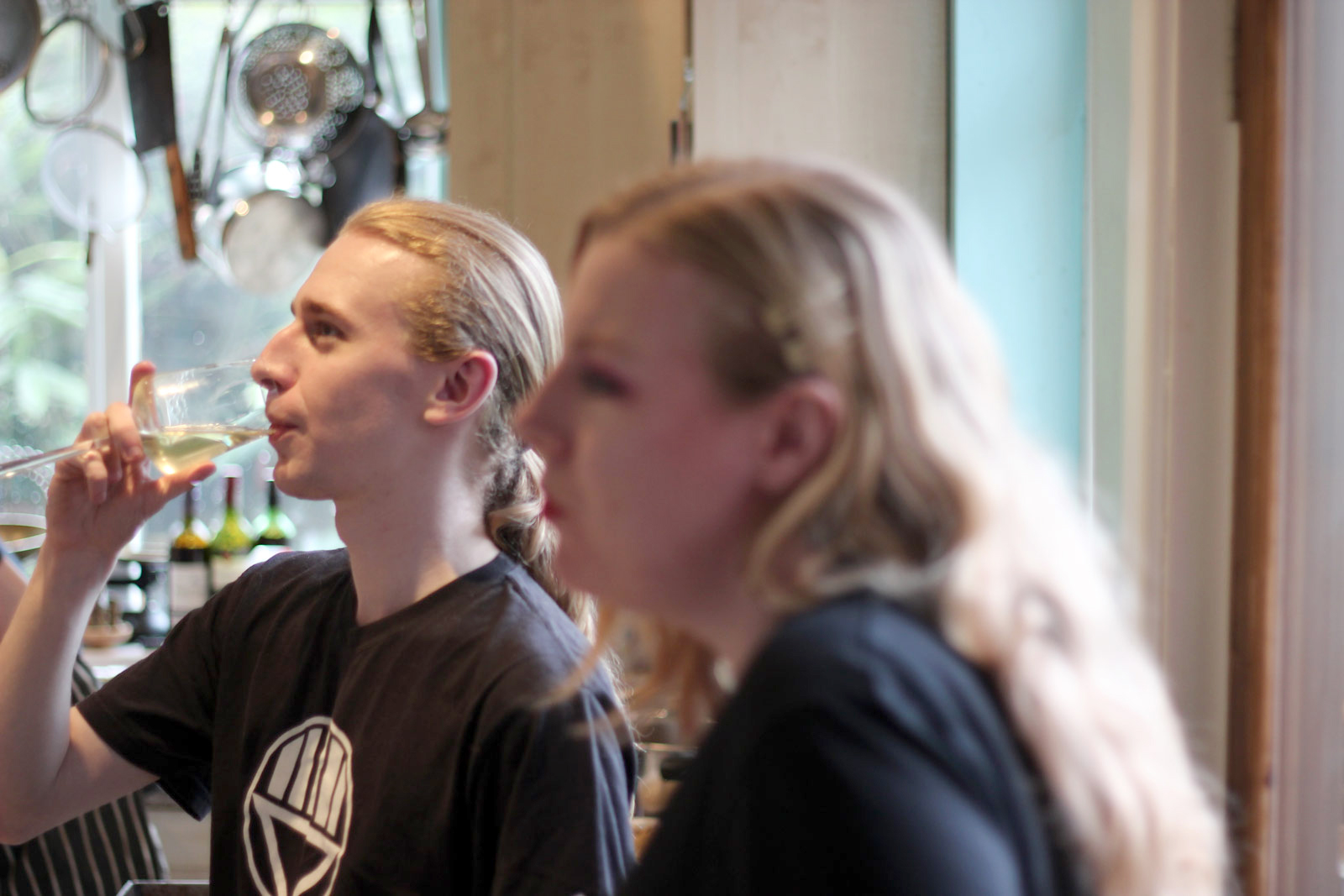 The menu
8 different steak cuts supplied by Taste Tradition, prepared in 8 different ways inspired by 8 different countries.
Aperitif
Fizz with Sicilian blood orange liqueur and orange
Canapés
Italian – Fillet carpaccio
Mexican – Skirt fajita
Starters
Thai – Hanger with chilli, lemongrass, ginger and garlic
USA – BBQ sirloin
South America – Rib-eye with chimichurri
Mains
France – Rump with wild mushroom sauce
Ireland – Steak and stout suet crust pie
England – Roast rib on the bone, red wine jus
Dessert
Orange and lemon cheesecake with vodka and black pepper strawberries
It's some menu isn't it. It sounds delicious and epic and it delivered both in spades.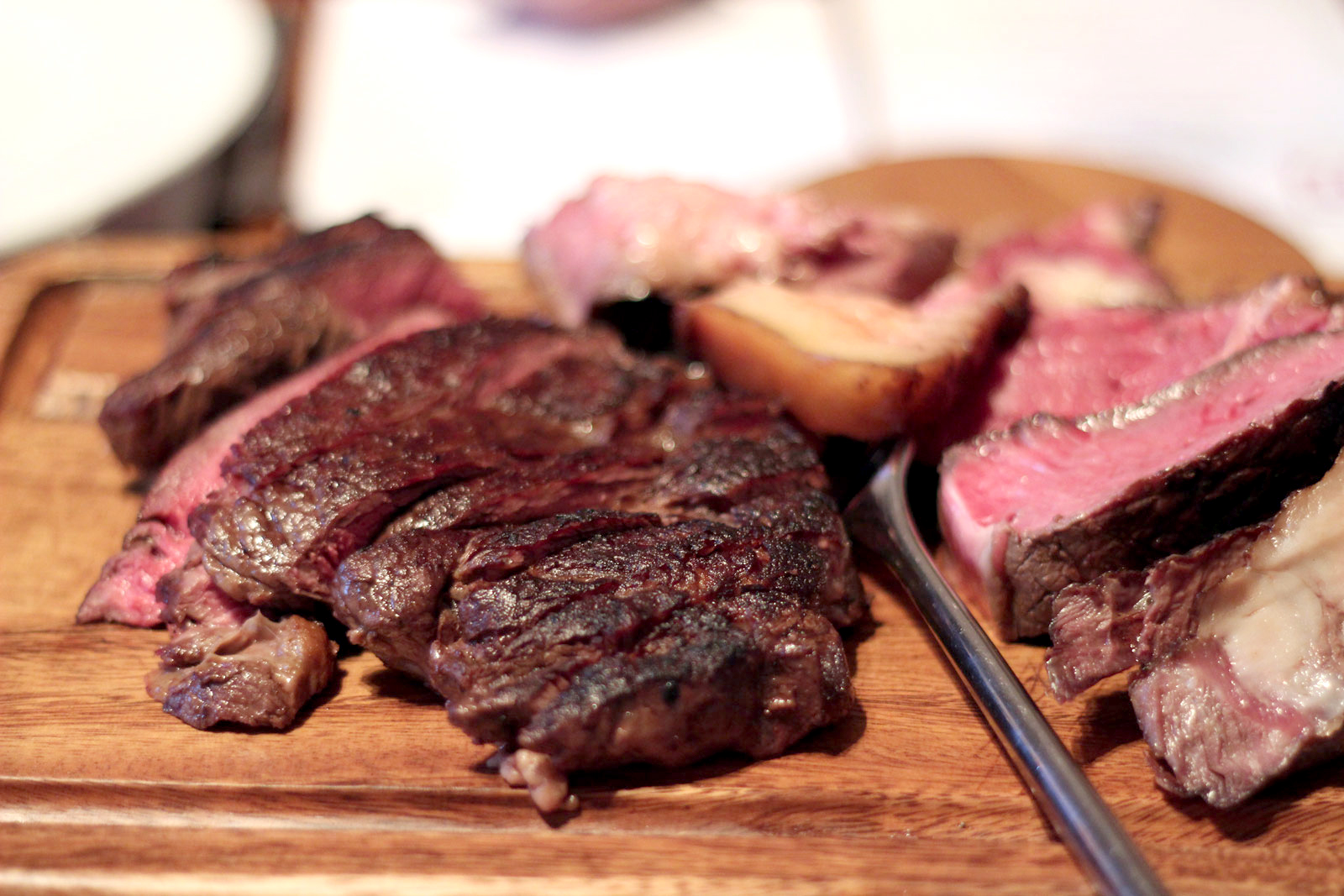 The night was held at the Drunken Butchers home. A lovely Victorian gaff choc full of covetable bits of design from the Danish 50's dining table and chairs to the beautiful long stemmed Finnish wine glasses, and what must be the largest cook book collection I have ever seen (with everything from Elizabeth David to Larousse all present and correct – very impressive).
Tania greeted us in full cowboy sheriff regalia, setting the tone for a fun evening. She effortlessly introduced the night, each course and took care of each guest, making people feel at home while the butcher prepared our food under the watchful eyes of his two lovely kitchen assistants, Heli, his wife, and Charlie.
The food is served family style around the table, so fellow diners can share, chat and get to know one another. Last night I liked this relaxed and friendly way of eating, but, normally this kind of thing might put me on edge (I blame this on having three siblings) for reasons such as; are some people getting more than others? And, how would we divvy up / fight over the last morsel of food? But such concerns have no place at the Drunken Butchers table. This guy knows how to feed a hungry crowd.
The carpaccio was meltingly tender and drizzled with a simple creamy Worcestershire sauce dressing and a light dusting of Parmesan. It was a delicate dish to kick off with, followed swiftly by canapé number two – skirt steak fajitas. Rich, juicy, highly seasoned and full of flavour, this packed a punch both in terms of taste and texture, I could have happily slurped the meat juices out of the bowl.
Next came the board containing our three starters. All were fantastic. The hanger was my favourite of the three – tender, good bite and full of meaty flavour. The rib eye was just as delicious and really came to life under the fresh and zingy chimichurri, and the sirloin was pink and juicy and wonderfully smokey from the BBQ sauce it was finished with.
Following a bit of a breather (no one wants to deal with the meat sweats, especially in public) and quaffing of more vino, the main arrived. And man alive did it deliver, the Drunken Butcher most definitely has skills.
The roast rib on the bone had loads of good fat marbling and the meat was quiveringly pink and succulent. The rump offered more bite, providing a great contrast to the rib. I slathered them both in the divine jus – more akin to a heavily reduced demi glace laced with red wine, and the woody and rich mushroom sauce (both of which, given half the chance I would have glugged straight from the jug). And to top it all off, as if that wasn't steak heaven enough, Tania and Iain came round ladelling out steak pie which quite simply, tipped me over the steakgasmic edge.
The pie! I believe I might have tweeted #PiePorn at this point, and it was richly deserved. Steak cooked in Murphys stout (less bitter when cooked than Guinness) with carrots and rich beef stock until it was soft and yielding, then coated in a golden blanket of suet crust (adorned with butchers cleavers no less), the centre finished with a marrow bone which when removed from the oven, bubbled unctuously at its core, the soft marrow slipping into the heart of the pie and adding even more rich slinkiness.
Now, as a lady that's not into puddings (yep, there are a few of us) I am not able to talk about the dessert, but I have it on good authority that it was a very fine cheesecake indeed, and a perfect finale to the meal.
Where to go from here? Well, I think it's fair to say that the gauntlet has been thrown down. My benchmark for supper clubs has been set very high thanks to DineInOut and The Drunken Butcher, I'm looking forward to their Clucking Hell event already. And if this is the supper club scene, I need to pull my finger out and get booking seats at some of the others Manchester has to offer, not to mention get planning my own. Watch this space.