Adventurous appetites.
Jay Rayner wrote recently about 'foodie machismo' and our increasing pretentiousness when it comes to nosh. It seems we're a nation with a predilection for showing off how far we've gone in the quest of adventurous eating and new experiences.
I guess this is partly to do with the fact that beyond sustenance, food has become a sort of social currency; what we eat and where we eat it are part of what defines us. Like it or not.
I'm sure Mr Rayner's right in that there are some folk out there doing the Indiana Jones thing with food, but not all of us are motivated by a need to alarm ourselves and others with our culinary experiences. As a world food lover I'm inquisitive about flavours of new things from different places, and subscribe to the idea of 'try it once because you never know, it could turn out to be your favourite thing'. This does however come with a big fat caveat. I am not the kinda girl that is up for eating goat penis or deep fried insects – there is most definitely a line.
And last week I started to get a handle on where exactly that line is. With snail caviar.
After hearing on TV that snail caviar is de rigueur and tweeting to say I'm just not brave enough enough to try it, I received a flurry of tweets like "you don't know what you're missing!" and "they're delicious - you must try them." It seemed I was a little late to the caviar party, but 15 minutes later I found myself being invited to the Etrop Grange Kitchen to have a learning lunch with Ernst, the head chef.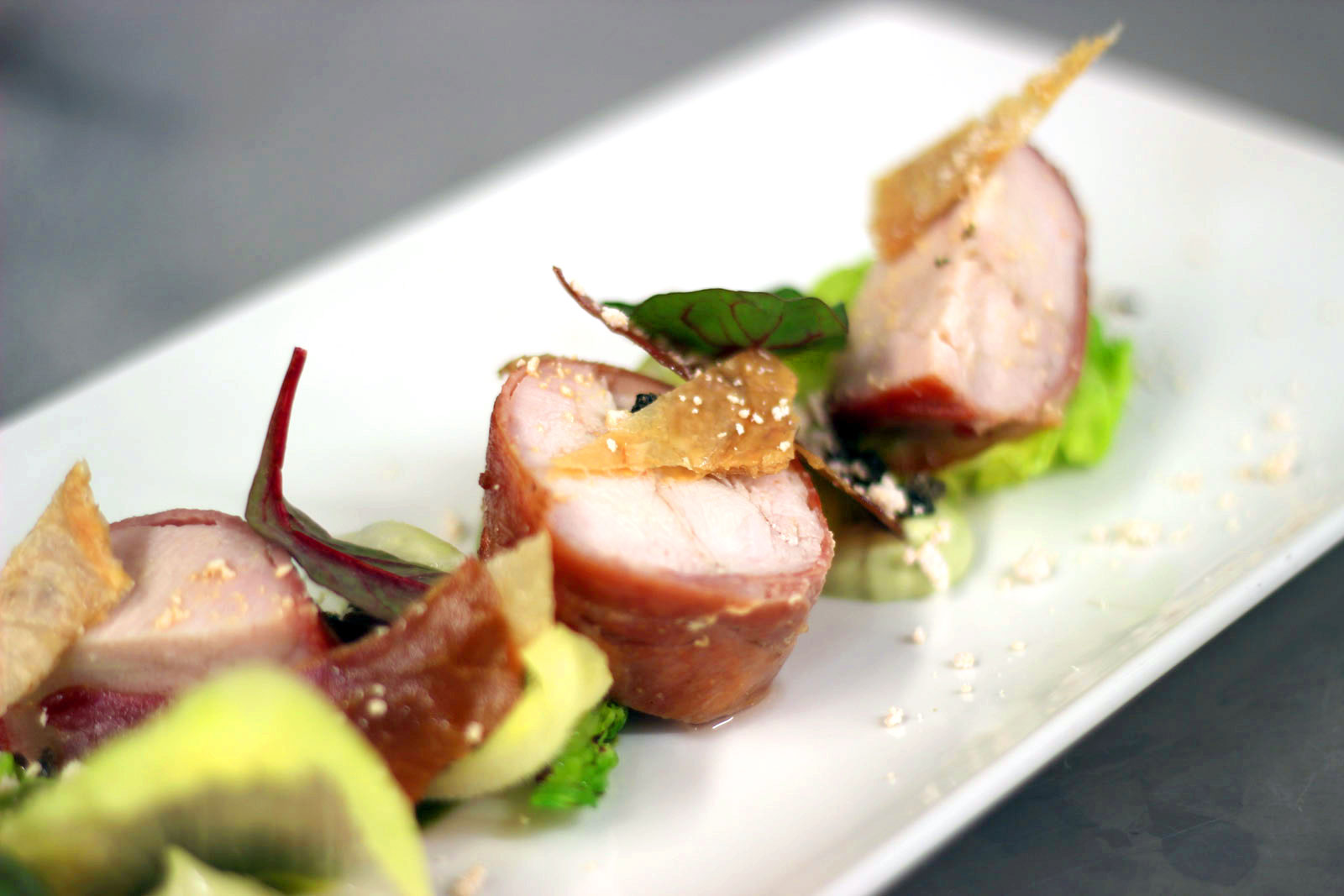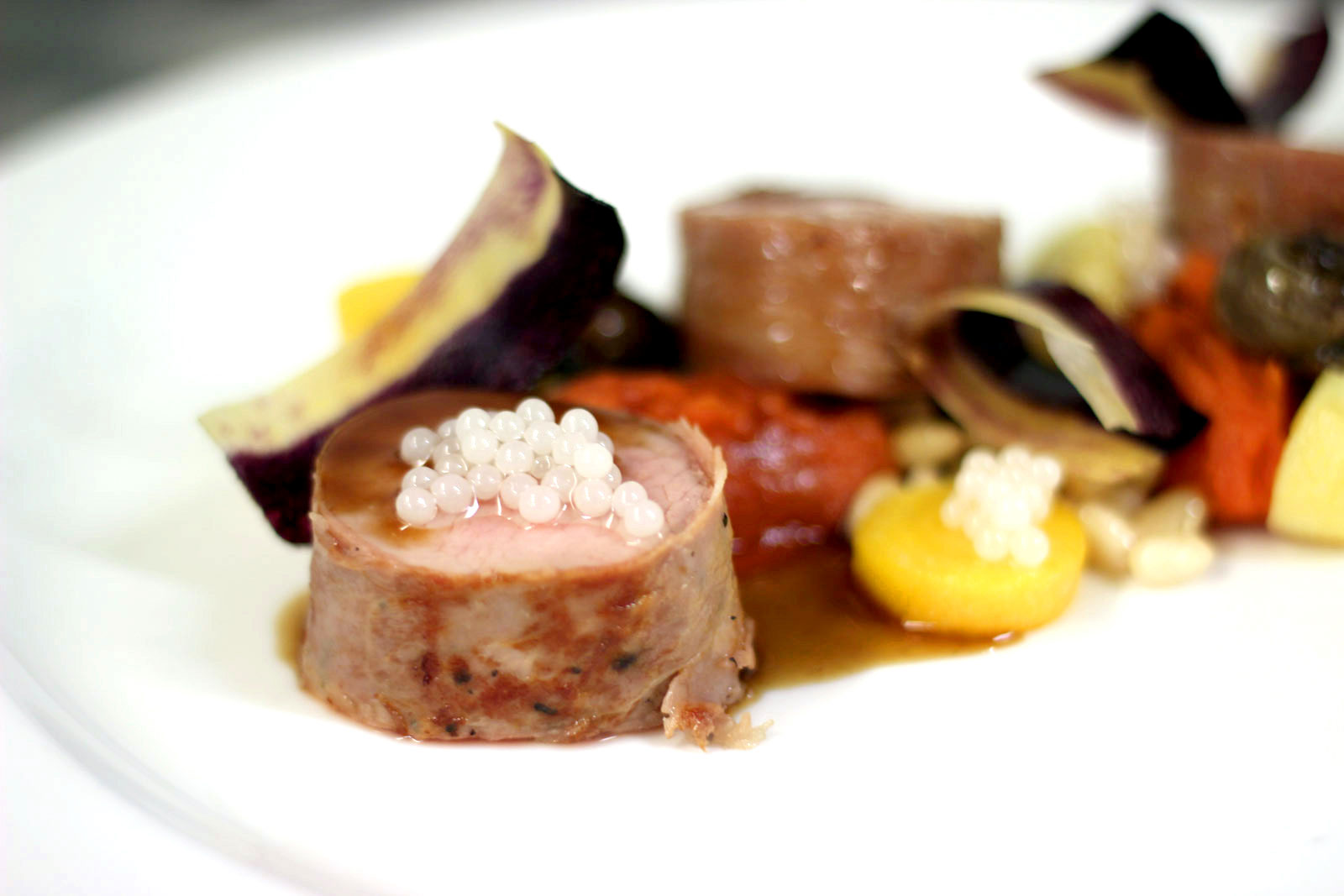 I have to say, the week run up to my trip I felt less intrepid foodie explorer and more like I was embarking on some kind of eating unmentionables in the jungle type task. But I needn't have been scared, holding 2 AA Rosettes meant with Ernst I was in very safe hands.
He's an incredibly likeable and interesting guy, originally from Cape Town but has lived in the UK for a long time and his love for food and flavour has seen him spend time in the kitchens of both the Fat Duck and Noma – both of which he loved, Noma especially.
It's Noma's boundary pushing approach to food and how to combine and treat ingredients that's stayed with him since his time there, and when designing menus the Noma philosophy is always in the back of his mind.
I arrived yesterday afternoon and was welcomed into the kitchen and shown around, and Ernst didn't waste any time in cracking open the caviar. 'SNAIL EGGS!' my head squealed when he came out of the fridge with the jar, but on opening it and seeing the little pearlescent beads I felt less scared, they are so pretty (spoken like a true girl).
Straight from the jar they have a really great texture, silky firm beads that pop when you bite them, with very lightly salty centres. I can see the appeal for adding them into dishes – not only do they take on the flavour of marinades and oils they're stored in, they add a lot of visual interest and their texture is very distinctive. They look like cooked tapioca pearls but have a far more definite mouth feel.
As we stood chatting in the kitchen Ernst made up three dishes, talking me through each one and the components of each as he did so. The work that goes into each single element is vast, and his care, thought and attention to detail is evident on every plate.
Dish 1
Salad of hay smoked chicken with avocado, peanut butter and snail caviar.
Dish 2
Roasted pork fillet with carrot, white beans and snails.
Dish 3
Salmon with beetroot, rhubarb, snail caviar and sour cream ice cream.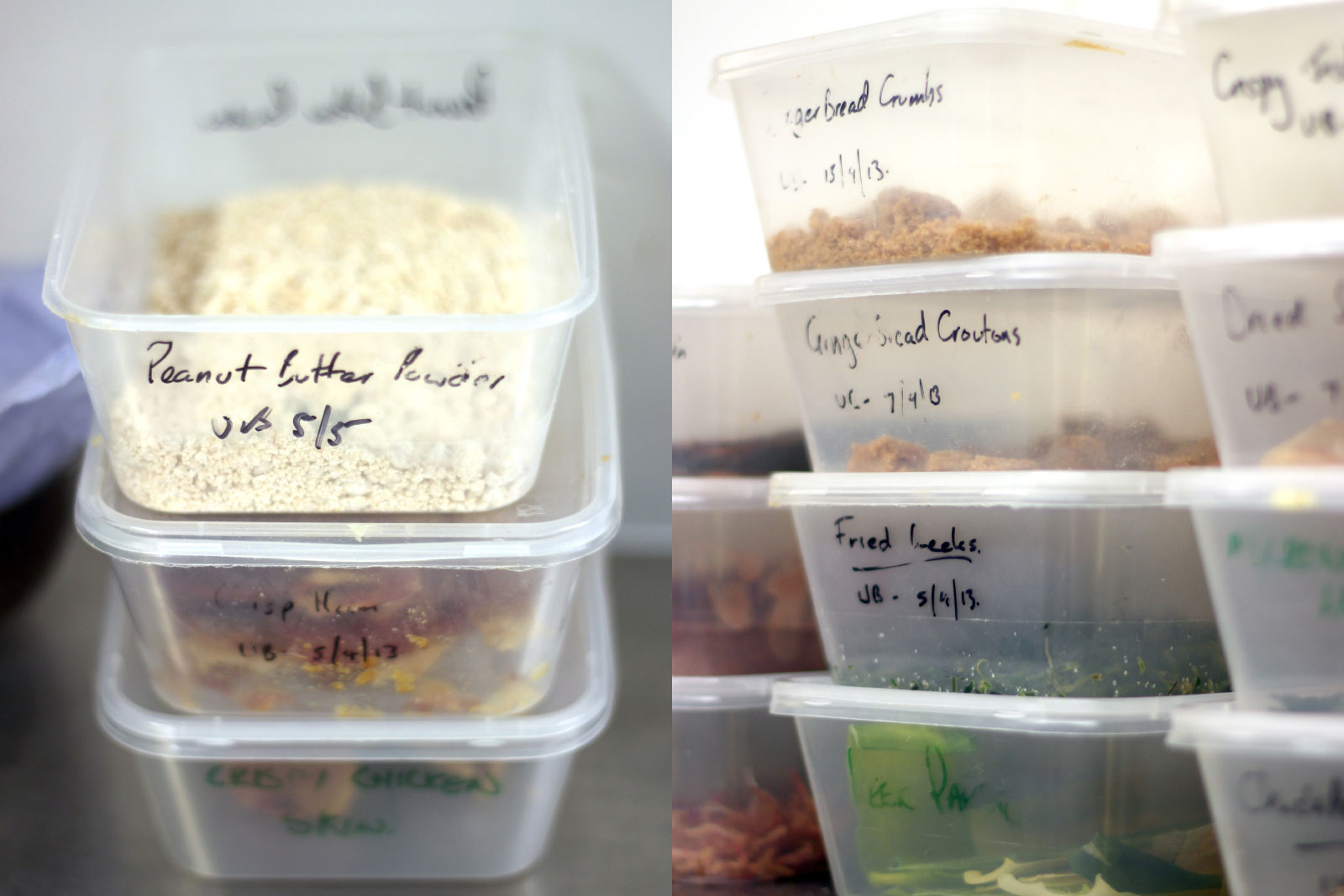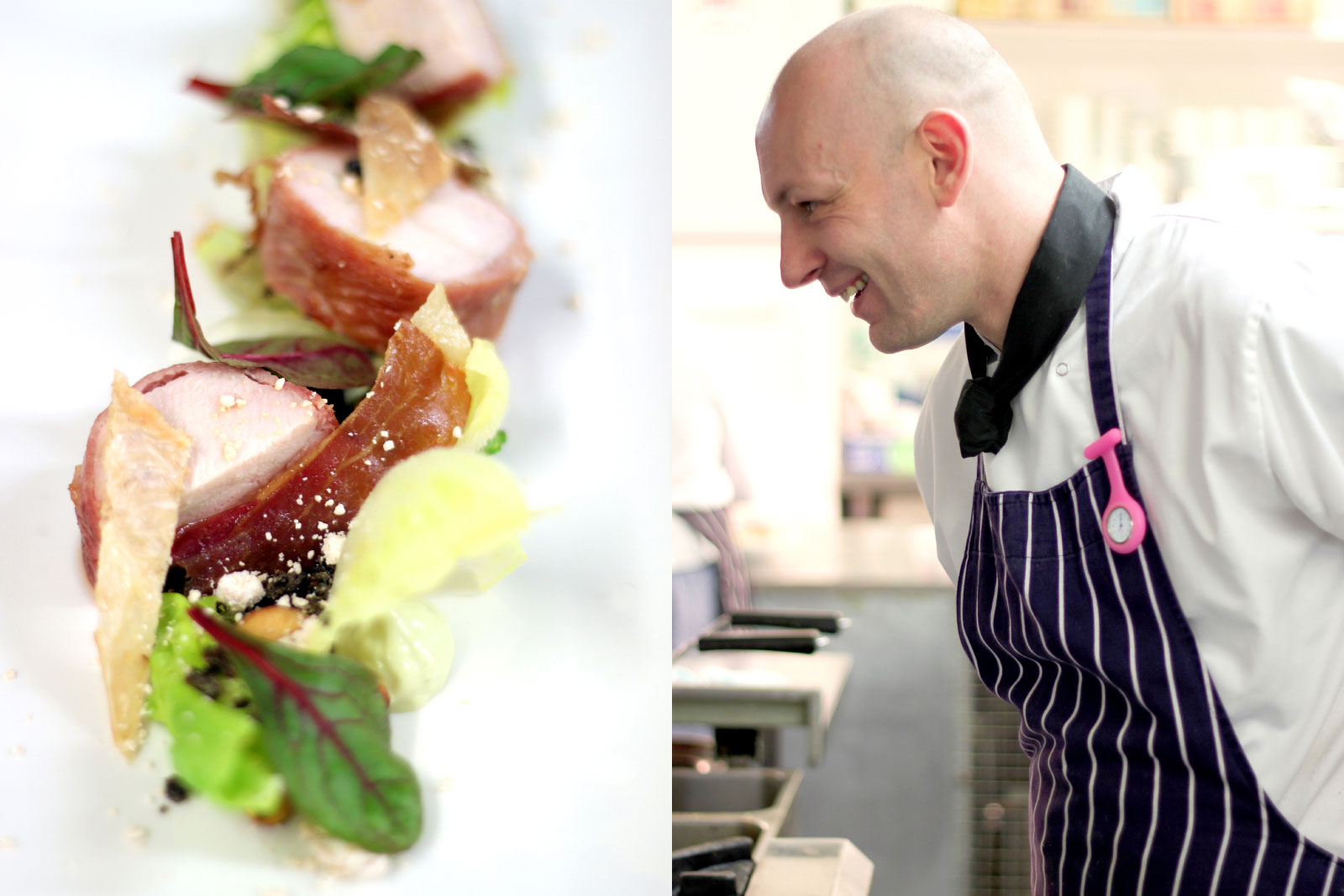 Dish 1 was made up of chicken breast that had been smoked in hay before being cooked in the sous vide and wrapped in parma ham and seared in a hot pan. The chicken was amazingly juicy and tender and the smoke flavour gentle and delicious. We ate it with beads of pale green avocado emulsion, along with a lime gel and baby gem puree. Baby gem lettuce crisp from a citric bath, and char grilled gem hearts. The dish was finished with powdered peanut butter which turned back to peanut butter on your tongue, ash crumbs and the snail caviar.
Delicious, delicate, intricate and beautifully cooked. I'd order this if it made it onto his menu.
Dish 2 was a lesson in how to cook pork. Properly. 24 hours in a heavy juniper brine created a succulent and aromatic pork fillet, cooked sous vide until tender and juicy and finished in a red hot pan to sear the outside. We ate it with a silky smooth carrot puree scented with tonka beans (they have a heady scent of vanilla, cinnamon and frangipane), gently cooked white beans, strips of crispy purple carrot, little rounds of tender yellow carrot, butter fried snails, beads of snail caviar and a veal demi-glace.
Yet more deliciousness and inventive flavour and texture combinations. The next few pork dishes I eat had better be up to scratch, that's all I'm saying.
Dish 3 was perhaps one of the prettiest things I've ever eaten. Chilled sous vide salmon topped with a beetroot jelly, tart and shiny rhubarb beads, crispy salmon skin, crisp beetroot shards, snail caviar, crispy shaved candy beetroots, pickled beetroot ribbons, sour cream ice cream and pea shoots.
The flavours were bright and the textures fresh and vibrant, this dish I simply have to have again.
So, my verdict on the snail caviar?
Nowt to have been scared of, and everything to be gained if you're after a unique way of adding visual and textural interest to a dish. Not the kind of thing you'd cook mid week, but one to break out at dinner parties without frightening your guests, certainly.
Replete and feeling rather smug at having tackled a psychological hurdle and eaten some fantastic food into the bargain, we finished my learning lunch with a nosey round the store cupboard. Which to put it mildly, was like my food heaven. My eyes were wide with delight as I got to snack out of each of the boxes of tricks and hear how their contents were made.
Peanut butter powder, popped wild rice, crispy fish scales, beetroot powder, shaved dried scallops, dried blood orange and pineapple, leek ash, my oh my oh my I was like a pig in shit. Ernst is lucky I didn't take a bigger handbag with me. But still, I managed to leave with a handful of heady tonka beans.
I can't wait to go back and we've already booked a table in the dining room at Etrop Grange to indulge in the tasting menu, which offers frankly ridiculously good value for money based on what I've seen and eaten, at just £50 for 6 courses. And after that, all I need to do is find another food phobia so I can blag another invite to a learning lunch with Ernst. Well, a girl's gotta eat.