Black. In my eyes, the finest colour.
Jeans, jewellery and cars are all better in the inky dark cloak that is black. I love how it can be glamorous, serious and dramatic, in fashion I like how easy it is to wear (I especially like how it tries to make me look thinner), but I've never really been drawn to black food – until now.
Sure, I've made black pasta before, it's inky and slinky and glam, but I don't tend to make pasta very often, whereas dough for pizza bases or flatbreads is much quicker to produce and therefore much more likely to crop up at dinnertimes. I might even be persuaded to serve a few blini sized black flatbreads like this as amuse bouche bites at dinner parties.
The dough is a Delia recipe with a sachet of squid or cuttlefish ink mixed into it (use a food processor, your hands will thank you for it) which gives it a rich iodine-y tinge, making it taste of the sea.
Then on top of this tasty dark dough the flavour magic really begins to happen. Blended roasted red pepper purée tastes vibrant and sweet but being mixed with natural yogurt has a good amount of sour cutting through it. Then there's the fluffy goat's cheese, creamy and distinctive and broken roughly on top and dotted over the stretched out dough. And finally, there's the salty and rich fresh crab meat, dotted as per the cheese, filling in the gaps on top of the pepper purée.
Together these flavours really are best friends, and out of the oven all they need is a little shredded fresh mint to make it all zing, a generous grind of black pepper and an obligatory glug of your favourite extra virgin.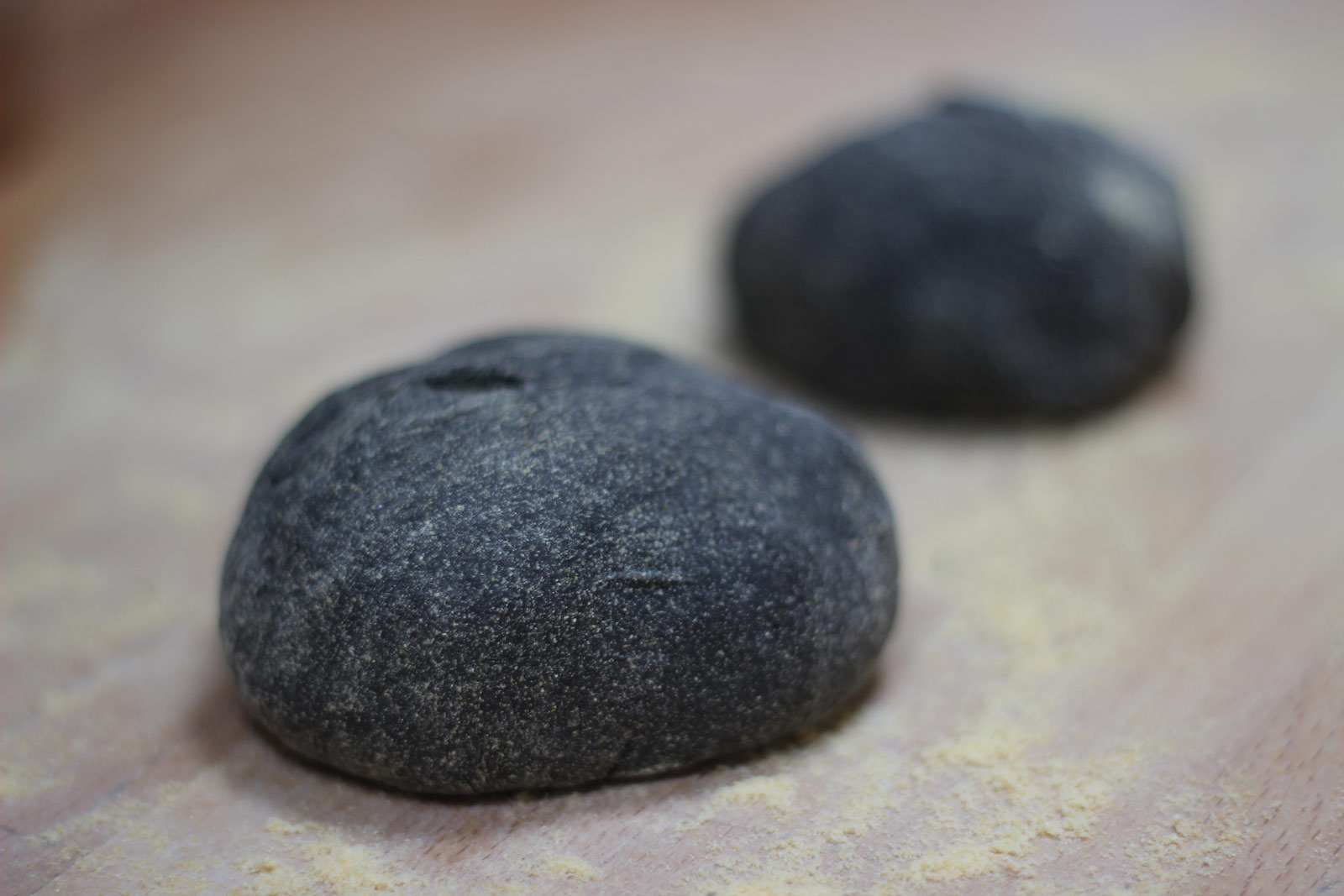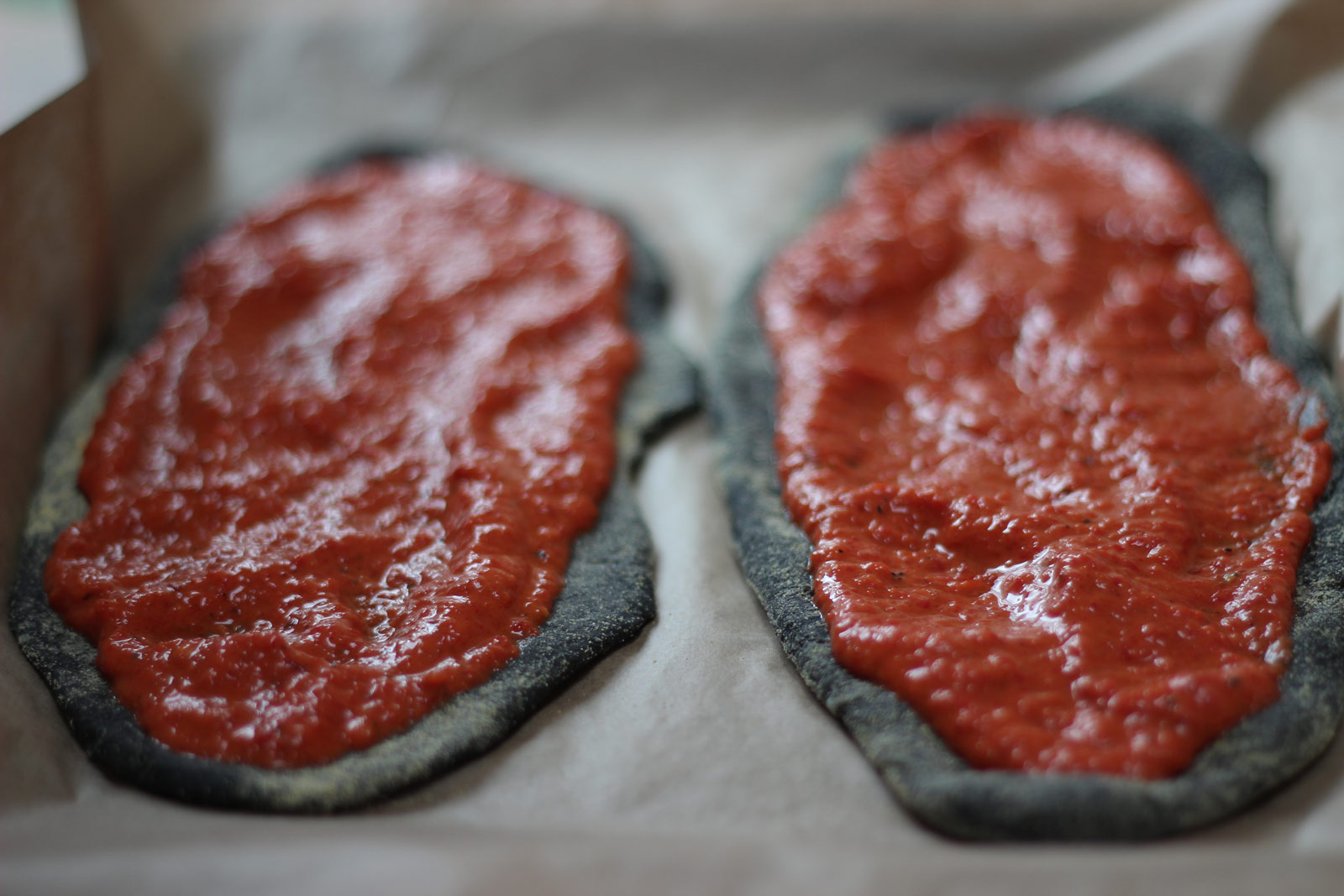 For two
Dough as per this Delia recipe, with 1 sachet of squid or cuttlefish ink mixed in when the oil is added
1 fresh red pepper, roasted at around 160°C for 40 minutes
2 roasted red peppers from a jar, drained
1 heaped tablespoons natural yogurt
1/2 heaped tablespoon tomato puree
1 log of goats cheese (the fluffy sort with no rind)
1 dressed crab, white and dark meat from Out of the Blue in Chorlton
A small handful of fresh meat, shredded jut before using
Sea salt
Black pepper
Extra virgin olive oil
Method
Make the dough as per Delia's recipe and while proving, make the red pepper puree by putting into a food processor the red peppers, yogurt, a grind of pepper and scrunch of salt, tomato puree and glug of extra virgin olive oil and blitz. Set aside.
Preheat your oven to 220°C.
When the dough has proven, knock it out of the bowl onto the work surface and push the air out of it, and split the dough in two.
Put a baking sheet big enough for both pieces of rolled out dough into the oven.
Dust a clean work surface with ground polenta and roll out each bread in turn, they are really springy so you need to use some force. You're looking to get them pretty thin.
Lay both side by side on baking parchment.
Spoon the red pepper puree over them as you would a regular pizza.
Crumble the goat's cheese over the top, followed by the white and dark crab meat. Give a grind of black pepper.
Take the baking sheet out of the oven and turn it down to 200°C.
Carefully lift the baking paper with the breads onto the hot baking tray and put back into the oven for 12 to 17 minutes (keep an eye on it – you're looking for the goat's cheese to begin to char a little).
Remove from the oven and give a drizzle of extra virgin and a scattering of fresh mint, a little salt and black pepper. Then eat.