Those close to me know I'm a bit of a ham-snaffler.
This love for the charcuterie board began at a young age. It started at grandmas house with good old fashioned turkey slices (I'd eat them by the packet full) but I quickly graduated cold meats school and now proudly scoff all manner of cold cuts, my favourites including Sopocka, salt beef, air dried Parma ham, mortadella and last but not least, crumbly Yorkshire ham carved off the bone.
That said, it's not all high quality or continental meats with me, oh no. I am guilty of gracing simple buttered brown bread and salad sandwiches with wafer thin chicken slices. Their provenance may well be dubious, but that in no way thwarts my enjoyment.
In terms of DIY cold meats, from time to time (ie Christmas) I've been known to make a ham or two, but curing or cooking my own cold cuts isn't something I've ever really fancied or tried beyond that. Until now. Being in possession of a sous vide from sousvidetools.com has opened up all kinds of recipe options to me, and I decided to begin my excursion with salt beef.
Using brisket (a tough cut from a super hard working part of the animal, and traditional for salt beef) in the sous vide would make the meat meltingly tender, and a very generous stint in a scented brine would ensure it stayed super juicy during the cooking process and seriously tasty when eaten.
I cooked this brisket at 67°C for 3 days and it was soft and full of delicious flavour, but I missed the rareness of the beef, so next time will do it at 61°C for 2 days and see how that works.
To serve, we ate it on rye rolls with Jarlsberg cheese and crispy, sweet and vinegary home pickled cucumbers. They're quite simply a delight — taking no time at all to make and perfect at pimping everything from burgers to cheese boards, and salmon salads to tuna sandwiches. Make a batch, your fridge, family and taste buds will thank you for it.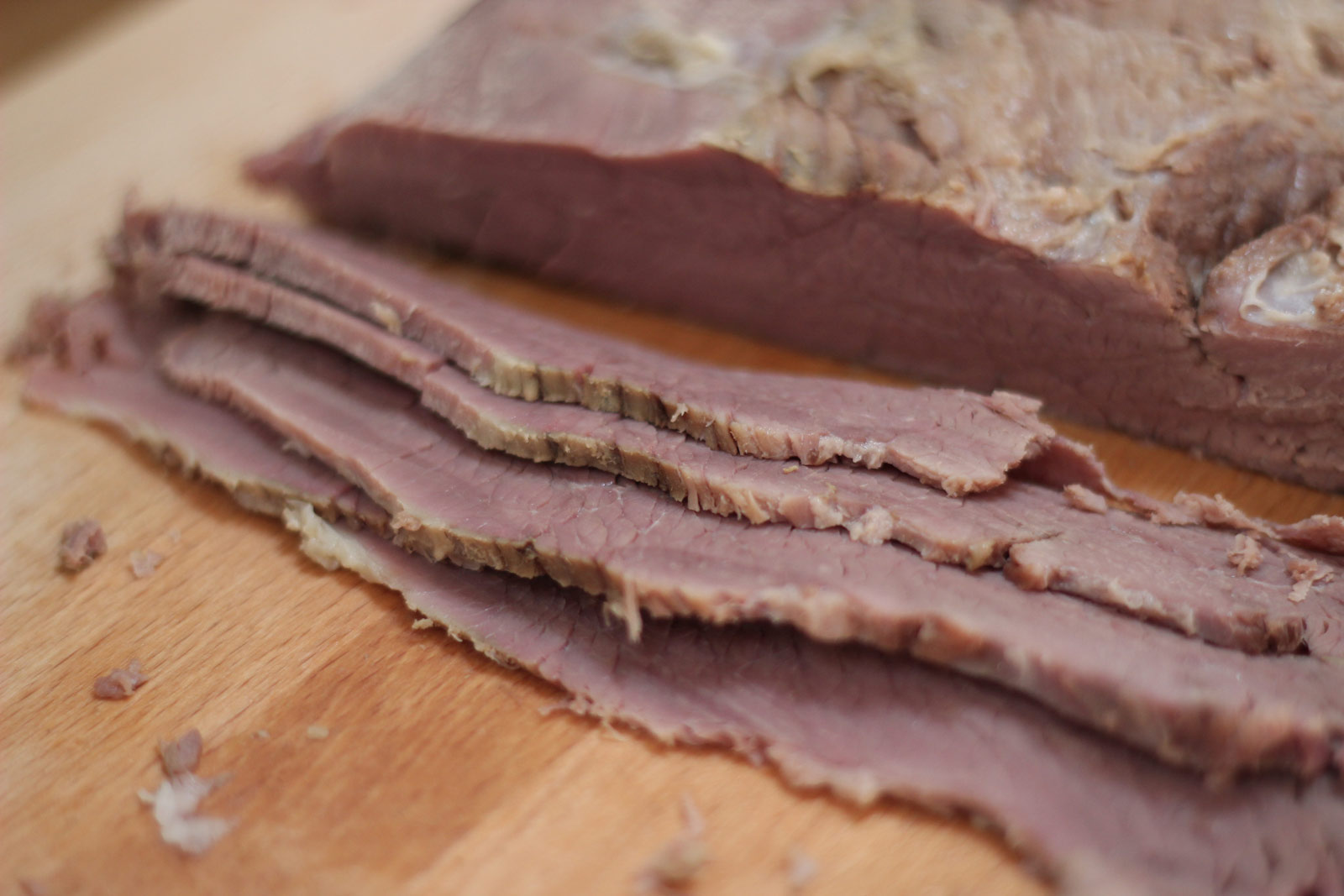 Ingredients (brine recipe taken from The Telegraph)
For the salt beef
2kg beef brisket, pierced with a skewer several times all over
275g soft light-brown sugar
350g coarse sea salt
2 tsp black peppercorns
½ tbsp juniper berries
4 cloves
4 bay leaves
4 sprigs of thyme
4½ pints water
For the pickled cucumbers
1 cucumber
8 tbsp rice vinegar
4 tsp salt to sprinkle
4 tbsp white sugar
½ tsp salt
A few black peppercorns
Method
For the cucumber
Start by taking the cucumber and peeling it in stripes down its length, making it look stripy, then on a mandolin, finely slice the cucumber into discs.
Place them into a bowl and scatter with the salt, leave for 15 minutes.
While that's happening combine all the other ingredients into a jug, stir thoroughly and for a little while as the sugar takes a while to totally dissolve.
After 15 minutes rinse the cucumbers and pop them into a jar or tupperware box, once all in there pour the liquor over them, cover and put in the fridge. You can eat them straight away but they're better after a day, and they'll keep for up to about 5 days.
For the beef
Into a saucepan large enough to hold the ingredients, combine all of them apart from the beef and bring to the boil. Let it boil for 2 minutes, stirring it, then turn the heat off and let it cool completely.
Unroll the brisket and place it into a cleaned container big enough to contain it and all the brining liquor, and when the brine is totally cold, place it in over the brisket and pop into the fridge for 4 to 5 days.
After the 5 days, preheat the sous vide to 67 or 61°C, rinse the brined beef under cold water for a few minutes, pat it dry with kitchen paper and then place it into a pouch and seal on a hard vacuum. Sous vide for 3 days.
Remove from the sous vide and either eat warm straight out of the pouch, or chill down and eat chilled from the fridge.