Pimped up panko.
It is the breadcrumb of kings, make no mistake. Unadulterated it is crispy perfection, but it also mixes brilliantly with many other ingredients to create more interesting coatings. Spike it with Cajun spices to make finger licking crispy fajitas, pecorino and black onion seeds for chicken nuggets with a difference, or as I have here, with desiccated coconut for seafood with a super summery twang.
This is the sort of snack you'd maybe find at trendy bars in the sun drenched Balearics or the southern Thai islands, and in keeping with these seafood rich shores in this recipe I've used giant tiger prawns, though chunks of rich fatty salmon, baby squid or even whole queen scallops would work a treat.
The shredded coconut creates a subtle tropical flavour and provides a crunch that is slightly chewy, knitting well with the super crispy panko. Topped with a bit of salt mixed with dried and ground kaffir lime leaf (easy to do yourself in a coffee grinder), a squeeze of lime and dipped into sriracha spiked mayo, all you'll need is a chilled beer, a deck of cards, some good tunes and a bikini (these of course are optional and by no means essential).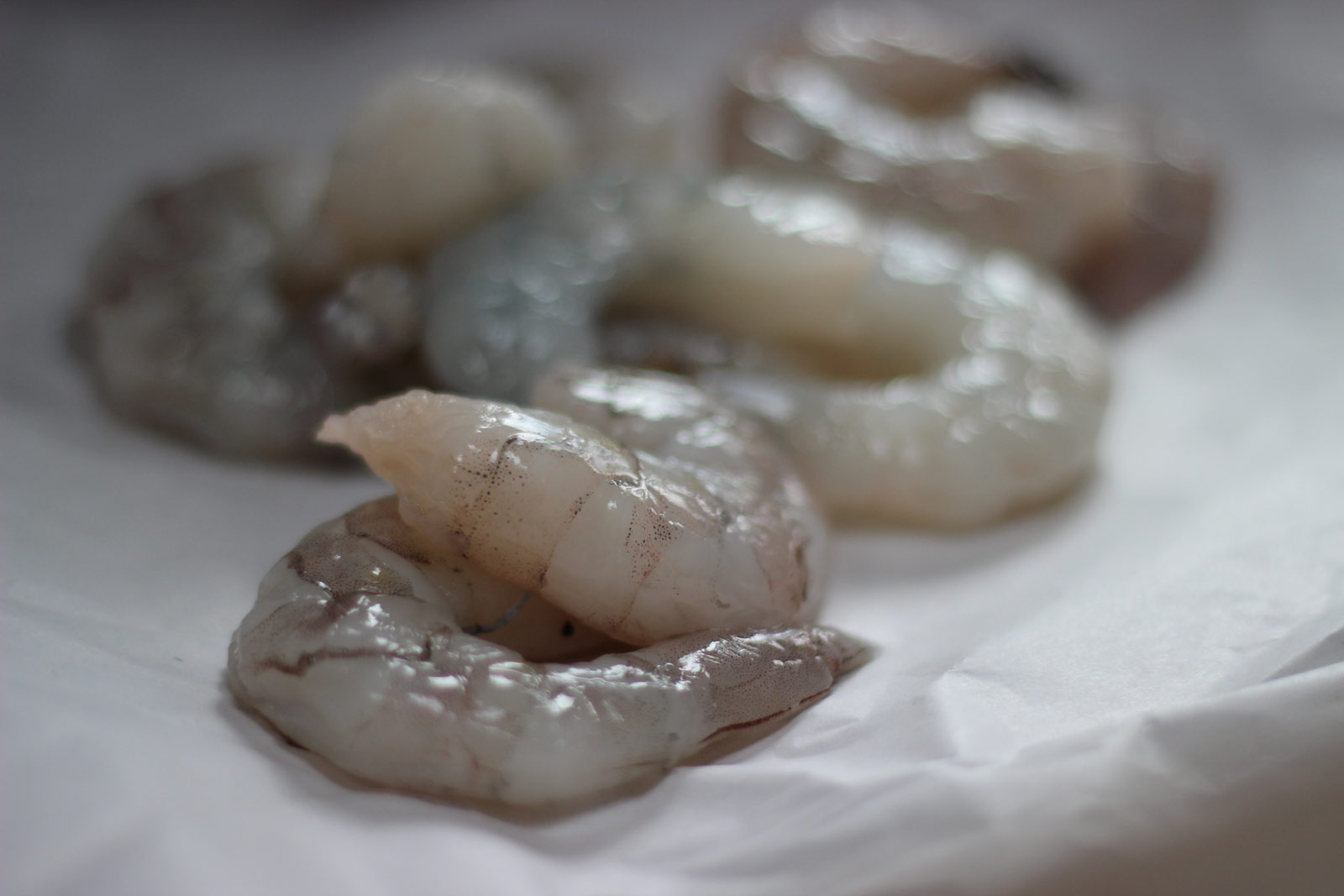 Lunch for two
10 giant tiger prawns, sliced through their centres (as if butterflying, see pics) and deveined. Butterflying makes the giant prawns go further, and they curl up in the fryer looking much more substantial
120g panko breadcrumbs
120g desiccated coconut
100g plain white flour in a bowl
2 eggs, beaten in a bowl
A teaspoon ground kaffir lime leaves (if you can't get these don't worry, just use salt)
2 tsp sea salt
1 tbsp sriracha hot sauce
6 tbsp mayo
One juicy lime, quartered
Finely sliced red chillies and spring onions to serve
Oil for deep frying (and kitchen paper for draining)
Method
Mix the sriracha with the mayo and the juice of half the lime, set aside.
Mix the 2 tsp salt with the ground kaffir lime and set aside.
Into a large bowl mix the panko and coconut together and add a few scrunches of sea salt.
Line up your dredging ingredients, bowl of flour at one end, then beaten egg next to it, and panko coconut next to that. Take each half of prawn in turn and dust it in the flour, then the egg, then the panko coconut and place on a dry plate. Repeat with all the prawns.
Preheat your fryer to 160°C (you can do this on the hob in a saucepan as I have, but you'll need a thermometer to tell you when you're at temperature, I use my meat thermometer).
When at 160°C, carefully lower the prawns into the fat — cooking them in 2 batches, the last thing you want to do is crowd the pan as they'll end up soggy.
Cook for 6 to 7ish minutes, until they are golden brown and have risen to the top of the oil, then remove and drain on kitchen paper — do the same with the second batch.
Pile high in a dish and scrunch with the kaffir lime salt, and squeeze the remaining lime juice over the top. Scatter with spring onion and chilli, dip into the mayo and devour.