One last hurrah.
I realise many folk will feel this is perhaps the worst time ever for me to blog these naughty delights, but... in my world, January doesn't really, properly kick off until the first full week of work. And that means as far as I'm concerned, we're all free to scoff with abandon until Monday. Or that's what I'm telling myself anyway.
The sausage roll is a British institution. There are good ones (the well seasoned gastro pub handfuls). There are bad ones (the cardboardy and gristly petrol station purchases). And there are naughty ones (the I'm-hungover-get-me-to-Greggs-ASAP emergencies). But as easy as it is to locate a sausage roll just about anywhere in Blighty, for flavour and quality seekers, nothing beats making your own.
And not only that, making your own means you get to make them your own. Want to add a bit of tangy cheddar to the filling? Go ahead. How some good old fashioned pickle? Yep, squeeze as much in as you like. Bake them yourself and you can personalise them with whatever you fancy. And today I decided to give the humble sausage roll the spicy Spanish treatment with some chorizo.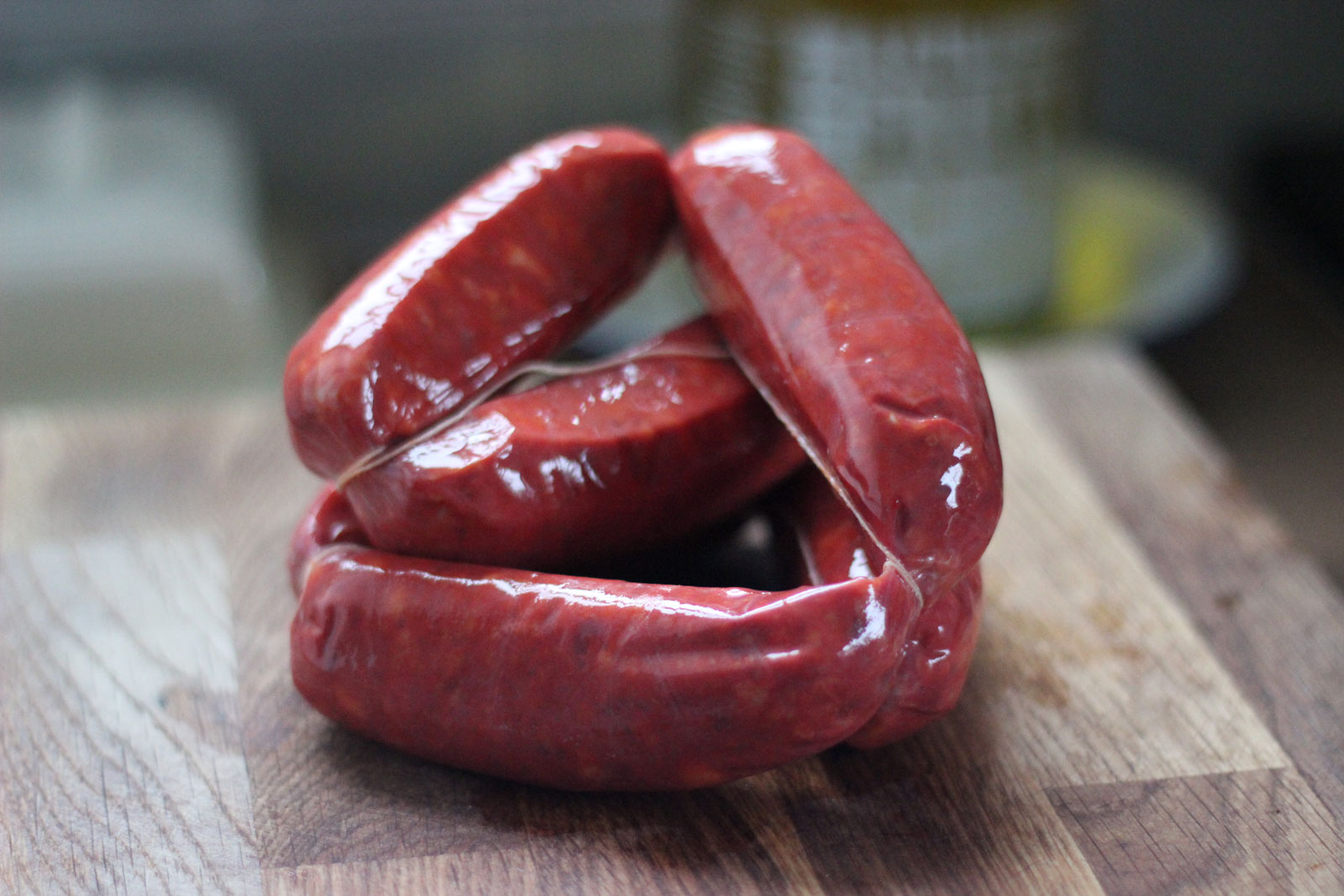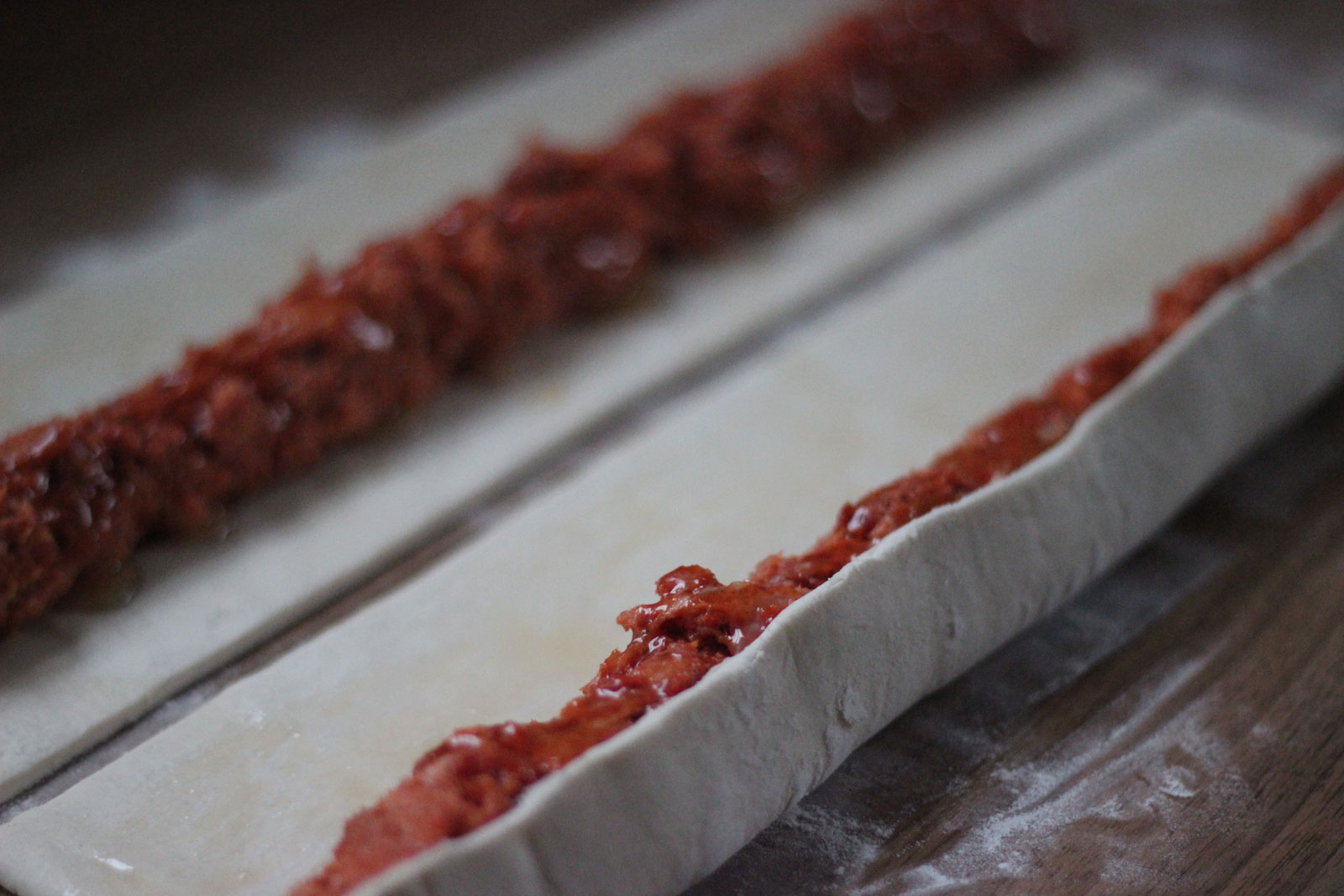 The rich and salty sausage likes being paired with sweet ingredients, things like fig, quince and sweet potato are good partners, but to make things easy, today I chose a crystal clear runny honey. Its rounded sweetness complements the fatty paprika laced sausage well while helping create wonderfully chewy edges — these bits are worth getting in a scrap over (or claiming politely if you live in a civilised household).
Armed with just six simple ingredients I was able to make these juicy morsels from start to ready to eat in less than an hour. Less time than it'd take me to get out of my pyjamas and head to the shop to buy some, and while it's far less time than I'll owe in the gym to work them all off, the way I see it, when healthier eating is just around the corner there's no reason to not go out in gluttonous style.
For 16 sausage rolls
1 packet pre rolled puff pastry — removed from the fridge 30 to 40 minutes before it's needed
200g cooking chorizo (picante or mild, choose your favourite) remove the skins
200g good quality, plain pork sausages — don't buy lean ones, they need a decent amount of fat — remove the skins
1 egg, beaten
A small handful poppy seeds
Runny honey
Method
Preheat your oven to 200°C.
Take the chorizo and sausage meat and either chop and mix by hand, or for ease and time, put them in a food processor and blitz until combined.
Take your pastry that's at room temperature, lay it out on a lightly dusted work surface and cut it in half along the longest length, to create 2 large strips.
Separate the sausage mixture into 2 equal parts by hand, and handful by handful roll in to sausage shapes and lay out across the pastry, making sure you don't place it in the centre of the pastry, but to one side slightly as shown in my pics — you want less pastry on the edge facing you. Continue until all the sausage has been placed over the pastry.
Take the runny honey and drizzle over the top of the chorizo lengthways as in the pics.
Take the beaten egg and brush the wider pastry sides, leaving the shorter side alone.
Lift up the shorter side and bring up over the sausage meat, then tuck and roll over until you have 2 long sausage rolls.
Turn the seam to face you and use a fork to press down and seal the seam.
Turn the sausage rolls back over so they are seam side down, and cut each of the long sausages in to 8 smaller sausage rolls.
Place onto a lightly oiled baking sheet/baking paper on a sheet, and lightly score the top of each roll with a few lines.
Brush the sausage rolls with beaten egg and then sprinkle poppy seeds over the top.
Bake in the preheated oven for 25 minutes, turning round half way to make sure they're evenly cooked.
Eat warm.