Packing flavour into one pot.
I'm lucky enough to have been on Tastespotting and Foodgawker a bit recently, they're food blog aggregator sites and aside from the glow I get when a post is accepted, they regularly serve as inspiration for photography, styling and recipes. This week while browsing the pages of Foodgawker I came across this. The photo really got me — a simple dish with colours so vivid I could taste them in my minds eye and I immediately started thinking about my own version for today.
Sadly, I can't eat chillies :-( it's something I'm not happy about but I just have to get on with it (if you're able to handle the hot stuff then a layer of chilli would work in this dish perfectly) but the beauty of this dish is it still packs a punch without them, so if you're like me then you won't be missing out.
Using dried herbs and spices I had in the cupboard I made up a Cajun spice mix, it's a combination of ingredients that are smokey, deep, rich and spicy, and when cooked in the wine and stock they marry brilliantly with the peppers, rice and prawns. You could use a shop bought Cajun mix if you prefer but this really was very easy to do.
The other thing I highly recommend is cooking the rice from raw in the liquor, rather than using cooked rice. Sure it takes a little longer, but the grains plumping up in the smokey spicy broth adds to their flavour massively.
Finally, if you aren't into seafood you could happily substitute the prawns for chicken – simply do this by adding the chicken at the same point you add the giant prawns at the end, or, you could use leftover chicken thats already been cooked and add this at the beginning with the rice.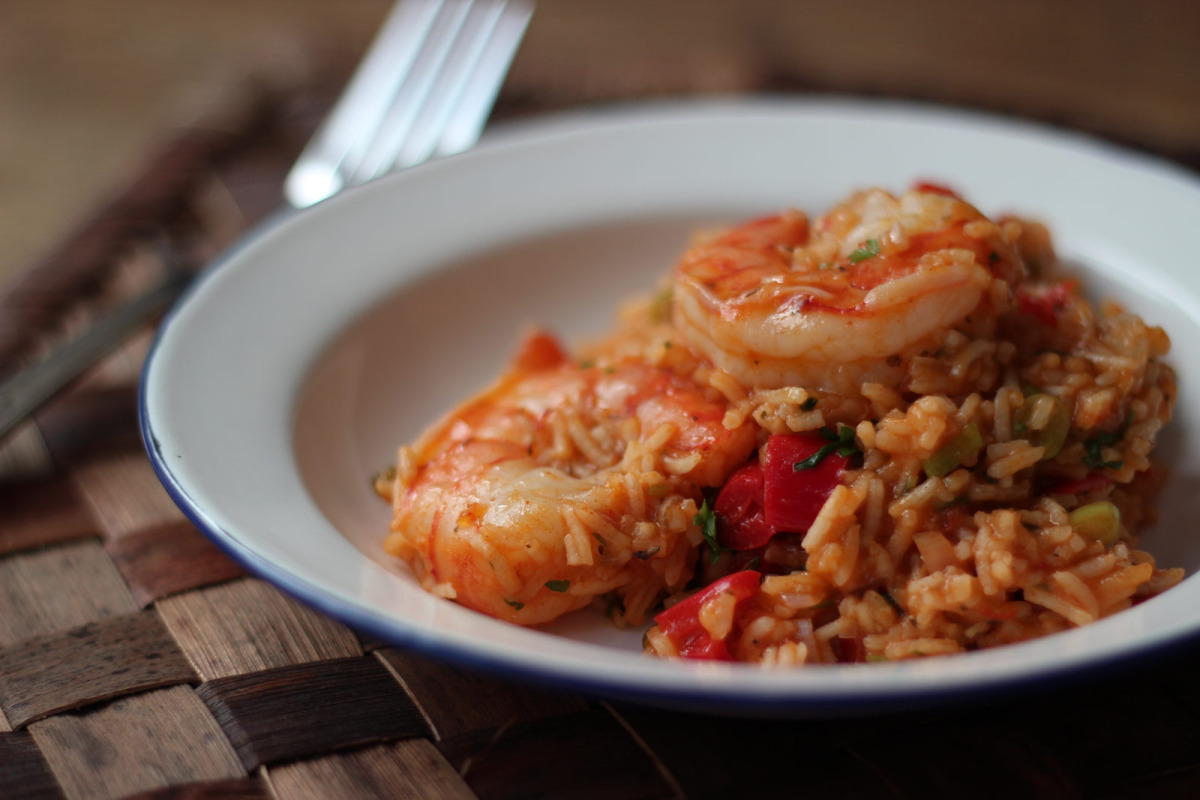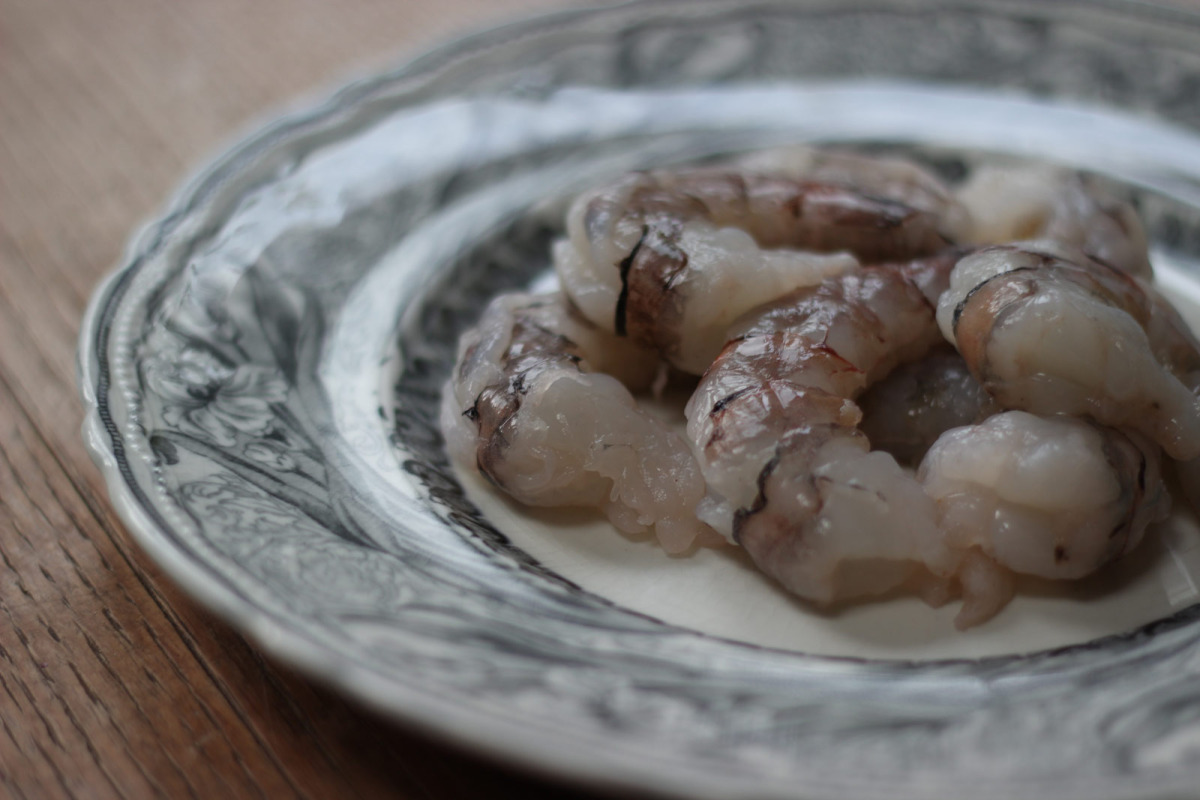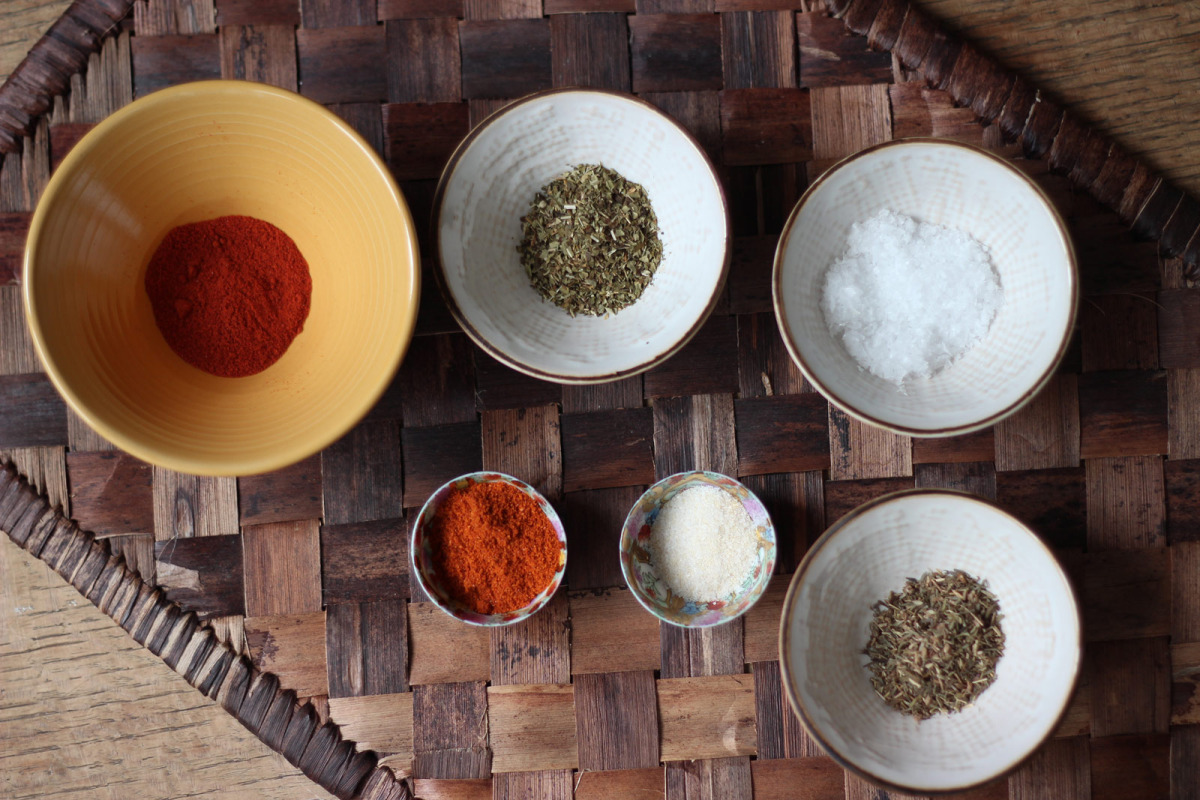 For two with some leftover for lunch the next day
1.5 tsp dried oregano
1.5 tsp dried thyme
2 tsp paprika
1 tsp cayenne
1 tsp onion powder
1 tsp sea salt
2 crumbled dried chillies (or leave them out if you aren't into the heat)
For the rest of the dish
350g raw basmati rice
3 big juicy tomatoes, cored and diced
2 red peppers, diced
1 large red onion, finely diced
1 clove of garlic, finely diced
250mls white wine
600mls light pork stock (a cube shaped cheat)
4 spring onions, finely sliced
A handful fresh parsley, finely cut just before needed
Giant raw prawns - we had 3 each but have as many as you fancy. De-veined and peeled
Juice of 1 lemon
Olive oil for cooking
Extra virgin olive oil for drizzling
Method
Into a pan pour a glug of cooking olive oil and sautee the onion and garlic on a gentle heat until translucent, takes about 7 minutes.
Now add in all the spice mix and mix to combine, cook for around 3 minutes and add in the tomatoes and peppers, cook for another few minutes.
Add the rice, lemon juice, stock and wine and turn up the heat, keep stirring and when the liquor begins to boil, put a lid on the pan, turn it on a low heat and cook for around 20 minutes.
Now it might take 20 minutes or it might take longer – you'll just need to keep an eye on it, but when the rice is nearly done it's time to add in the prawns. Ours took at least 7 minutes to cook they are so meaty but just keep an eye on yours depending on their size.
Now add in the finely cut parsley and the spring onions and stir to combine. Give a good glug of extra virgin and serve at the table.