Adventures in meatballs continued.
I refuse to believe there's a single soul around that dislikes meatballs. You like juicy flavoursome bite-size morsels made from all kinds of meats or even fish? Spiked with herbs and spices? Crispy fried or simmered gently in sauce? I know I do. In fact, it's a wonder I manage to eat anything else.
I'll try my hand at meat-balling many a flavour combination, and on the blog you'll find a few of my favourites:
Mexican meatballs made with beef and chilli con carne spicing, cooked in a smoky red kidney bean and tomato sauce
Chinese chicken meatballs flavoured with ginger and coriander and poached in a clean Asian broth and eaten with slinky rice noodles
Italian wedding soup, where little chicken meatballs are made with Parmesan, fresh basil and lemon, then butter fried before being poached in chicken broth with little pastas
Yep, the world's your oyster — you really can inject the flavours of any nation in to the humble meatball.
To add to my growing global collection/obsession, I made these little Cajun balls of deliciousness using turkey thigh mince, and they couldn't be easier to cook. The turkey is mixed with fried onions, a generous helping of Cajun seasoning and some breadcrumbs before being sealed in a pan and simmered briefly in tomato and pepper sauce. That's literally it.
I used my own Cajun seasoning blend for the meatballs which you can buy from my online shop (great for all kinds of recipes, check out tasty recipe links on the shop page), or you could make your own blend, or use whichever is your favourite — just make sure it'd got some poke. For the best Cajun balls in town you want a mix that's salty, spicy, smoky and sweet.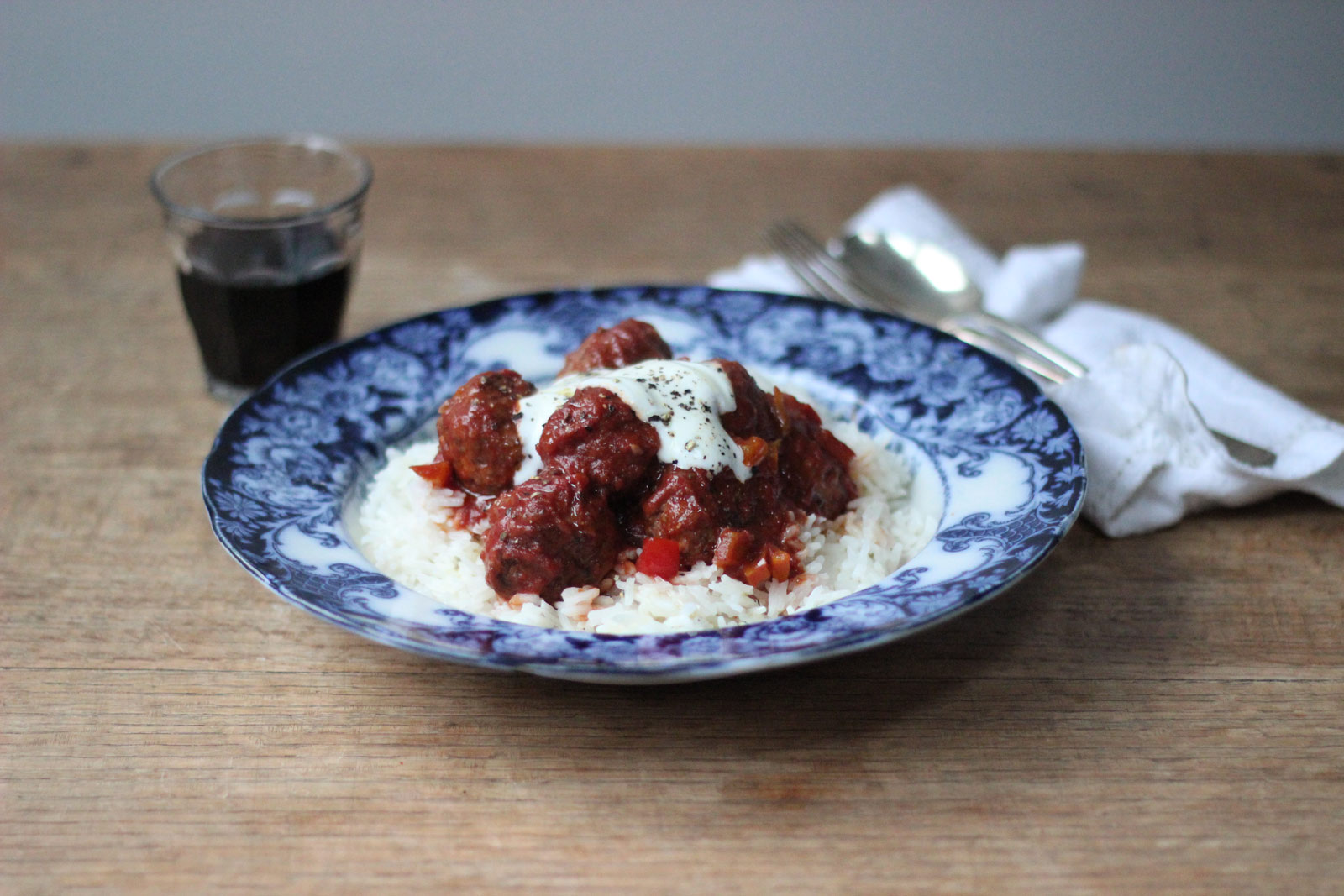 For two greedies for dinner — makes around 20 little meatballs:
500g turkey thigh mince
1 large red onion, finely diced
6 tsp Cajun seasoning
500mls pasatta
150mls red wine
3 tbsp breadcrumbs (optional)
1 red and 1 yellow pepper, diced
Juice of half a lemon
Sea salt and black pepper
Butter and olive oil for frying
Yogurt to serve
Extra virgin olive oil to serve
Rice to serve
Method
Fry the onions for about 5 minutes until slightly softened then leave to cool, while that's happening, make the sauce.
Into a saucepan place your pasatta, wine, 1 tsp of Cajun seasoning, lemon juice, diced peppers and black pepper, and place on to a simmer for the flavours to get to know each other, the liquid to reduce slightly and the alcohol to cook out — leave there cooking gently while you make your meatballs.
If using a food processor, place the cooled onions with the turkey, breadcrumbs and 5 tsp Cajun seasoning into it and blitz until combined. If mixing by hand, place all the ingredients into a large mixing bowl and combine well by hand, then form into little meatballs.
Fry them in a mixture of butter and oil on a medium heat until they're all lightly browned (about 6 minutes) then pop them into the simmering sauce for 5 minutes, then turn the heat off. Serve with rice.