Soup season is back.
And what better way to stay healthy, to warm your cockles, eat seasonably and keep cash in your pocket than with the humble soup.
The delicate sweetness of pumpkin, squash and red pepper are the perfect smooth base, which when spiked with a simple spice blend and skinny coconut milk are turned into a warming, deep, vibrant and slinky soup full of Jamaican sunshine.
And when considering what to finish it with, there really was only one option. THE coriander salsa. I've written before about how I came across this delightful concoction at a Caribbean food stall at Bestival a few years ago — its fresh and nutty vibes deftly dress everything from charred steaks to cheese on toast, and here it adds a clean lightness that cuts through the rich and smooth soup deliciously.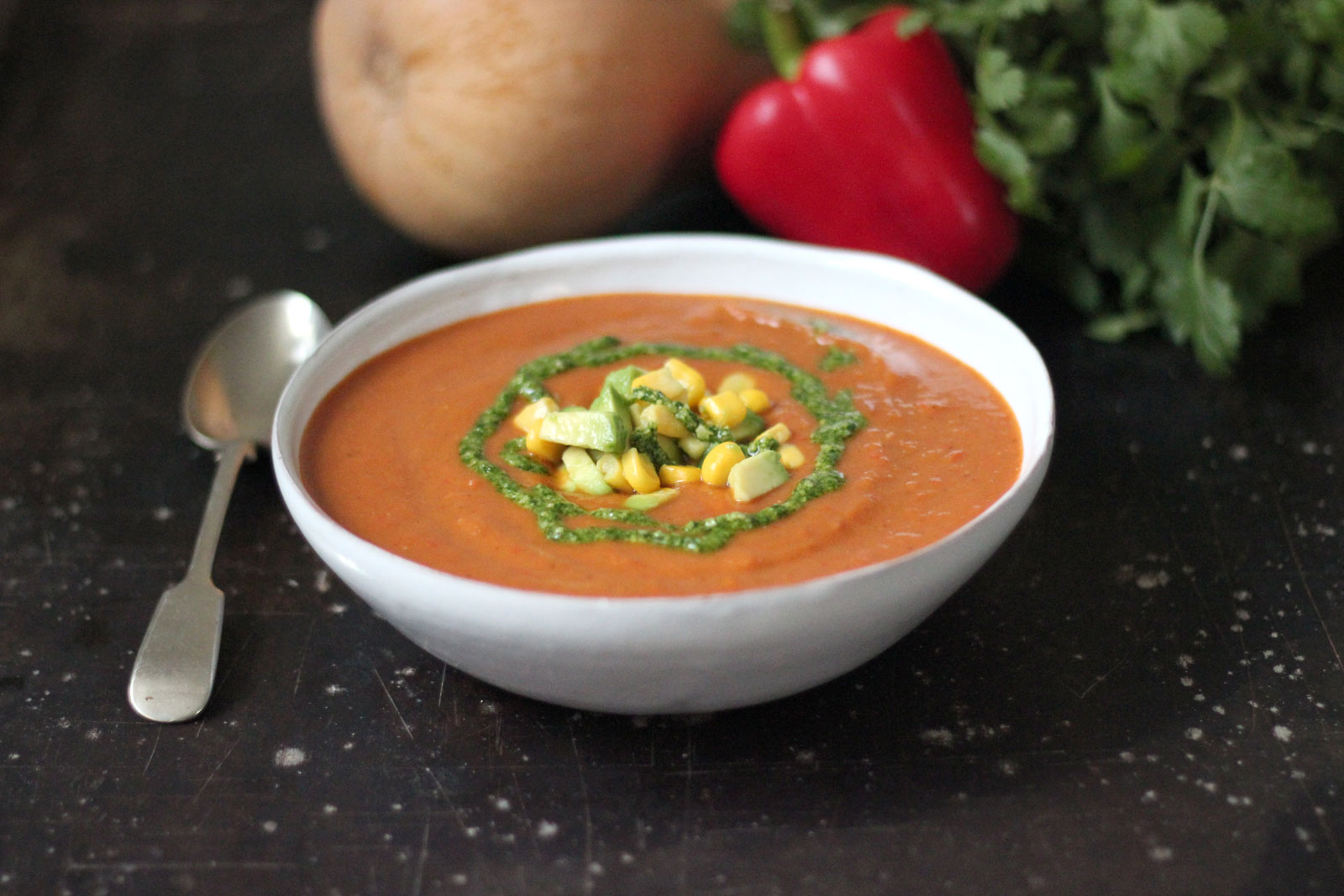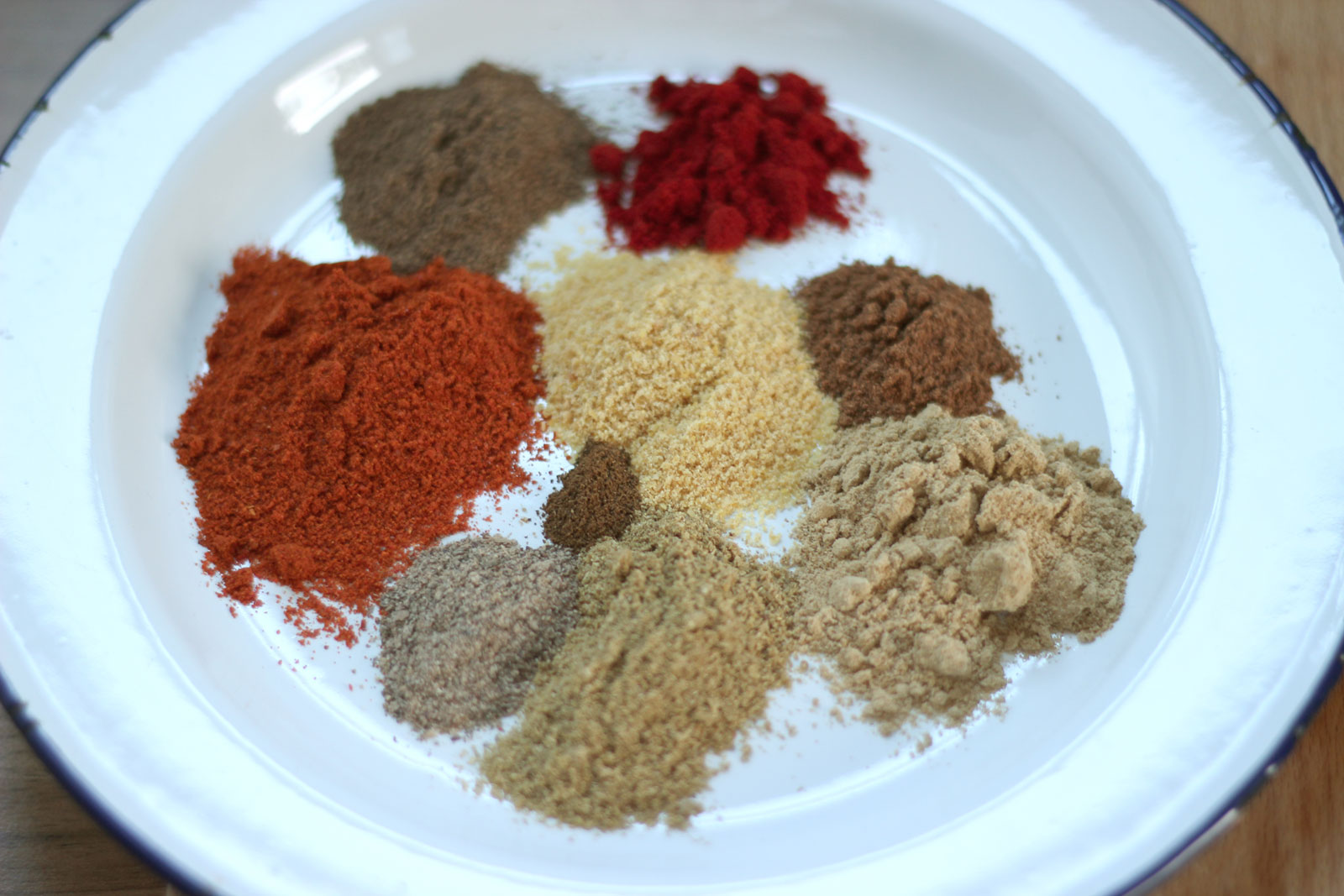 Soup for four
1 medium pumpkin and 1 medium butternut squash, diced and peel removed and seeds removed
2 red peppers, roughly cut up
1 red onion, roughly diced
600mls light chicken/vegetable stock
1 can skinny coconut milk (full fat if you fancy of course)
1/2 tsp cayenne pepper
1 tsp smoked paprika
A pinch ground clove, or 2 whole cloves
1 tsp ground ginger
1 tsp ground coriander
1 tsp ground cumin
1 tsp ground allspice
1/2 tsp ground long pepper/ground black pepper
1/2 tsp mustard seed (I used ground)
3 tsp sugar
Juice of one juicy lime
Olive oil for cooking
Sea salt
Black pepper
To serve
A little diced avocado and corn, given a squeeze of lemon
For the salsa
1 large bunch coriander, I'd say this would be around 2 large supermarket plants worth. Leaves and stalks
1 fat clove garlic, peeled
35g cashews, lightly dry toasted in a pan
100mls olive oil
50mls extra virgin olive oil
Juice of 1 juicy lemon
Sea salt
Black pepper
Method
Start with the salsa, placing all the ingredients into a food processor and blending until smooth, don't over blend though, you're looking for a smooth pesto-like consistency. Decant into a bowl or as I do, into a squeeze bottle for easy use.
Preheat your oven to 200°C, lightly oil a baking sheet and add the pumpkin, squash and red peppers to it, giving a little more oil and a light seasoning with salt and pepper. Roast for around 45 minutes to an hour, until the edges start to char slightly and the flesh is soft.
During the last 10 minutes of cooking, fry the roughly diced onion in a deep saucepan in a little oil until softened, then add the dry spices and cook on a medium heat for a few minutes — don't let it catch.
Add the squash, pumpkin and pepper to the saucepan along with the coconut milk, sugar and chicken/vegetable stock, bring to a simmer then place a lid on the pan and reduce the heat, leave it to cook there for 15 minutes.
Take off the heat and season with salt and pepper and add the lime juice, blend with a stick blender/soup blender until smooth and pour back into the pan. Taste for seasoning and adjust as needed.
Ladle into bowls and top with the diced avocado and corn, then give a generous helping of the coriander salsa.