Seasons eatings.
One of the best things about winter is the chance to chow down on melt-in-the-mouth meats cooked long and slow. I am of course talking about the stew.
I pay homage to many a stew over the chilly months and you'll find a few here on the blog, including beef bourguignon, osso buco and carne cocida. And keeping with the European theme, this dish is inspired by a visit to my folks earlier in the year and a rather boozy lunch we shared with one of their French friends.
My family live near the Spanish border in the French Pyrenees. The region lays claim to many a wonderful dish and ingredient, including the sweet and nutty brebis sheep's cheese, smoked duck breast, cassoulet, duck confit and air dried Bayonne ham. And being at the point where two countries meet, there's a heavy Basque influence on many dishes in the region — this stew being a perfect example.
It's really rich and hearty, lots of depth of flavour as you'd expect with a French casserole, but it has a Basque brightness on account of the big dose of red peppers, tomatoes and sweet paprika. We eat it with small diced waxy potatoes cut up and added toward the end of the cooking time, and freshly baked bread for dunking purposes (well, we are British).
For Four
1.2kg diced lamb shoulder in large chunks
4 red peppers, cut into strips
300g diced peeled potatoes — I like to use waxy here as they keep their shape better
300mls lamb stock
300mls red or dry white wine (red will help create and even deeper flavour, white will keep it lighter)
300mls pasatta
2 heaped tsp sweet paprika
1 large red onion, finely diced
3 med carrots, finely diced
3 celery stalks, finely diced
2 cloves garlic, crushed
Sea salt and black pepper
Olive oil for cooking
Plain flour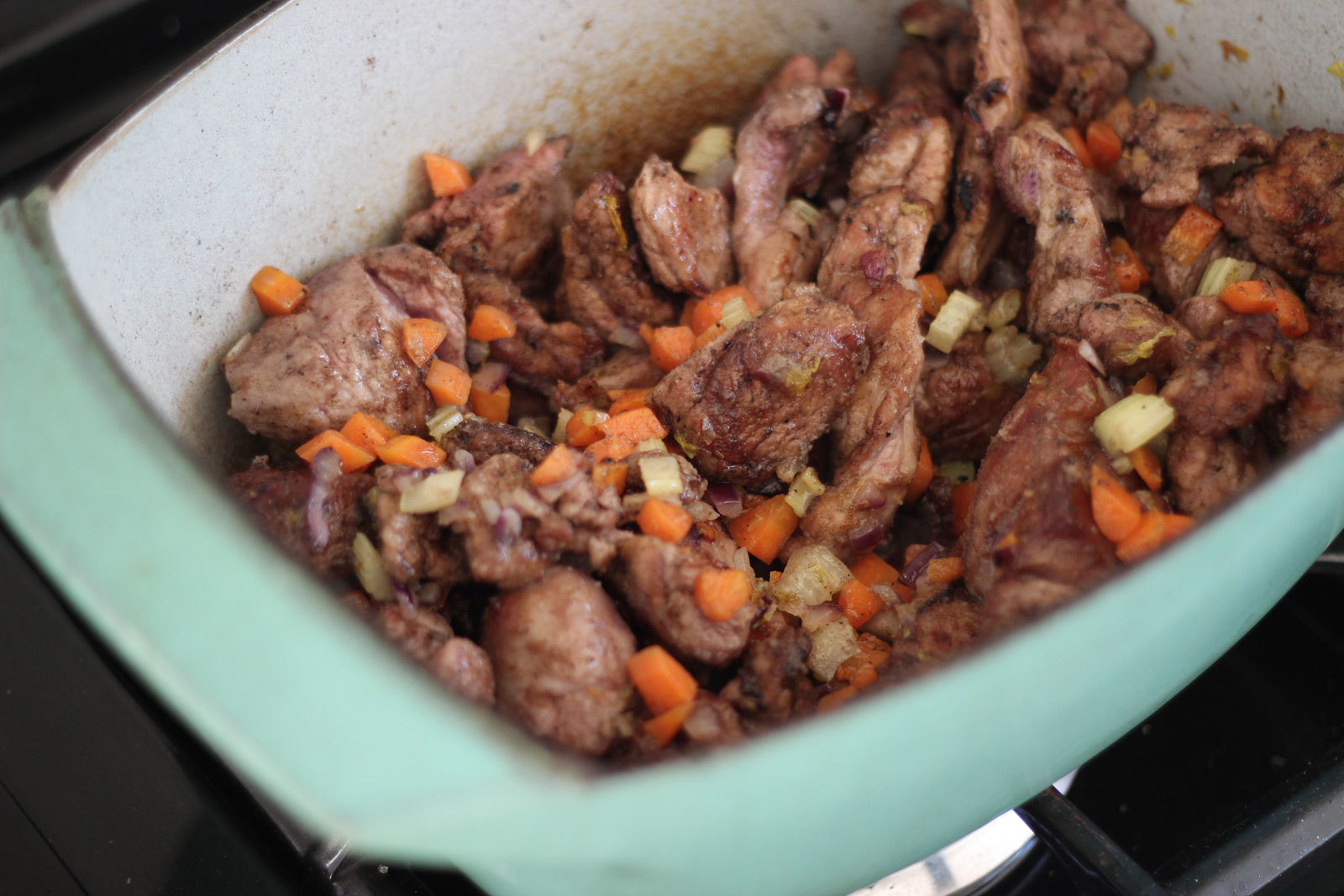 Method
Preheat your oven to 180°C.
Lightly dust the diced lamb with plain flour and then fry in batches on a high heat in your casserole pot until browned all over (don't fry too many at once as they'll steam rather than crisp up).
In the same casserole pot, on a medium heat gently fry the celery, onion and carrot together for around 10 to 12 minutes until softened a little, then add the garlic and sweet paprika and cook for a further minute or two.
Add the peppers to the pan and the stock, wine and pasatta, season with salt and pepper and bring up to a simmer, then turn the heat off, put the lid on the casserole pot and place it into the oven for 2 to 2.5 hours until the meat has softened — check on it during cooking to make sure the sauce is blipping away rather than bubbling and boiling.
Towards the last 30 minutes of cooking time, bring the casserole pot onto the hob and turn it on to a low heat, add some water if needs be, it depends on the heat of your oven if you'll need more liquid, and add the diced potatoes and cover and let them cook through as the pot simmers.
Serve with your favourite rustic bread.