Some flavours are hard to forget.
It was the autumn of 2004 and me, my boyfriend at the time and some of our friends were on an Indian adventure.
Instead of seeing friends off on their round the world traveling mission here in blighty, we decided to accompany them on the first leg of their journey — kicking off in Goa.
It was the sort of trip you'd imagine a group of young mates to have in the tourist party capital of India. There were late nights, lots of alcohol, sunbathing next to sleeping painted cows, learning fire poi, stoned night swimming and of course, lots of great food.
We ate Goan fish curries on the beach at nighttime next to the sea, guzzled our ice cold beers quickly so they'd not warm in the intense heat, enjoyed bbq'd seafood smothered in delicious masalsas, and woke to Indian spiced scrambled eggs and masala chai. They were good times.
But the tasty Goan fayre aside, the best thing, the most memorable thing I ate that holiday was a handful of samosas I purchased from an old lady in an airport on the way home.
I bought one at first. A pyramid shaped parcel filled with a simple and aromatic mixture of pea and potato puree. I was hooked. I bought 3 more and scoffed them all to myself (I've never been great at sharing) and the flavour and texture memory has stayed with me ever since.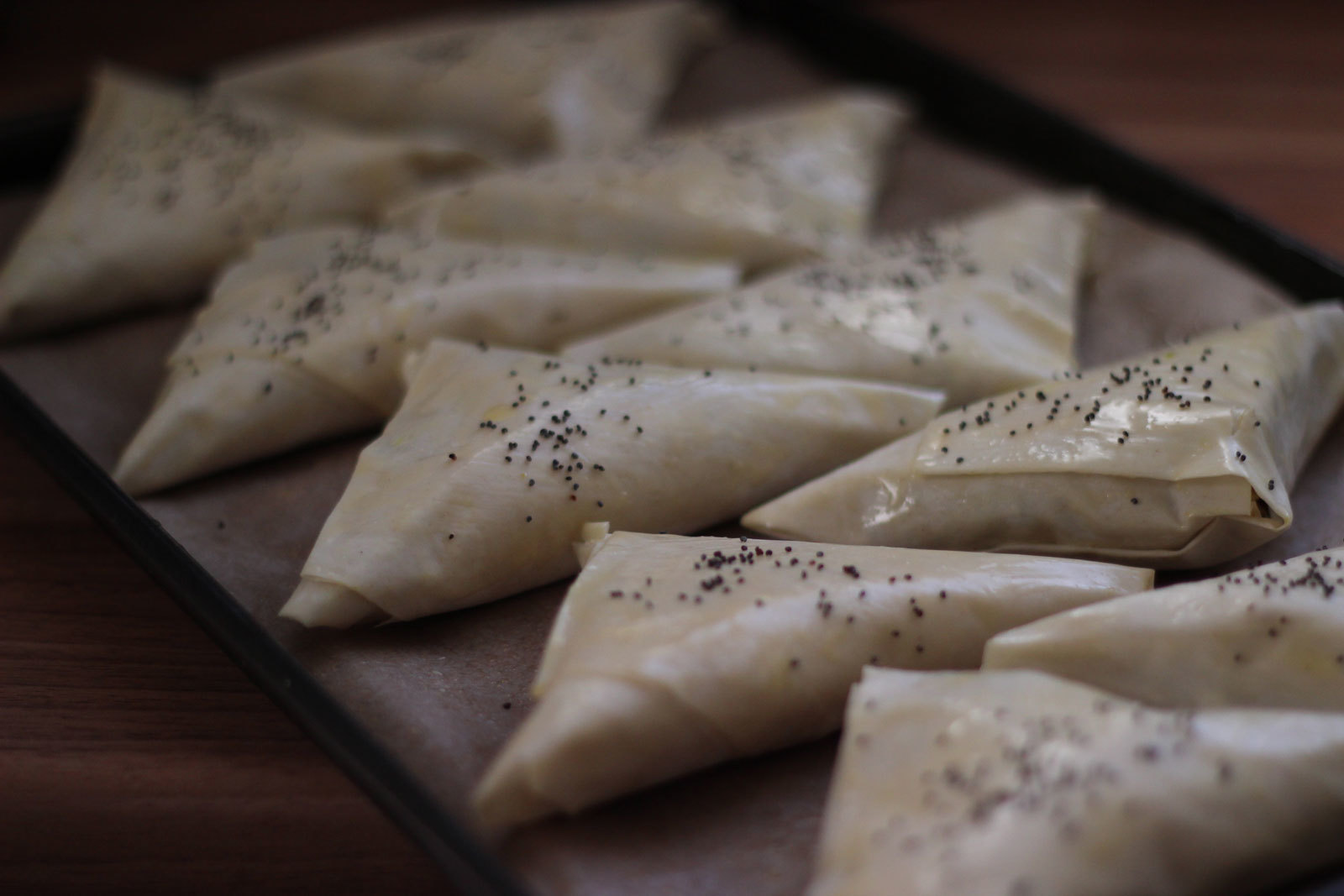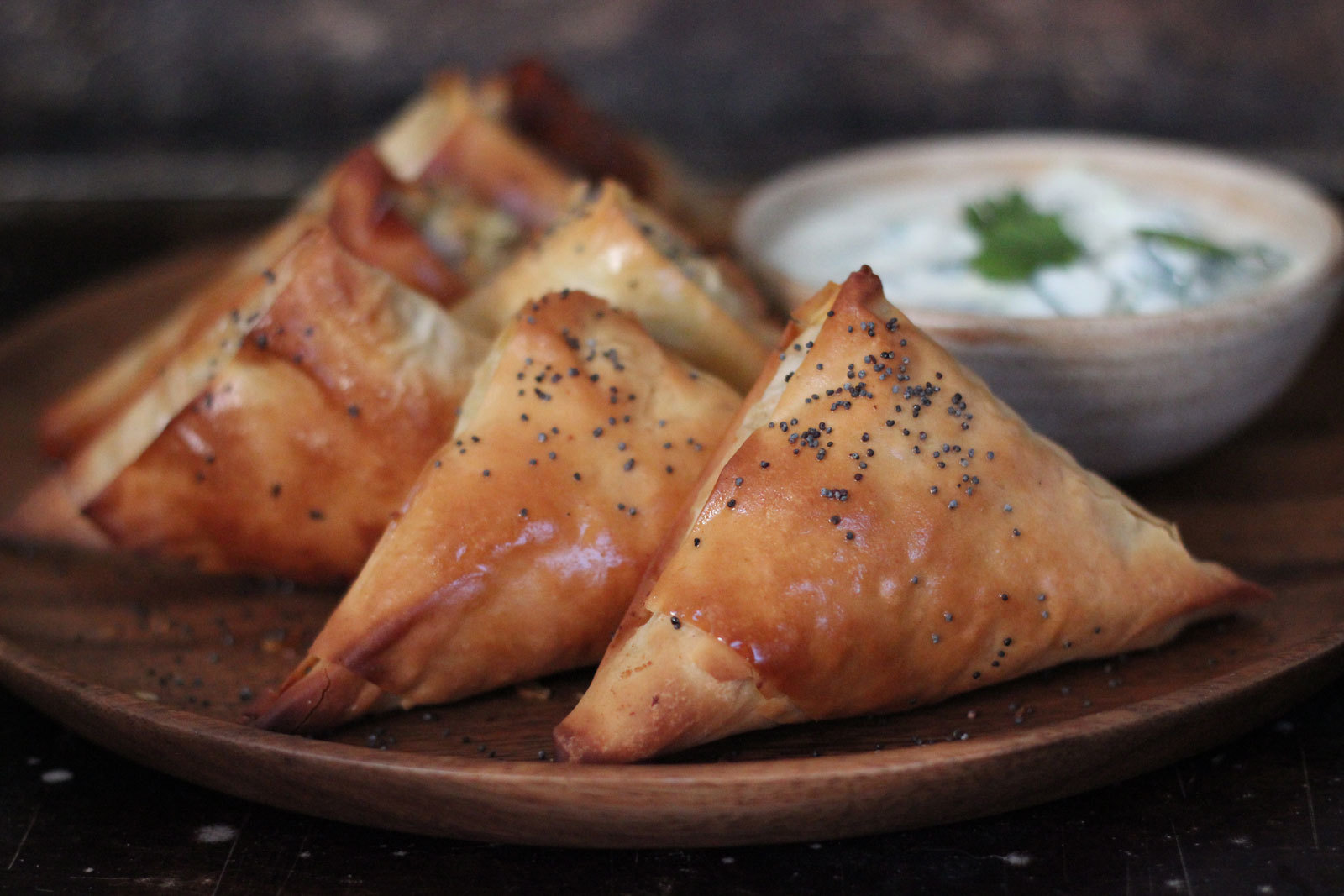 Pastry crumbly and fine, potato puree dense and creamy, peas sweet and with bite, spices gentle and smooth. They were the samosas of kings and there wasn't morsel of meat in sight. And even though I'm no longer in touch with those friends, I eat these little parcels of deliciousness and remember that Indian experience we shared and it really makes me smile.
I've recreated these using shop bought filo pastry and the filling is a mix of potato which I've riced on a smooth setting, and frozen peas that fried briefly with onions and ghee in a simple spice blend. Make more of the blend than you'll need and it will serve you well — adding a bit of Indian zing to everything from dhal to wintery soups and curries.
For 16 samosas
16 sheets samosa pastry
1 large onion, finely diced
3 largish baking potatoes, peeled, boiled and then either mashed or riced until smooth
Several tablespoons ghee for real authenticity, or butter and vegetable oil if you don't have
A few handfuls frozen peas
1 clove garlic, finely diced
A scrunch of sea salt
For the seasoning blend, of which you'll need around 4 heaped tsps
1tsp ground coriander
1tsp ground cumin
1/2tsp ground cinnamon
1tsp ground turmeric
1tsp yellow mustard seed
1/2tsp chilli flakes
1 cardamom pod, outer removed and ground in a pestle and mortar
3 cloves — ground in a pestle and mortar
1/2tsp White pepper
1tsp sugar
1tsp salt
For the cucumber and coriander raita
Half a cucumber, cored and finely diced
Juice of half a juicy lime
250g natural yogurt
A small handful fresh coriander, finely chopped
Sea salt and black pepper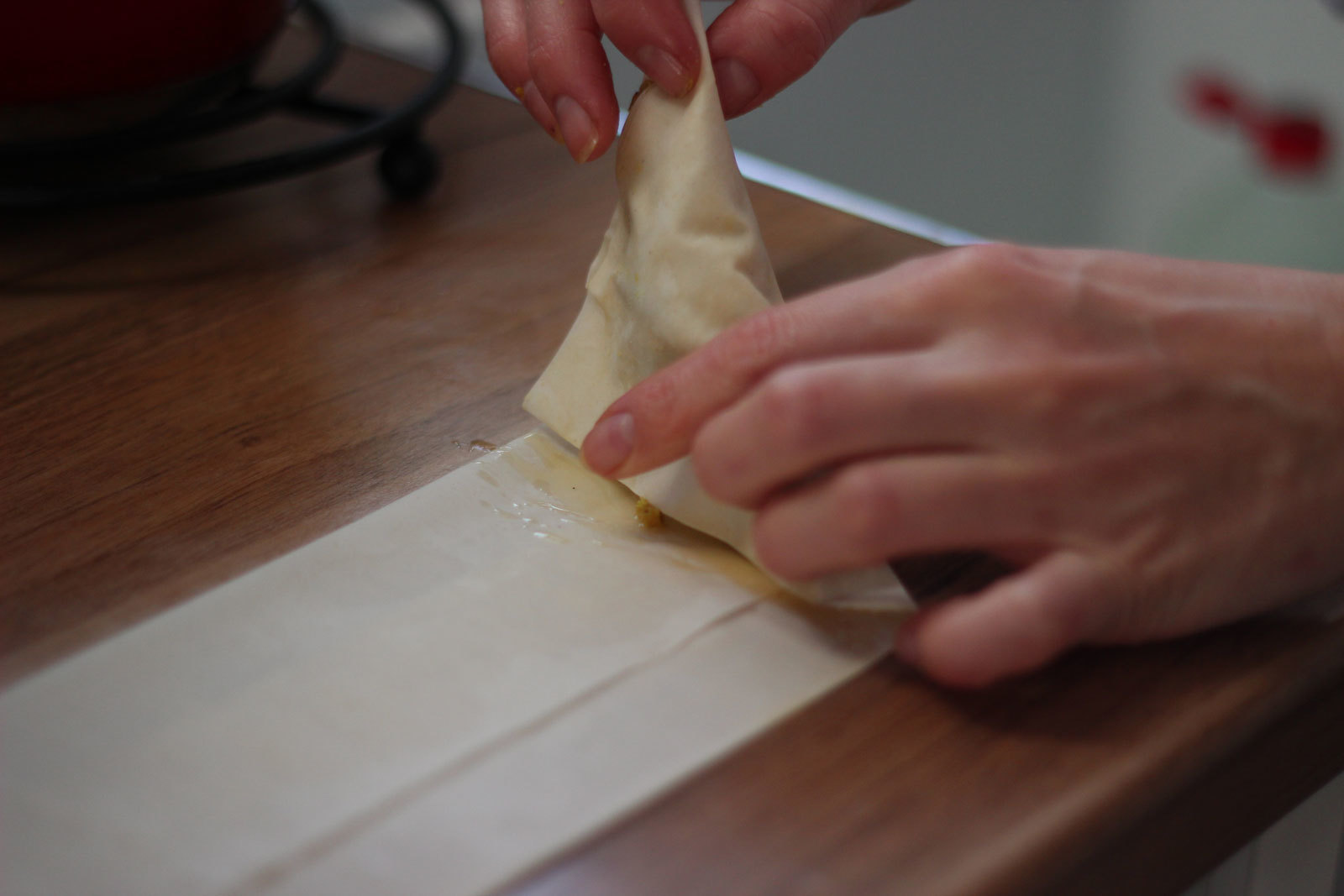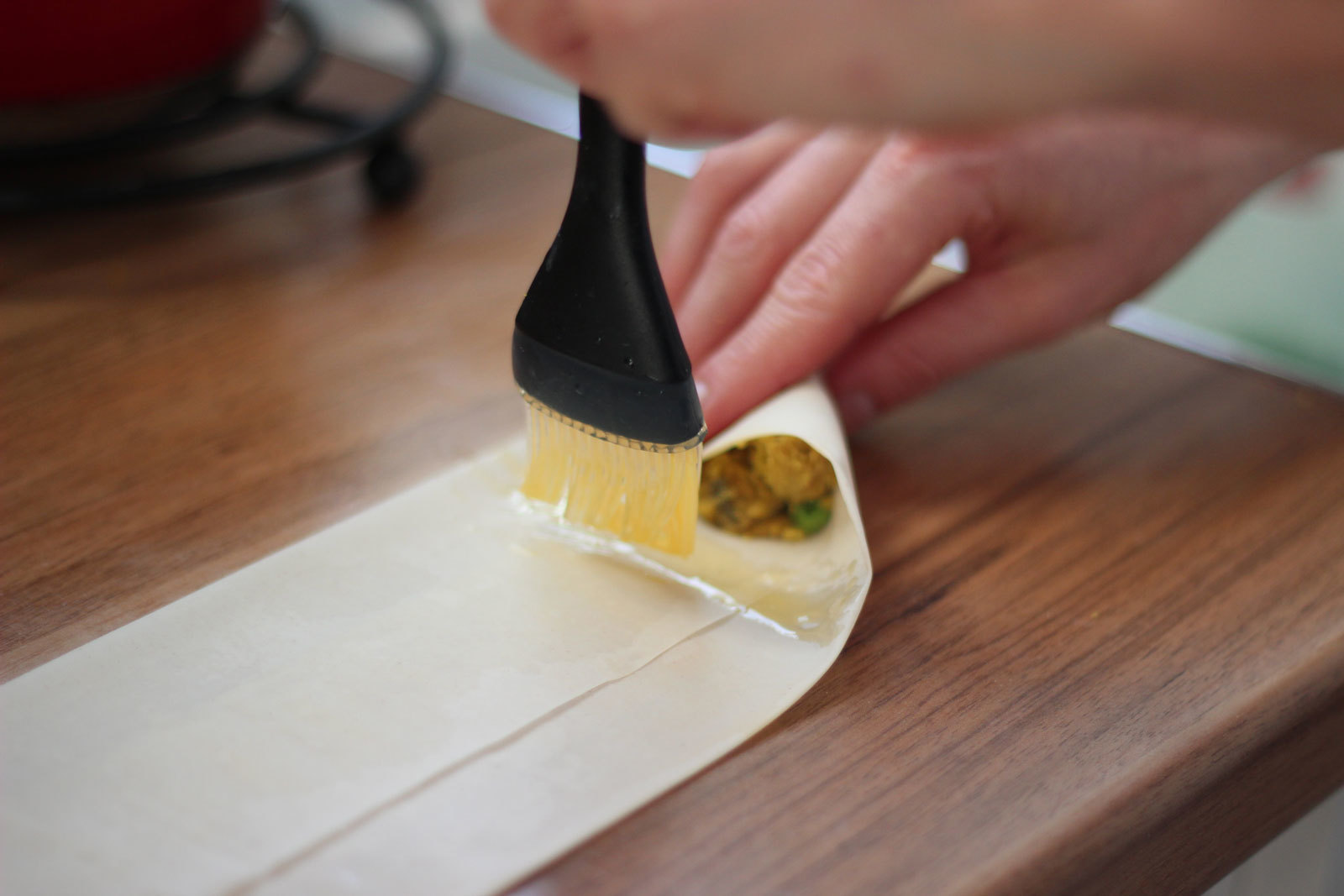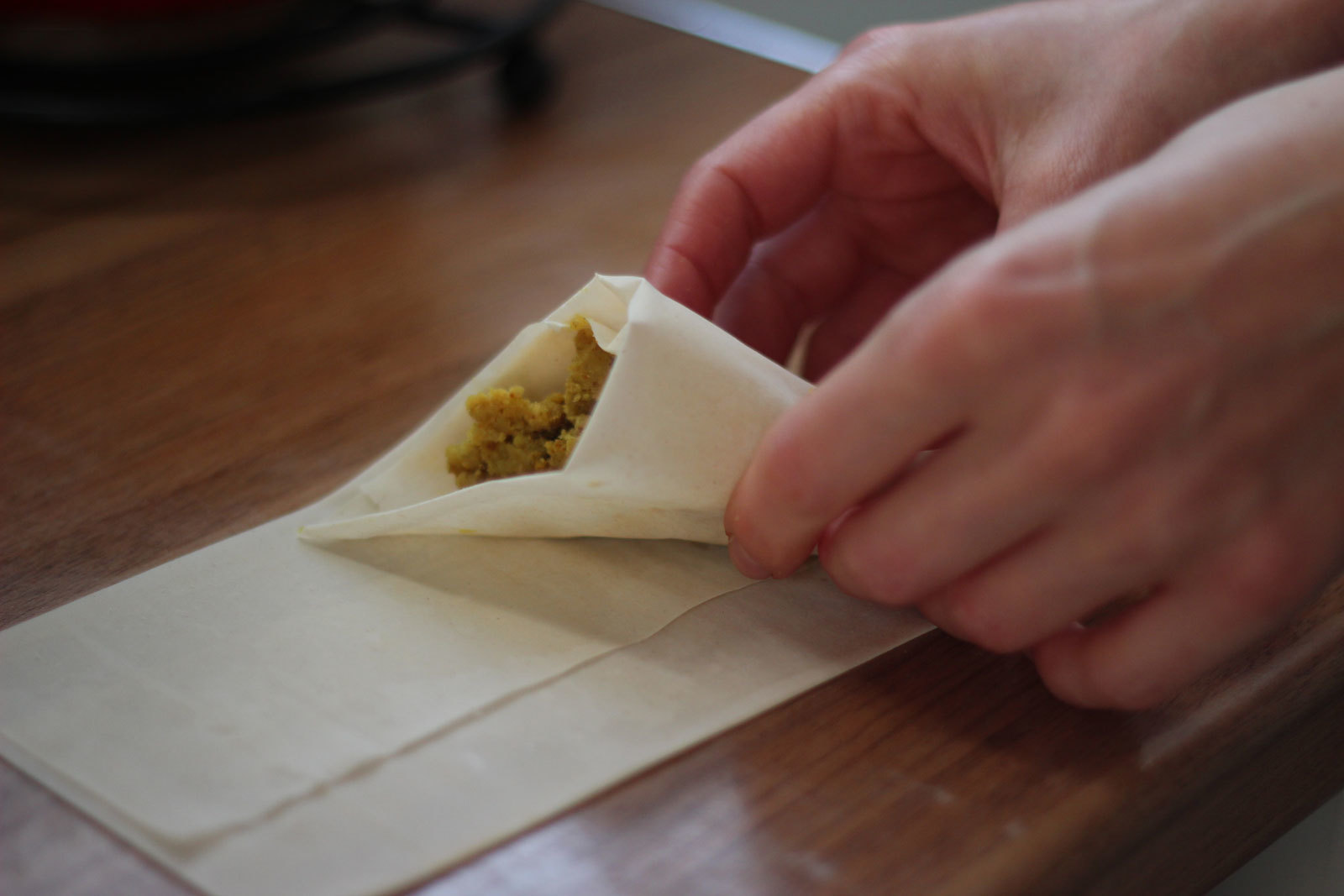 Method
Start by making your riaita, mix all the ingredient together and season with salt and pepper to taste, then place into the fridge to keep cool.
Take your filo out of the fridge 30 minutes before you need it but don't take it out of its packet yet.
Put your potatoes on to boil.
Fry the onion in a few tablespoons of ghee (seems a lot but it's all going to add to the potato) and when it turns translucent, add the frozen peas, fry for a further 5 minutes on a medium-high heat.
Add the fresh garlic and the 4tsp of the seasoning blend and mix through, cooking for a minute or two until you can really smell the spices. Remove from the heat.
Drain the potatoes and let them steam off for a minute before ricing or mashing (this means they're as dry as possible and the mash will be fluffy not watery at all) them into a large mixing bowl.
Add the spiced peas and all their oil to the potatoes and mix through thoroughly, check the seasoning and add salt if you need.
Below is the description of how to assemble the samosas, but if you find it a bit tricky to get your head around — see the picture reels on my post for step by step or Youtube have several demo videos.
Remove the filo from its packet and lay it out flat under a damp tea towel to stop it drying out, then take a sheet and place it in front of you, the long edge facing you.
Melt some more ghee in a pan and brush the top and bottom edges of the pastry with it, folding them in toward the centre overlapping slightly so that you have a thicker sheet of pastry to work with.
Take a heaped tbsp of the mixture and place it at the right edge, then bring one corner up and over to the upper edge to form a triangle, trapping the filling inside, brush the exposed pastry to the left of this with more ghee and fold over, repeating until you get to what looks like the last triangle you'll fold over before sealing the parcel completely. Pick it up at this point as I have in the picture, this means you can move the filling down and add more to the parcel. Brush with more oil and then seal the fold, placing it on an oiled baking sheet.
Repeat with all of them, brush them all with some more melted ghee and bake in a preheated oven at 200°C for around 30 minutes until nice and golden, I sprinkled them with poppy seeds before serving.