I've eaten some great scran in airports.
But never here in the UK. We all know British airports aren't known for their culinary treasures. They're known for 7am pints, substandard fry ups and lukewarm fast food. The most you can hope for is a pint or two of Stella and a slight wooziness as you board your flight, full of melty cheese, wobbly bacon and scorched coffee. Healthy food it is not.
But to my surprise, a recent flight gave hope those greasy days could be over (or at the very least, an alternative on its way), by offering up an inspiring lunch I felt compelled to recreate at home. Sweet potato fritters.
Fritters, burgers, patties, call them what you will, these little morsels could be shoved inside pitta breads, in classic burger buns or as I have here, inside deli wraps. At the airport they were a very welcome discovery. Back home they made for a tasty little lunch, with no comedy miniature knives and forks in sight.
I made them using sweet potato, blended chick peas, Parmesan, cumin and coriander. Then for a light and slightly chewy and crispy outer, I wrapped them in ground polenta/cornmeal (they're same thing) and gently fried them. Eaten with some ripe tomatoes, fresh coriander and charred corn from the BBQ, they're full of sunshine flavour and sure to please grownups and kids alike.
Cooks tip
When making bites like this out of a mixture that's fairly soft as this one is, form them in to the patties and then chill them down in the fridge for a while to firm up. It makes handling them easier and makes them less likely to break up in the pan.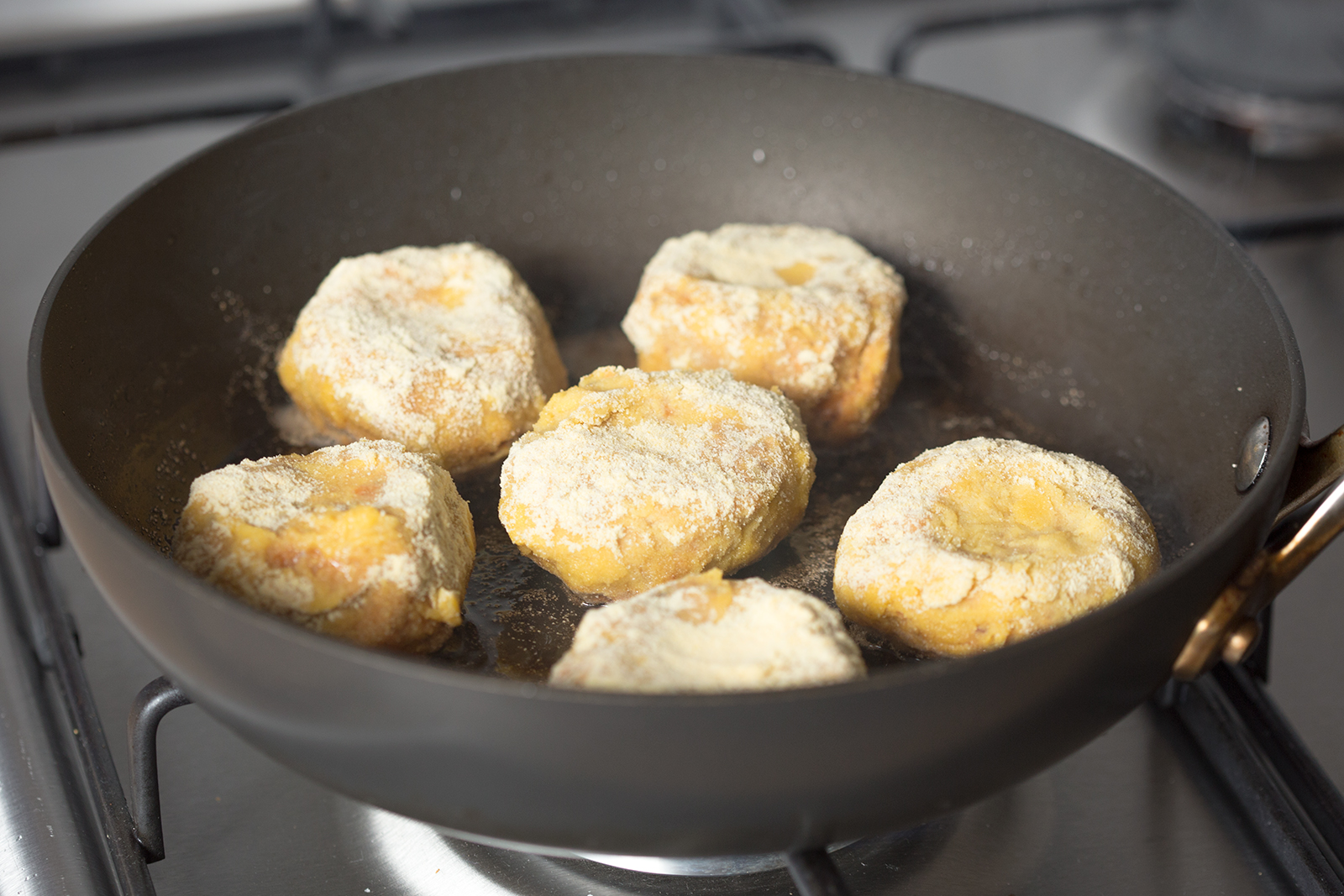 Lunch for four
For the fritters
4 medium sweet potatoes, peeled
1 can chick peas, rinsed and drained and whizzed in a food processor or mashed with your potato masher
3 tsp each ground cumin and ground coriander
1 onion, finely diced
4 tbsp breadcrumbs
1tsp sea salt
Black pepper
40g Parmesan, grated
2 eggs, beaten
Ground polenta/cornflour for coating
Plan flour for coating
Butter and cooking olive oil for frying
Wraps to serve
For the corn
2 corn cobs
50ml rice vinegar
25ml extra virgin olive oil
Sea salt and black pepper
Method
First, get the corn made. Boil the corn cobs for 9 minutes, then oil and season with salt and pepper and cook on the BBQ for 15 minutes, turning once. Remove and leave to cool enough to handle. Then cut the corn off the cob and place in a bowl with the oil and vinegar and season to taste with salt and pepper. Eat it warm or cool, whichever you prefer.
Boil the sweet potatoes until cooked through, then drain and leave for about 15 minutes while the steam escapes – this is important as the sweet potato is good at holding water which will make handling them difficult, so you need to let out as much steam as possible so they can dry out a bit.
While this is happening fry the onion in a little oil for about 10 minutes until softened, then add the ground coriander, cumin, a generous grind of black pepper and salt and cook for a further 5 minutes. Turn the mixture out in to a mixing bowl and leave for 10 minutes to cool.
Add the Parmesan, breadcrumbs and chick peas to the mixture and stir to combine.
Now the sweet potatoes should be cooled, mash them until smooth and add to the mixture, stirring to combine.
Form in to smallish balls and then press gently to get the fritter/burger shape. Place them on a cling wrapped plate (makes them easier to get off later) and repeat until you've made them all. Put the plates in the fridge and leave them to chill and firm up for about 30 minutes.
When ready to cook them, in a bowl place the ground polenta/cornmeal, in another bowl the flour which needs seasoning with salt and pepper, and in the third bowl the beaten egg.
Coat each fritter first with flour, then egg, then polenta and repeat until you've finished them all.
Fry on a medium heat in butter and cooking olive oil for around 8 minutes each side, and eat inside the deli wraps on top of fresh coriander, topped with the charred corn.