I've been called a magpie once or twice over the years.
I'd like to say it's purely on account of my eclectic taste and ability to locate interesting finds. But it's also been said because of my light-fingered mits.
In my younger years I half inched a few little tidbits from restaurants and bars around town that caught my eye. A Champagne bucket hidden under a pashmina here, a soy sauce pourer in a handbag there, I even (with the help of one of my housemates) squeezed my way in to a boarded up house in a rather dodgy part of town I once lived and 'liberated' a copper coffee table.
Those mischievous days are gone but my magpie eye is still here. I blame it on my parents.
From them I've inherited a lot, including a compulsion to cook, eat and feed folk, a love of ceramics and art, an obsession with eBay, a penchant for vino, a passion for soul, motown and jazz and a fondness for rummaging around in charity shops/car boot sales/flea markets for 'bits and bobs'.
While I don't get to see my mum and dad nearly as much as I'd like, whenever they're out sifting through the second hand shops, trocs and brocantes of France, I get rich pickings — the once a year trip home my dad does by car brings with it lots of treasures they've collected up over the course of a year. And with their arrival last week came a whole host of beautiful bits and pieces including a copper casserole pot, interesting cutlery, silver ladles, tea towels and a nest of copper pans.
I decided to combine their first use with a purchase from our new local fishmonger in Kensal Rise. Pernod, saffron and capers make for unusual and delicious bedfellows, then layer in some tomatoes, fennel and quality seafood, and you've got yourself quite a stew, on the table in less than 30 minutes (copper pot or not).
As a dish it's fresh, lively and deep in flavour. Eat it with bread, a nice bottle of wine and the company of your favourite folk, who I trust are impeccably chosen because of their good taste, and there isn't a tea leaf in sight.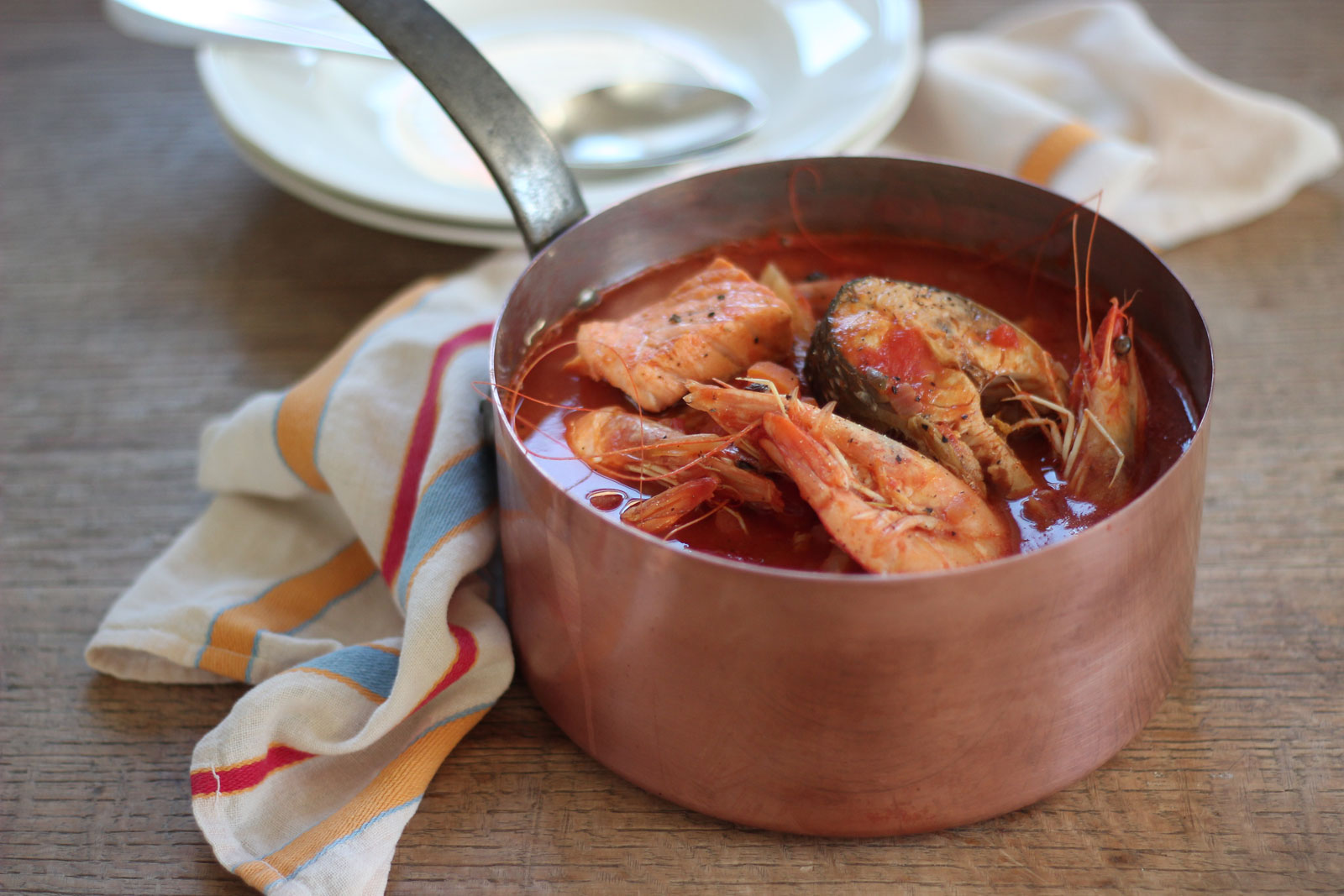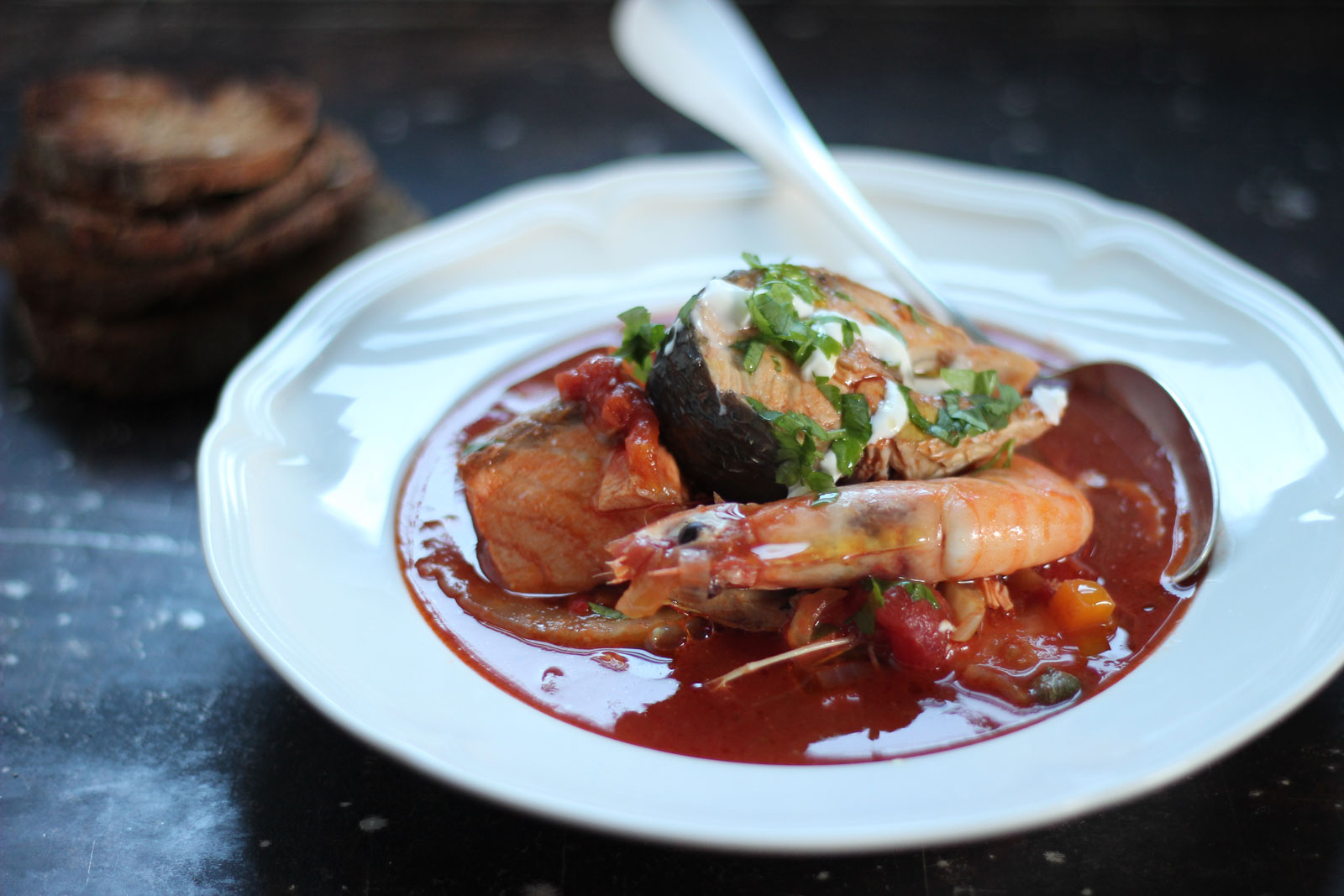 For Four
8 tiger prawns, shells on (whiskers 'n' all)
2 large salmon fillets, skinless and in large chunks
1 medium grey mullet, cut in to steaks
600ml fish stock (I used fresh but you could use a good cube cheat, just don't add too much extra salt)
1L tomato pasatta / chopped tomatoes
A large pinch saffron
2 tsp capers
1 large red onion, finely diced
2 carrots, finely diced
1 celery stalk, finely diced
1 clove garlic, finely diced
1 fennel bulb, cut into rounds
50ml Pernod
Olive oil for frying
Bread, crème fraîche and finely chopped parsley for serving
Sea salt and black pepper
Method
In a large bottomed saucepan gently fry the carrot, celery and onion in olive oil for around 10 to 12 minutes until softened, then add the garlic and cook for another minute.
Add the fennel, tomatoes, Pernod, saffron, capers, fish stock and lots of black pepper and bring to the simmer, add the fish (covering it in the sauce) and turn the heat down to a gentle simmer, put the lid on and cook for around 10 minutes, until the prawns are pink and the salmon opaque.
Ladle in to bowls and top with crème fraîche, black pepper and parsley.